Now that Halloween is over and the weather has gotten colder, we have been craving soup more often. We live in Montreal, Canada, and if you have ever visited during winter time, well you would know that we get a lot (A LOT) of snow. It's not even December yet and there's about 5 cm of snow outside my window. This year, winter has come fast and strong. It is also getting dark very early (today, the sunset was at 4:18PM, how depressing?!), so when we get home after work, we like to have a quick and comforting meal.
For this Spicy Red Curry and Coconut noodle soup, you need very few ingredients and you can add any toppings you have in your fridge! For the broth, we used a red curry paste (exactly this one
) that we found at our local asian supermarket. The paste we bought is pretty spicy, so I would strongly suggest using only 1 tbsp if you rarely eat spicy food, but for our recipe, we used 2 and it was perfect for our taste. As for the coconut part, we used coconut cream(similar to this one
) because we wanted to make our broth creamier and more rich, but if you only have coconut milk in hand, feel free to use that instead.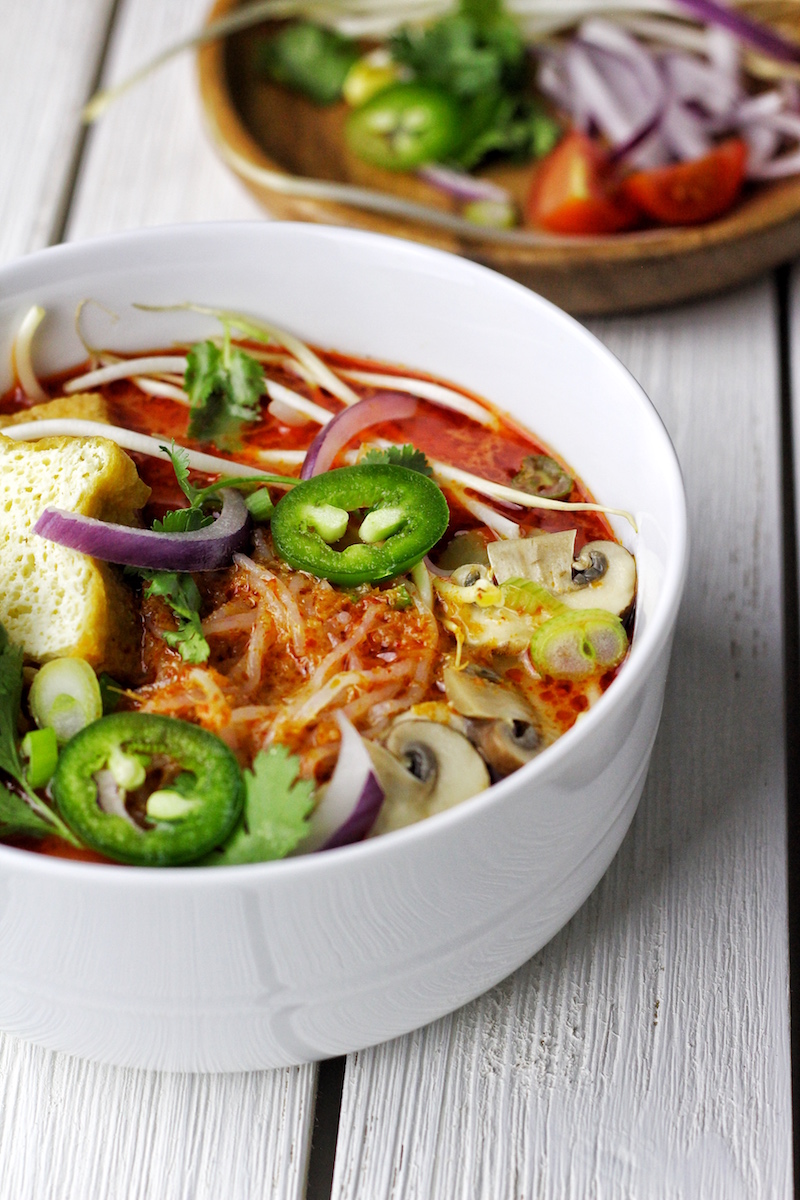 We used glass vermicelli noodles (also called cellophane noodles) for this recipe because we like their chewy texture, but really you could use regular vermicelli noodles. The difference between the two is that the glass one stays transparent when cooked and are made out of mung means, as opposed to regular vermicelli noodles that are made out of rice and becomes opaque when cooked. Tips for the recipe - cook the vermicelli noodles separately. This will prevent the noodles to drink all of your broth.
For the garnish, we added cremini mushroom, tomatoes, cilantro, green onions, red onion, chop suey, tofu puff and jalapeño. However, the broth is really the star of the show in this recipe, so you can any ingredient you prefer/have on hand in your fridge.
If you are in the mood for a soup, check out our other soup recipes.
Chicken Laksa (Coconut Curry Soup) Recipe
Easy Spicy Ramen with Creamy Sesame Broth
Ingredients
Spicy Coconut Red Curry Soup
2

tbsp

red curry paste

1/2

cup

coconut cream

3

cups

chicken broth

1

lime juice

1

tbsp

granulated sugar

200

g

vermicelli noodles

4

fried tofu puffs

cut into bite-sized pieces

4

medium cremini mushrooms

sliced

2

tbsp

canola oil
Toppings (quantities according to taste)
bean sprouts

cilantro

red onions

thinly sliced

cherry tomatoes

cut into halves

green onions

chopped
Instructions
In a large pot, heat canola oil over medium high heat. Add the red curry paste and stir fry for 1 minute. Add the coconut cream and stir for 2-3 minutes, until the coconut cream is melted, soft and well combined with the red curry paste. Pour the chicken broth and lower heat to medium. Bring soup to a simmer. Add sugar and mix well. Add the sliced cremini mushrooms into the soup and let simmer for 1 minute. Remove soup from heat and add the lime juice and stir well.

In a separate pot, cook the vermicelli noodles according to packaging's instructions (The vermicelli noodles we used took about 3-5 minutes to cook)

Set two medium-sized bowls each with the vermicelli noodles and fried tofu puffs. Pour the soup into each bowl and top with bean sprouts, cherry tomatoes, red onions, cilantro, and green onions.