Today's recipe is probably one of our favourite things to order in a Chinese restaurant: Sweet and Sour Crispy Chicken. No like really, who doesn't love scrumptious crispy fried chicken coated with some delicious sweet and sour sauce!? And it's kinda become a habit of ours to try to make restaurant dishes that we love at home. But if it's this easy and simple to cook at home, then why not? It's cheaper to make it at home than to buy it at the restaurant, and it's (kinda) healthier too!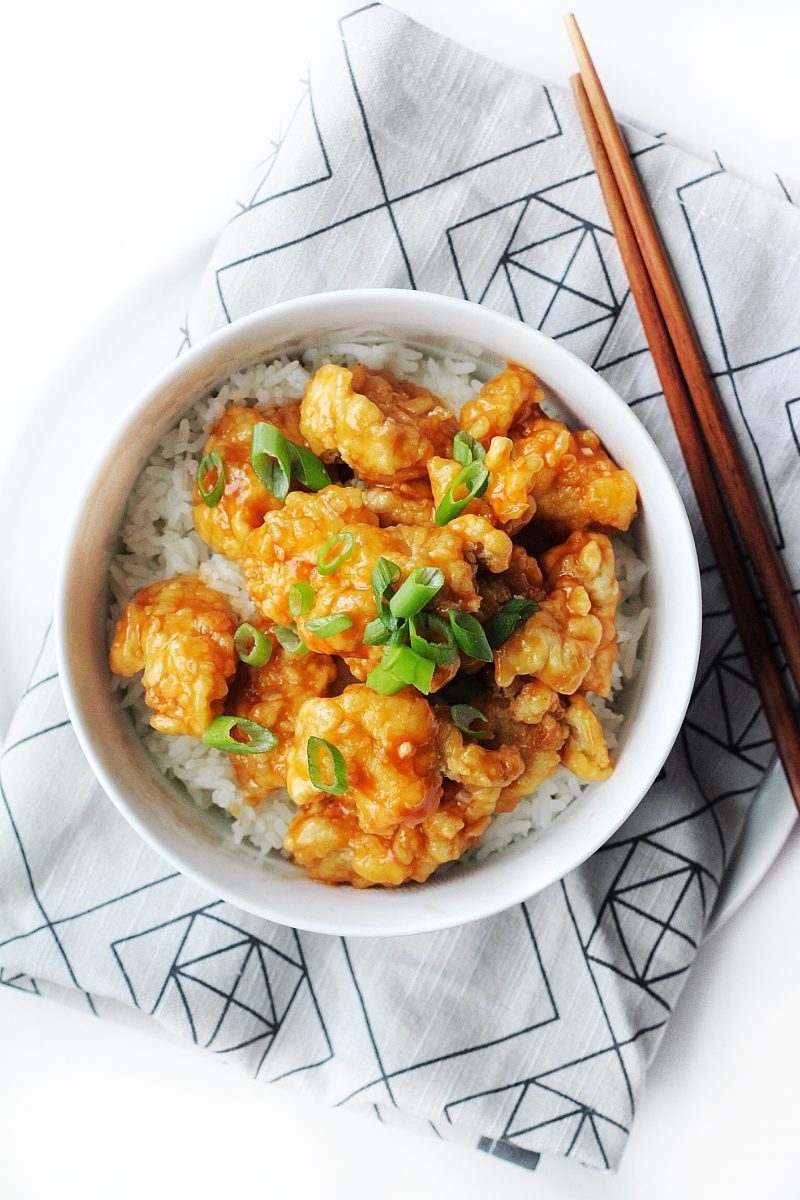 The big secret in making the perfect Sweet and Sour Crispy Chicken is the chicken itself. You're basically making crispy fried chicken and coating it with sweet and sour sauce. And what we don't want is the chicken becoming kinda soggy once they're coated with the sauce. So it is important to follow the recipe for the batter in order to create that crispy chicken crust that will stay crispy even after coating it with the sweet and sour sauce. We followed the same recipe to make the fried chicken as our Honey Garlic Crispy Chicken Recipe.
Check out our web story.
A lot of recipes suggest using boneless, skinless chicken breasts to make Sweet and Sour Chicken. While we also do use it sometimes, we prefer using skinless, de-boned chicken thighs. We find them to be more juicy and tender, making the perfect fried chicken that's juicy and tender on the inside with a crunchy crust.
The sweet and sour sauce is pretty straightforward to make. The amount of sauce we made is just enough to coat each chicken, but if you like a little bit more sauce, feel free to make more sauce than the quantities suggested in the recipe. We used rice wine vinegar
in our sauce instead of regular white vinegar since it has some sweetness to it that goes very well with sauce!
We loveee Chinese takeout food, especially Sweet and Sour Crispy Chicken, and we hope this helped inspire you to cook some Chinese takeout food at your own home! We hope you enjoyed this recipe and happy eating!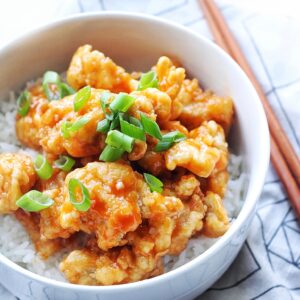 Ingredients
Crispy Chicken
10

ounces

skinless, de-boned chicken thighs

cut into bite-sized cubes

1

egg

1/3

cup

cornstarch

1/2

cup

all-purpose flour

1

tbsp

soy sauce

1/2

tsp

black pepper
Sweet and Sour Sauce
2

cloves

garlic

minced

1

tsp

ginger

minced

1/2

cup

water

1 1/2

tbsp

rice wine vinegar

2

tbsp

honey

2

tbsp

ketchup

2

tbsp

soy sauce

salt

to taste

1

tsp

water

1

tsp

cornstarch

1

tbsp

canola oil
Instructions
In a mixing bowl, combine the cubed chicken thighs, eggs, 2 tablespoons of cornstarch, and soy sauce. Mix well and set aside.

To make the sauce, heat the canola oil on a pan at medium high heat and cook ginger and garlic until fragrant and soft. Add the water, rice wine vinegar, honey, ketchup, soy sauce, and salt and combine well using a whisk. While the sauce is slowly cooking, mix cornstarch and water in a small bowl to make a slurry. Slowly add the cornstarch slurry into the pan while constantly stirring the pan. Cook over medium heat until sauce thickens or reaches the desired consistency. Remove from heat and set aside.

To make the fried chicken, whisk together the all-purpose flour and the rest of the cornstarch and add them into the bowl of prepared chicken. Combine well. Heat about 2 inches of frying oil at 375 degrees Fahrenheit and fry the chicken in batches. Fry for about 2 minutes and remove from oil. Place chicken on drying rack for about 5 minutes. Fry the chicken another time for another 2 minutes or until golden brown and crispy. Remove from oil and drain off excess oil.

Toss the fried chicken with the sauce in a bowl until well coated. Top with green onions.