This Honey Garlic Crispy Chicken was honestly the bomb dot com. The chicken: tender on the inside, crispy on the outside. The sauce: Rich, sweet, and subtly salty and garlicky. The chicken and the sauce together: a match made in heaven! I used to think that Sweet and Sour is my favourite sauce to go with crispy chicken. But after making this recipe, I might have to reconsider things. So get yourself ready for some crispy goodness!
Check out our web story!
How to Make Crispy Chicken
Aside from the sauce, what makes this Honey Garlic Crispy Chicken so delicious is the juicy, tender, and CRISPY chicken. My biggest pet peeve when eating this kind of dish is ending up with a plate of sogginess. There are many fried chicken batter recipes that we tried that were crispy right after frying, but immediately became soggy once we combine it with the sauce. But thanks to Hot Thai Kitchen's recipe, from which we got our inspiration, we were finally able to find a fried chicken batter recipe that allows the chicken to stay crispy even hours after mixing in the sauce!
You can find the detailed recipe below, but here are the most important things to pay attention to for a crispy chicken crust!
Let the chicken, egg, soy sauce, and cornstarch mixture rest for 5-10 minutes before moving on to the next step.
Make sure your frying oil is at 375 degrees Fahrenheit.
Double fry the chicken. Let the chicken rest for 5 minutes before frying them the second time.
Use a drying rack to cool the chicken. You can use paper towels too, but using a drying rack ensures minimum surface contact, which prevents the chicken crust from becoming soggy.
Make sure the sauce is not too liquid, or it can make the chicken crust soggy.

How to Make Honey Garlic Sauce
There are many versions of the Honey Garlic Sauce, but we decided to make a simple, easy, yet tasty one! It's just a combination of garlic, ginger, soy sauce, water, honey, brown sugar, and cornstarch. The amount of honey, brown sugar and cornstarch is customizable to your own liking. If you like your Honey Garlic sauce to be on the sweeter side, then add some more honey and brown sugar. If you want your sauce to be less thick, then you can use less cornstarch in your sauce. We like ours to be on the thicker side, and a bit sticky so that they stick well to the chicken and don't make them soggy! But you can make yours any way you want, just remember to not make it too liquid! Another important thing to note is to mix the cornstarch with some water to make a slurry before adding it to the sauce. This way you won't get little lumps of uncooked cornstarch in your sauce.
That's today's recipe, we hope you guys will try it out! We definitely enjoyed sharing this recipe since we're totally obsessed with it. Who needs takeout chicken when you can make a delicious one at the comfort of your home for less money? Don't forget to leave a comment below if you have any questions or suggestions, and we hope you enjoy the recipe! Happy eating!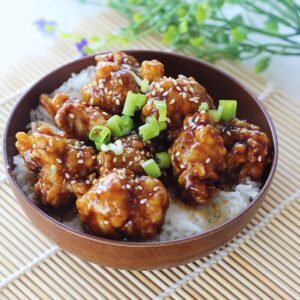 Ingredients
Fried chicken
10

ounces

boneless

skinless chicken thighs cut into cubes

1

whole egg

1/3

cup

cornstarch

1/2

cup

all-purpose flour

1

tbsp

low-sodium soy sauce

1/2

tsp

black pepper
Honey garlic sauce
1

tbsp

canola oil

3

cloves

garlic finely

chopped

1

tbsp

ginger finely

chopped

5

tbsp

honey

2

tbsp

brown sugar

1/2

cup

soy sauce

1/2

tsp

sesame oil

2

tbsp

cornstarch

1/4

cup

water

1

tsp

sesame seeds

optional

1

tbsp

green onions

optional
Instructions
In a mixing bowl, combine the cubed chicken thighs, eggs, 2 tablespoons of cornstarch, and soy sauce. Mix well and set aside.

To make the sauce, combine the soy sauce, water, honey, and brown sugar in a bowl and mix well. In a pan, heat the canola oil at medium high heat and cook ginger and garlic until fragrant and soft. Pour the soy sauce mixture and let cook by stirring occasionally. While the sauce is slowly cooking, mix cornstarch and water in a small bowl to make a slurry. Slowly add the cornstarch slurry into the pan while constantly stirring the pan. Cook over medium heat until sauce thickens. Add sesame oil and mix well.

To make the fried chicken, whisk together the all-purpose flour and the rest of the cornstarch and add them into the bowl of prepared chicken. Combine well. Heat about 2 inches of frying oil at 375 degrees Fahrenheit and fry the chicken in batches. Fry for about 3 minutes and remove from oil. Place chicken on drying rack for about 5 minutes. Fry the chicken another time for another 2 minutes or until golden brown and crispy. Remove from oil and drain off excess oil.

Add the fried chicken into the pan with the cooked sauce and mix well. Top with sesame seeds and green onions.