It's getting hotter and hotter here in Montreal and although it's technically still spring, it kinda already feels like it's summer! And all this nice, warmer weather really makes us crave some fresh, tropical dessert. That's why today we decided to make some mango coconut pudding! It's fresh, it's sweet, and it's summery! It's a definite mood booster kind of dessert AND it's super simple to make!
There are so many different variations of pudding with different kinds of consistency. For our mango coconut pudding, we were inspired by Haupia, which is a Hawaiian coconut pudding. However, while Haupia has a more firm, solid pudding texture, we're gonna make ours a little bit creamier and softer in texture!
Now, just the coconut pudding itself is already super delicious on its own. But it can get a bit heavy and rich, so we decided to add a layer of mango pudding to add a fresh, fruity flavours to contrast the richness of the coconut pudding. For the mango pudding, you can use both fresh and frozen mangoes. We used frozen mangoes in our recipe, but if you do use fresh ones, add a little bit less water when you're blending it so that it doesn't become too liquid.
In this recipe, we used condensed milk as the coconut pudding sweetener because not only do they go really well together, it also adds a touch of creaminess to the pudding. However, it is optional and you can always use granulated sugar instead!
There you have it guys, mango coconut pudding! We just love eating these kinds of desserts since it's so refreshing and fun to eat! Make sure to leave a comment below if you have any questions or suggestions for our next recipe. We hope try this recipe, and as usual, happy eating!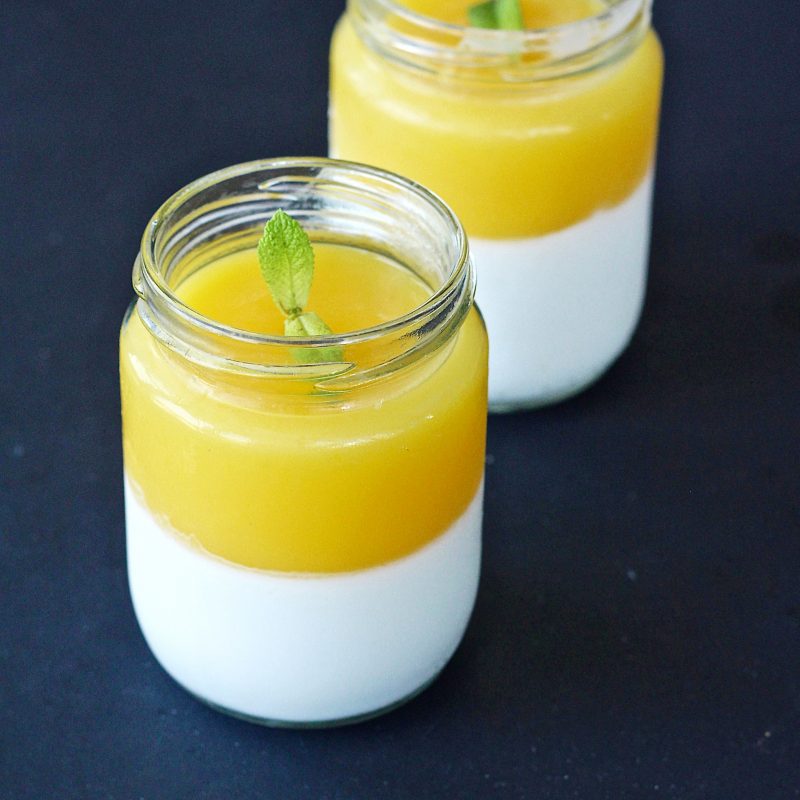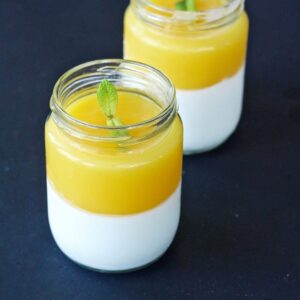 Ingredients
Coconut Pudding
1

cup

coconut milk

3

tbsp

cornstarch

3

tbsp

water

for cornstarch slurry

2 1/2

tbsp

condensed milk

A pinch of salt
Mango Pudding
1

cup

frozen mangoes

1

cup

water

1

tbsp

lemon juice

3

tbsp

granulated sugar

3

tbsp

cornstarch

3

tbsp

water

for cornstarch slurry

A pinch of salt
Instructions
To make coconut pudding, combine coconut milk, condensed milk, and salt in a saucepan. Heat over medium heat. In a small bowl, combine cornstarch and water, and slowly add to the coconut milk mixture. Stir constantly using a whisk until thick. Remove from heat and transfer to a glass cup or container of your choice.

To make mango pudding, combine frozen mangoes and water in a blender and mix until liquid. Transfer to a saucepan, and add sugar and salt. Heat over medium heat. In a small bowl, combine the cornstarch and water and add mixture slowly into saucepan. Stir mango mixture constantly until thick. Remove from heat, and gently add pudding on top of the coconut pudding layer.

Let the pudding cups chill at room temperature for 5 minutes, then refrigerate for at least one hour before serving.