When people hear takeout Chinese food, they'd probably immediately think of some fried rice, noodles, beef and broccoli, sweet and sour chicken, the popular stuff! But when I hear takeout Chinese food, I think of one thing: Pork dumplings with spicy peanut sauce! I don't even think it's served in all Chinese restaurants. But there's this Chinese restaurant in our neighbourhood in Montreal that serves THE most delicious dumplings with peanut sauce. So delicious that we feel that we have to try and make it at home! They're these delicious, juicy pork dumplings topped with a peanut sauce with the perfect balance of sweet, salty, and spicy flavours. Can I get a YUM!
The pork filling and the peanut sauce were super easy to make, so you shouldn't have any issues with that! The only thing that might be a bit difficult to do is folding or closing the dumplings. If you're not used to doing that, we got some step-by-step pictures for you to follow!
How to Make the Pork Dumplings
First, let's make the pork filling! The pork filling is a very basic, savoury recipe. We didn't go too crazy with the seasonings for the dumpling fillings since we don't want it to clash with the flavours from the peanut sauce and overshadow them. This part is pretty simple. You just have to mix the ground pork and all the seasoning ingredients listed in the recipe below in a mixing bowl. You do have to use ground pork, otherwise it won't have the same texture and flavours.
To make the dumplings, we used store-bought circular-shaped dumpling wrappers that are about 9 cm in diameter. You can opt to make your own dumpling wrappers, which we have tried before but haven't made a recipe for it yet (stay tuned for it!). The store-bought ones do a really great job though. They taste the same and they're a lot more convenient. But if you can't find dumpling wrappers in your area, you can take a look at Omnivore's Cookbook recipe to make dumpling wrappers. We used her recipe to make the wrappers one and they turned out great!
Once you make the pork filling and procured yourself with some wrappers, all you need to do is assemble them together! You wanna take one wrapper, wet the edges with water, and take about half of a tablespoon of the pork filling and place it on the center of the wrapper. Then, you want to fold it in half like a taco, and starting from the left side of the center, fold towards the middle. Continue doing so until the left side is all folded, and repeat the steps for the right side. The step-by-step guide with pictures are provided below for you to follow!
How to Fold Dumplings
How to Make Spicy Peanut Sauce
This is the easy part of the recipe! All you have to do is put the smooth peanut butter, hot water, soy sauce, rice wine vinegar, cornstarch and sugar in a bowl and mix well. Cook the garlic with oil on a pan until fragrant and pour the peanut butter mixture into the pan and stir until it reaches the consistency you want. Stir in the red pepper flakes and top with green onions and voila! Your delicious spicy peanut sauce is ready to serve!
These pork dumplings with spicy peanut sauce are definitely a delicious, Asian comfort food that is so rich and satisfying to eat! The peanut sauce itself can be eaten with so many things, like won tons or spring rolls! If you want more Chinese food recipes, make sure to check out our Scallion Pancakes recipe, since that's our favourite Chinese snack/breakfast food! Hope you guys enjoy the recipe and happy eating!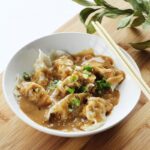 Pork Dumplings with Spicy Peanut Sauce
Ingredients
Spicy Peanut Sauce
1/3

cup

smooth peanut butter

1/2

cup

hot water

3

tbsp

low-sodium soy sauce

1

tbsp

rice wine vinegar

1

tsp

cornstarch

2

cloves

garlic

minced

2

tbsp

oil

2

tbsp

sugar

1

tbsp

red pepper flakes

Salt and papper

to taste
Pork Dumplings
0.5

lbs

ground pork

2

tbsp

soy sauce

1/2

tsp

sesame oil

1/2

tbsp

rice wine vinegar

2

cloves

garlic

minced

1

tbsp

green onions finely

chopped

1/2

whole egg

whisked

Salt and pepper

to taste

22

dumpling wrappers
Instructions
In a mixing bowl, mix together the smooth peanut butter, hot water, soy sauce, rice wine vinegar, cornstarch, and sugar. Mix well.

In a pan, cook the garlic with oil until soft and fragrant. Add the peanut butter mixture into the pan and stir until it reaches a slightly thicker consistency. Add in the red pepper flakes and mix well. Remove sauce from heat and pour into a bowl. Set aside.

To make pork filling, combine the ground pork, soy sauce, sesame oil, rice wine vinegar, garlic, green onions, eggs, and salt and pepper in a mixing bowl.

To assemble dumplings, place half of a tablespoon of the pork filling at the center of the dumpling wrapper. Make sure you pinch gently but firmly to tightly seal the dumplings. Refer to How to Fold Dumplings section for step-by-step method to fold dumplings.

In a large saucepan, bring water to a boil. Put in the dumplings one by one and stir gently to prevent them from sticking. Once the dumplings float to the surface, let them boil for another 30 seconds. If the water starts to rise and overflow, add in some water. Remove from water using a slotted spoon to drain off excess water.

Place cooked dumplings on a plate and pour spicy peanut sauce evenly on the dumplings. Garnish with sesame seeds and green onions.