If you haven't noticed by now, we're HUGE fans of Japanese food. And this beef bowl, or gyudon, happens to be Vero's favourite. It's simple, it's relatively healthy, and it's sooo tasty! This dish is packed with the right balance of salty, sweet, onion-y, ginger-y flavours that complement each other amazingly well in one bowl, and we absolutely LOVE it! Where we live in Montreal, it's a bit harder to find Japanese restaurants that sell this. But now that we managed to make it at home, we can have all the gyudon we want! So let's move on to the recipe, shall we?
First and foremost, you need to get a hold of the most important ingredient in this recipe: beef. The kinds you want to get is the thinly sliced ones, like the ones they use for hot pot or shabu shabu. We bought ours at an Asian supermarket and the beef slices are packaged in a plastic container. But if you can't find one in your area, you can simply slice a block of beef that's partially frozen. This way, the beef still has some resistance and it would be easier for you to slice it thinly.
We also made some onsen tamago, or Japanese hot spring eggs, to put on top of the beef bowl. These poached eggs have a very gooey, silky texture that adds a lot of richness to the dish, which we LOVE.
A lot of they ingredients used in this recipe are Asian products that are usually widely available in Asian supermarkets. If you can't find them in your area, you can always buy them online. We put some links for you to check out in the recipe notes!
This dish took us barely 30 minutes to make, yet it tastes incredibly delicious! And the eggs just add such a rich texture that just makes this dish perfect! If you haven't tried Japanese beef bowl or gyudon, definitely give this one a try! If you like Japanese bowl dishes, make sure to check out our Crispy Japanese Fried Pork Cutlet (Tonkatsu) recipe. Stay tuned for more delicious Asian recipes, and happy eating!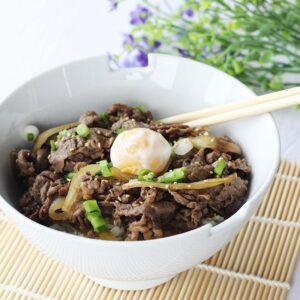 Ingredients
0.5

lbs

thinly sliced beef

1/2

onion

cut into long strips

2

tbsp

soy sauce

1

tbsp

mirin

1

tbsp

brown sugar

1/2

tbsp

sake

1/2

tsp

Dashi powder

1/2

cup

water

2

slices

ginger

grated

2

tsp

green onions

chopped

2

eggs

1

tsp

sesame seeds

optional
Instructions
To make poached eggs, place the eggs in a saucepan. Pour boiling hot water into the saucepan to completely submerge the eggs. Cover with a lid for 18 minutes. After 18 minutes, remove eggs from hot water and place them in a bowl with ice water for 10 seconds. Crack the eggs into a bowl and set aside.

In a pan, combine the soy sauce, sake, mirin, brown sugar, Dashi powder, water, and ginger. Mix well, cover with lid and bring to a boil over high heat. Let boil for 1 minute.

Add the onions into the boiling soy sauce mix and cover with lid for about 5 minutes, or until the onions are completely tender.

Add the beef slices into the pan and cook for about 3 minutes while stirring occasionally, until the beef is fully cooked.

Place 1 1/2 cup of steamed white rice into a bowl and add half of the cooked beef, along with the onions and the sauce, on top of the rice bed. Place one poached egg on top and top everything off with some sesame seeds and green onions.