Today's recipe is yet another one of our culinary experiences of trying Asian fusion recipes! We saw a vlog by VlogAfterCollege on YouTube where he tried to make some sushi tacos that he saw at a Food truck in L.A. The taco shell was made by deep-frying nori seaweeds in tempura batter, with a filling that's similar to sushi ingredients like rice, salmon, tobiko. So you get this crispy, nori flavoured taco shells with some delicious, fresh spicy salmon and hot rice filling inside. We were literally drooling on our keyboards while watching that, so we had to to give this dish a try!
This recipe is pretty easy once you manage to make the crispy nori taco shells. Working with the nori sheets is a bit tricky since they are very thin. So here's a couple of pointers to make sure your taco shells are on point!
How to Make the Nori Seaweed Taco Shells Crispy
To make the nori seaweed taco shells, you're gonna need to cut them into circular shapes and dip them in a slightly runny tempura batter. The tempura better can't be too thick and has to be slightly runny so that the resulting fried taco shells are light and crisp. It's also important that you gently fold the batter to mix and not overtax for better results. If you dip the nori seaweeds into the tempura batter for too long, they are gonna get super soggy and it's gonna be hard to put them onto the hot oil while keeping their circular shape. So make sure you just lightly cover the nori seaweeds with the batter, and cover only one side of the seaweed with batter. Also, make sure the water you use in the batter is ice-cold. This way, it won't get as soggy for you to put them onto the oil, and the taco shells will come out more light and crispy. Another thing to note is that it''s very important that you fry them in hot oil, in high heat, otherwise, they won't be as crispy. You need to keep an eye on them though, since they get crispy and brown really fast! Finally, when you serve the tacos, make sure you put in the filling at the very last minute, right before eating them. The hot rice and spicy sauce might make the taco shells soggy if left for too long, so keep an eye on that!
We REALLY loved how the sushi tacos turned out. It may very well be our favourite fusion dish that we ever made! The taco shells are so crispy and filled with nori flavours, and it's complemented with the delicious, flavourful, spicy salmon filling. YUM. And also shoutout to the sushi tacos food truck in L.A. who came up with this genius of an idea!
Hopefully you guys will try this recipe, because the world is definitely missing out on this masterpiece!! It should definitely be more popular by now! Let us know in the comments if you did make them and how they turned out or if you have any questions! We hope you enjoy the recipe and happy eating!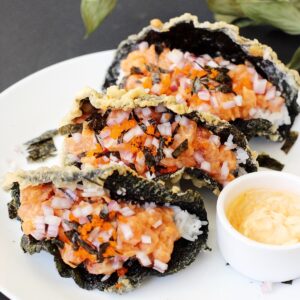 Ingredients
Nori Seaweed Taco Shells
8

sheets nori seaweed

cut into circular shapes

2

egg whites

1

cup

all-purpose flour

3/4

cup

ice-cold water
Spicy Salmon Filling
3

cups

salmon chopped into small cubes

2

tbsp

japanese mayonnaise

1

tbsp

sriracha hot sauce

or hot sauce of your choice

2

tbsp

soy sauce

1

tsp

sesame oil

salt

to taste

1/4

cup

red onion

finely chopped

2

tsp

tobiko

flying fish roe

2

cups

steamed white rice

1

tbsp

rice wine vinegar

1

tsp

granulated sugar
Instructions
Nori Seaweed Taco Shells
Cut the nori seaweed sheets into circular shape using a clean scissor.

In a mixing bowl, combine the egg whites, all-purpose flour, and ice-cold water. Gently fold to mix, do not overmix.

Heat oil for frying on high heat. Dip the nori sheets one by one onto the batter and coat only one side. When the oil is hot enough, quickly and gently drop the battered nori sheet onto hot oil. Let fry for 1-2 minutes and flip to fry the other side for another 30 seconds. Fry until crispy, but not too brittle. Remove from heat and place on drying rack.

Using tongs or chopsticks, gently fold the fried taco shell into a taco shell shape and let cool. Repeat steps for other nori seaweed sheets.
Spicy Salmon Filling
In a bowl, combine the chopped salmon, Japanese mayonnaise, Sriracha hot sauce, soy sauce, sesame oil, and salt. Mix well and set aside in refrigerator.

In a separate bowl, mix together the steamed white rice, rice wine vinegar, and granulated sugar while the rice is still hot.
To Assemble Dish
In a fried nori seaweed taco shell, place one tablespoon of rice mixture at the bottom of the shell. Place 1 1/2 tbsp of spicy salmon mixture on top, and top with chopped tobiko and red onions.