Let us introduce to you one of our favorite Korean dish: soondubu jjigae. For those of you who've never heard of it, it is a spicy soup/stew with really soft, silky smooth tofu. It's often served boiling hot in a clay pot and is eaten with a nice bowl of hot rice. YUM, our mouths are watering just talking about it. Especially with the autumn weather and winter coming up, a bowl of hot soondubu jjigae is definitely a comfort food that can warm you up.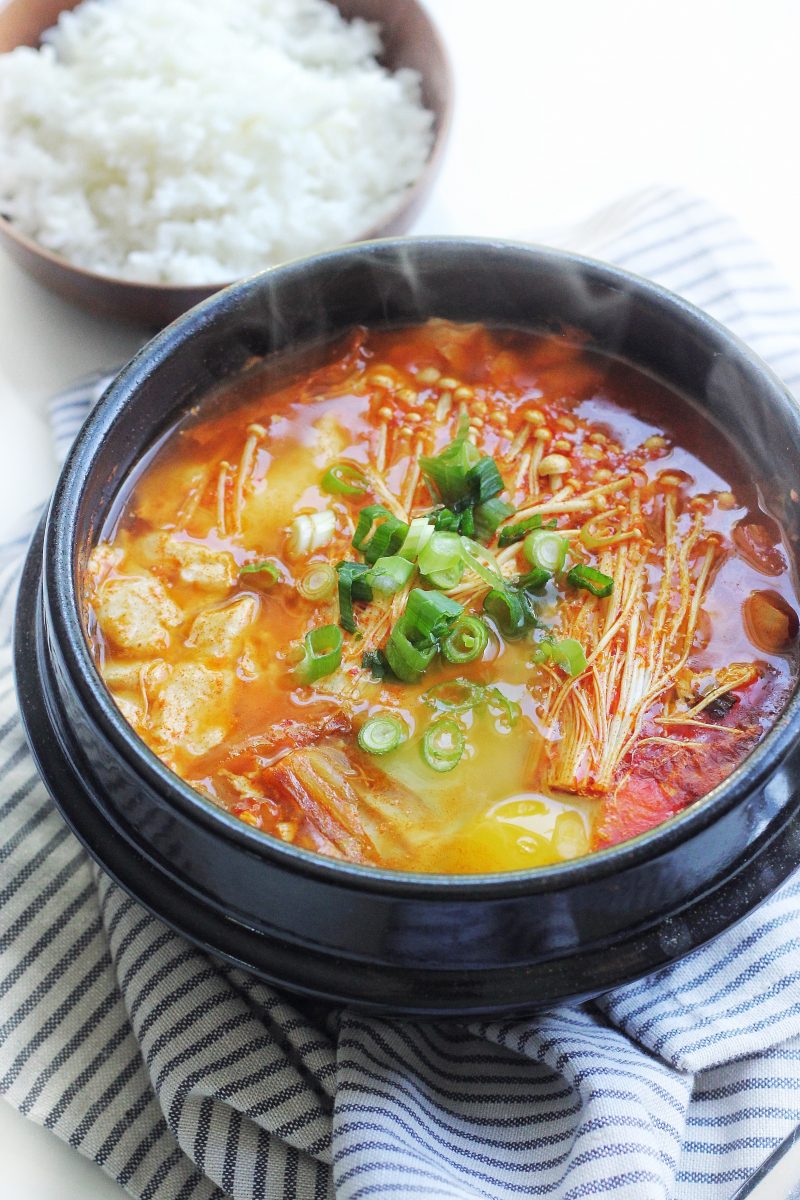 The process of making this stew is quite simple and quick. But you do have to have the right ingredients to make a delicious Spicy Korean Silken Soft Tofu Stew that's full of flavours and textures. One of the most important ingredients that we find cannot be substituted is the soft tofu. While it is possible to use firmer tofu, its texture is not as silky and as rich as soft tofu. We bought our soft tofu at a Korean grocery store. We couldn't find the soft tofu online, but we used the Pulmuone brand of Korean soft tofu and it should come in a tube-like packaging in Korean supermarkets.
Another important ingredient to have is a flavourful broth. Since it is a stew/soup, the main flavour component comes from the broth. Some recipes use water in the stew instead, which is possible but may not be as tasty. We use anchovy broth, which is the typical broth that people use to make soondubu jjigae. We love making it with this since it gives the stew a delicious, umami, ocean-y flavour. We used dried anchovies that we bought at a Korean grocery store or that you can also find online
to make the broth. If you prefer it to not taste too seafood-y, you can also use chicken or pork broth.
As for the spicy component of the soup, we used gochugaru
, which Korean red pepper powder. It's also sold at Korean supermarkets and local supermarkets.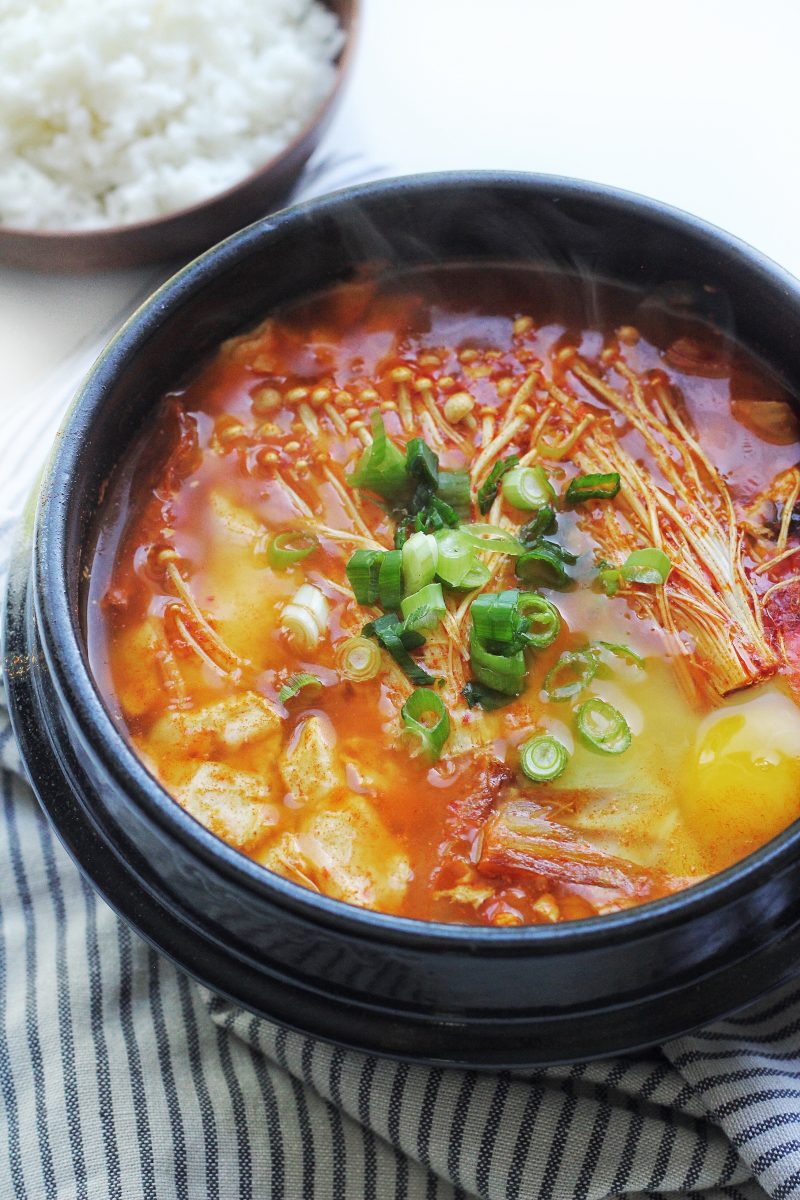 Although the main ingredient in this Spicy Korean Silken Soft Tofu Stew is the soft tofu, what you want to put in the stew is pretty much up to you. As long as you have the right ingredients for the soup and the silken soft tofu, you can be creative in what you want to put in your stew. We chose to make it lighter and simple and only put some kimchi, enoki mushrooms, and eggs. But other soondubu jjigae that we ate in restaurants can have mussels, squids, pork, and other kinds of proteins or vegetables.
This Spicy Korean Silken Soft Tofu Stew is such a delicious comfort food, it makes us hungry just writing this post! If you have any questions, feel free to leave a comment and we'll make sure to get back to you as soon as possible! For other Korean or Korean-inspired recipes, check out our Spicy & Cheesy Korean Kimchi Nachos and Beef & Vegetables Bibimbap recipes.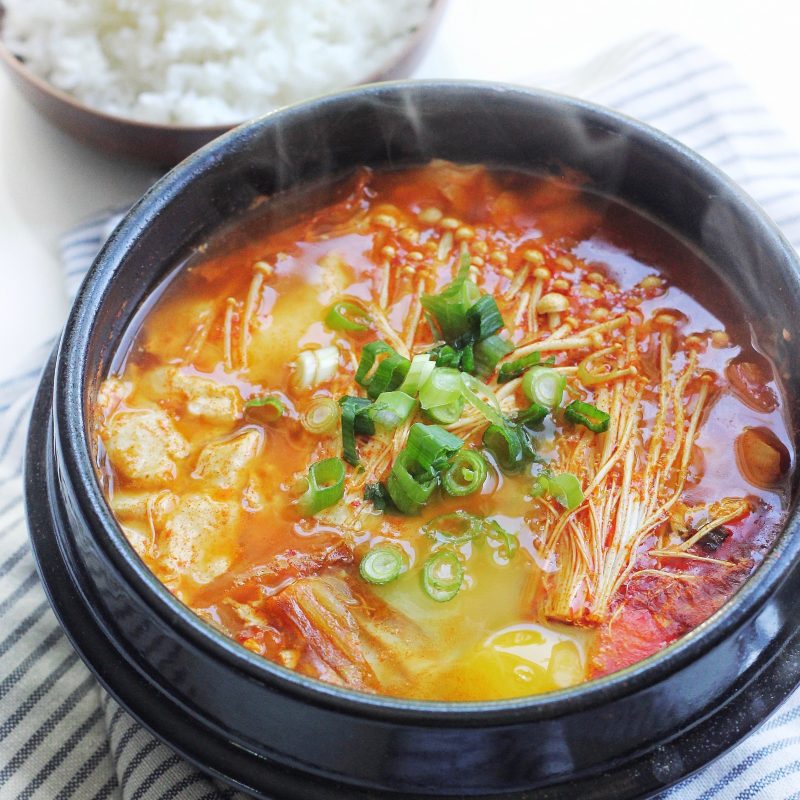 Ingredients
1/2

cup

dried anchovies

3

cups

water

2

cloves

garlic

finely minced

1/2

cup

onions

chopped

1

cup

kimchi

1

tbsp

gochugaru

Korean red pepper powder

1/2

tbsp

sesame oil

2

tbsp

soy sauce

300

grams

extra soft tofu

1 pack

1

bunch

enoki mushrooms

1

egg

1

tbsp

canola oil

green onions

for topping
Instructions
To make anchovy stock, remove the gut from anchovies and soak them in water for 20 minutes. Bring to a boil over medium heat and let boil for 10 minutes. Remove anchovies and set the broth aside.

In a small bowl, combine the gochugaru (Korean red pepper powder) with the sesame oil. Set aside.

In a clay pot or a soup pot, heat the canola oil over medium heat. Add the onions and garlic and cook until fragrant and soft, making sure to cook them on medium heat in order to not brown them. Add the kimchi and cook until kimchi is soft, about 3-5 minutes.

Add the anchovy broth and soy sauce into the pot and bring to a boil. Once it is boiling, add the gochugaru and sesame oil mixture into the pot and mix well. Bring back to a boil.

Add the soft tofu into the stew and break it into smaller pieces using a spoon or spatula. Let cook and once the stew comes back to a boil, add the enoki mushrooms and let cook on the stove for about 30 seconds.

Add an egg into the stew and remove from heat while still boiling. Top with some chopped green onions and serve with a bowl of white rice.