Very simple, elegant, festive and delicious recipe for Coconut Raspberry Tapioca Pudding. The perfect Asian-Western fusion holiday dessert dish by mix matching the coconut flavours, tapioca pearls, and raspberry sauce!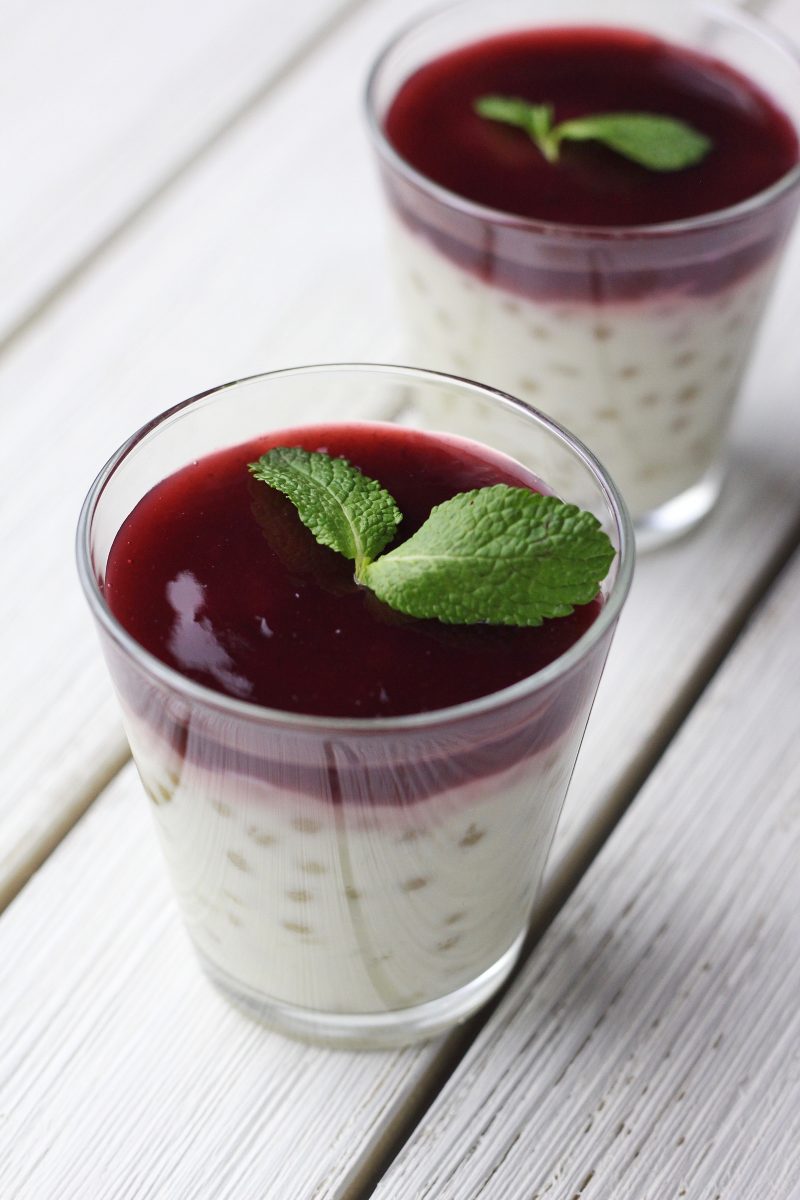 Growing up in an Asian household in Canada, we know a thing or two about Asian fusion food. A typical Christmas dinner for us would involve juicy, perfectly cooked turkey, some fried noodles on the side, probably Chinese-style stir fried lobsters and some beet salad.
We love love love incorporating Asian flavours into Western dishes or vice versa. And what a great way to get people instantly intrigued by the food you're cooking!
Usually, coconut flavours riff off very well with mangoes or pandan, but since it's the holidays, we wanted to make this pudding a bit more festive. And adding the raspberry sauce to top off the coconut pudding is the perfect way to do that!
The acidity and sweetness from the raspberry sauce goes perfectly with the rich flavours of the coconut pudding. Plus, it's red in color, you can't be more festive than that!
We used whole milk for this recipe, but you can substitute it with soy milk (we tried it and it's equally delicious, but the soy milk flavours are definitely very noticeable in the pudding).
As for the other star of this dish, the tapioca pearls, we bought ours uncooked at our local Asian grocery store (usually Chinese, Vietnamese, Filipino or Southeast Asian stores would have them). We used the slightly bigger ones out of preference, but you can definitely use smaller ones too. Just make sure to not buy tapioca pearls that are too big, or it will be a bit unbalanced with the small pudding sizes.
The cooking of the tapioca depends on the size of the pearls. We used bigger tapioca pearls which take more time to cook than smaller ones. You can follow the instructions in the packaging, but generally the cooking of the pearls involve boiling them for a bit and letting them soak in water, covered with a lid until they become transparent in color.
That's it for the quick, simple, yummy Coconut Raspberry Tapioca Pudding recipe today! We hope you enjoy it, and stay tune for more Asian fusion recipes!

Coconut Raspberry Tapioca Pudding Recipe
Ingredients
Coconut Tapioca Pudding
1/2

cup

whole milk

1/3

cup

coconut cream

3

tbsp

granulated sugar

3/4

cup

cooked tapioca pearls

1

tbsp

cornstarch

2

tbsp

water
Raspberry Sauce
2

cups

fresh raspberries

1/2

cup

water

3

tbsp

honey

1/4

tsp

vanilla extract

1

tsp

cornstarch

2

tsp

water
Instructions
Raspberry Sauce
To make the raspberry sauce, heat raspberries and 1/2 cup of water in a pot over medium heat and bring to a gentle boil. When the raspberries are mushy, mash the raspberries with the back of the spatula into little pieces and let boil for about 8 minutes, until the water becomes red in color and absorbs enough flavours from the raspberries.

Prepare the cornstarch slurry by mixing 1 tsp of cornstarch and 2 tsp of water in a small bowl and set aside.

Remove the raspberry water mixture from heat and pass through a mesh strainer. Discard the raspberry lumps and transfer the strained juice back into the pot and heat over medium heat. Add the honey and vanilla extract and mix well. Once the mixture comes to a boil, add the cornstarch slurry while continuously stirring the sauce. Continue stirring until sauce comes to a boil and becomes thicker. Remove from heat and let cool to room temperature.
Coconut Tapioca Pudding
Prepare the cornstarch slurry by mixing 1 tbsp of cornstarch and 2 tbsp of water in a small bowl and set aside.

To make the coconut tapioca pudding, heat 1/2 cup of whole milk and 1/3 cup of coconut cream in a large pot over medium heat. Add the sugar and mix well until it is completely dissolved. Bring mixture to a simmer and add the cooked tapioca pearls and stir well. When the mixture comes to a boil, add the cornstarch slurry while continuously stirring. Stir until the mixture comes back to a boil and becomes thick. Remove from heat and let cool to room temperature.

Pour pudding into individual serving dishes and gently pour the raspberry sauce on top of each pudding. Let chill in the refrigerator for at least 3 hours before serving.