If you didn't already know, our favourite type of cuisine is Japanese food. We just think it is such a well-balanced cuisine with so much variety. One of the most popular Japanese dish after Sushi is in my opinion Ramen soup.
It is personally my favourite kind of soup, maybe even more than Pho (Vietnamese soup). There are so many types of Ramen - from light to rich broths and flavours. A few weeks ago, we created a creamy and spicy Ramen soup, so this time we're going to show you how to make Shoyu Ramen, which is a lighter type of ramen that is very popular in Japan. The broth is called Shoyu and basically has a soy sauce soup base. Some of you might find it weird that the base is soy sauce, but the trick is to find a soy sauce that is not overpowering, like the low-sodium Kikkoman soy sauce
. By using light (low-sodium) soy sauce, it is easier to adjust the saltiness of the broth by adding more salt to taste. However, we used a regular soy sauce since a low-sodium soy sauce is not as easily accessible where we live. Another important ingredient that might be a bit hard to find is the dashi powder
. They usually sell them in either Japanese or Korean supermarkets, and sometimes in Chinese supermarkets.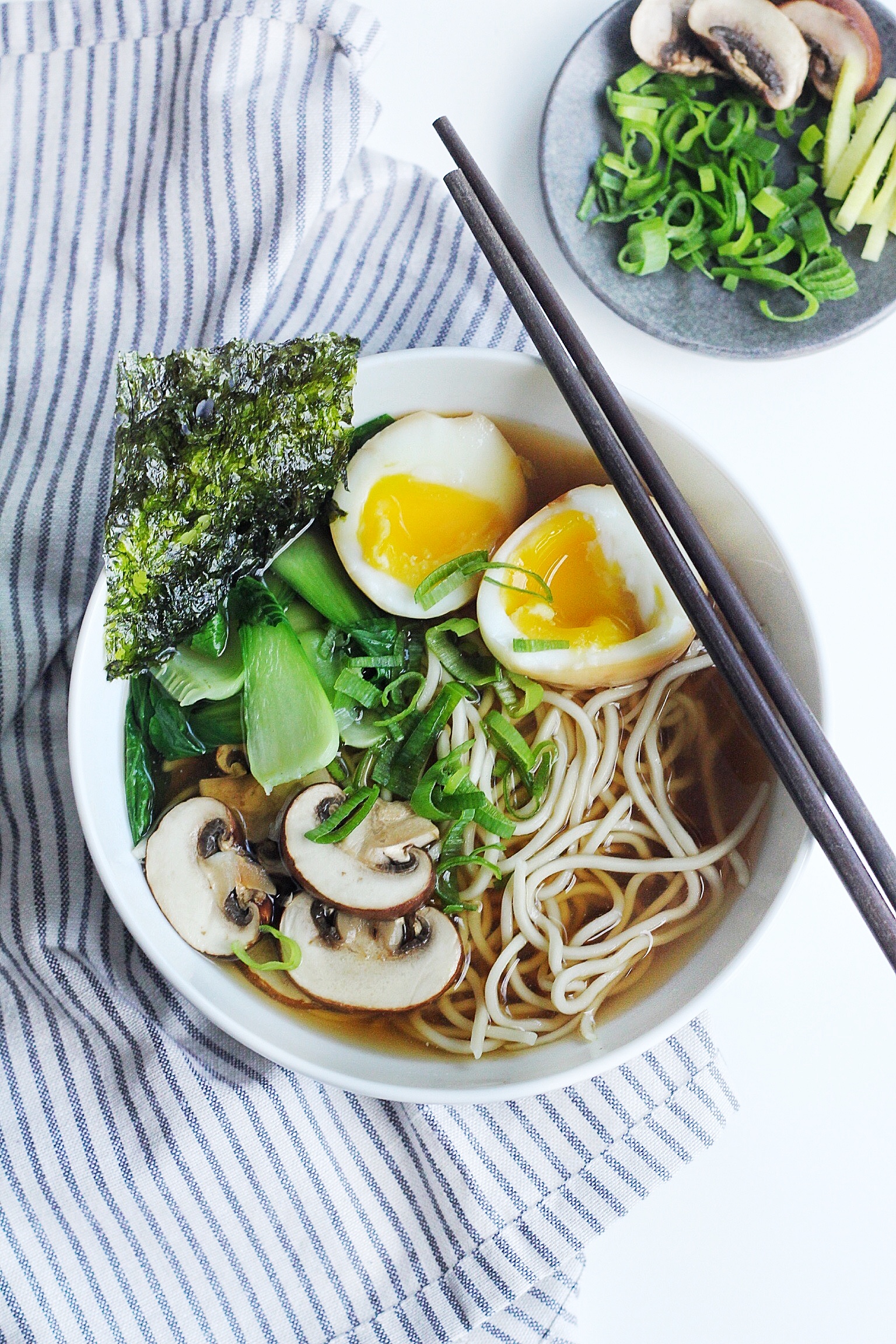 Except for the egg, we didn't add any protein. We honestly just didn't have any on hand but it would definitely add more texture and balance to the meal! We want to learn how to make proper Chashu Pork Belly before featuring it on our blog... So stay tuned!
And last we want to talk about is the noodles. It's super easy to find, at least in our area! Any asian supermarket will have ramen noodles, and if you really can't find any, instant ramen noodle can also to the trick.
Happy eating :)!
Check out our other Ramen Recipe here.
Ingredients
1

cup

chicken stock

1

cup

water

1/2

tbsp

dashi powder

1 1/2

tbsp

soy sauce

1

clove

garlic

finely chopped

1

tbsp

ginger

thinly sliced

1

egg

for topping

3

heads

baby bok choy

for topping

1/4

pound

cremini or shiitake mushroom

sliced, for topping

green onions

chopped, for topping

roasted seaweed

for topping

1

packet

ramen noodle

of your choice
Instructions
To make ramen eggs, bring water to a boil. Put a cold egg in and reduce water to a simmer. Cook eggs for 8 minutes and remove from water and transfer to bowl of ice water. Gently take off the egg shells and cut egg into two halves. Set aside.

In a pot, bring chicken stock to a boil and put in the baby bok choys and cremini mushrooms. Boil over medium high heat for about 3-5 minutes or until cooked. Remove the baby bok choys and cremini mushrooms from the pot using a slotted spoon. Set aside on a plate.

Add the water, dashi powder, soy sauce, garlic, and ginger into the chicken stock. Bring to a boil over medium high heat. Lower heat to a medium and simmer for 10 minutes.

Cook the ramen noodle according to the package's instructions.

To assemble dish, place the noodles at the center of a bowl. Pour the broth over the noodles and fill up the bowl up to about 2/3. Top with boiled ramen eggs, baby bok choys, cremini mushrooms, roasted seaweed, and green onions.