Easy rich broth that literally took 15 minutes to make. Nice sesame flavours with hints of spicy, garlic, and ginger. A homemade restaurant-level ramen that takes less than half hour to make and healthier than instant ramen? Yes please.
Ramen is lyfe. No really. Whenever we run out of leftovers to eat or too lazy to cook anything elaborate for dinner, we turn to ramen.
Instant ramen that is. The ones that are sold pre-packaged, contain questionable flavouring powders, and a whole lot of preservatives. Nevertheless, we still love it and it's practical so really, no one's complaining!
But with this spicy ramen with creamy sesame broth, we can finally have the best of both worlds. Very yummy sesame-based broth that's easy to make AND contains made with more natural ingredients with less preservatives, hence healthier!
The broth took literally 15 minutes to make, but it tasted like it took more. It has that slightly rich creamy texture without being too rich, and spicy, garlicky, gingery flavours with a nice sesame undertone. So yums!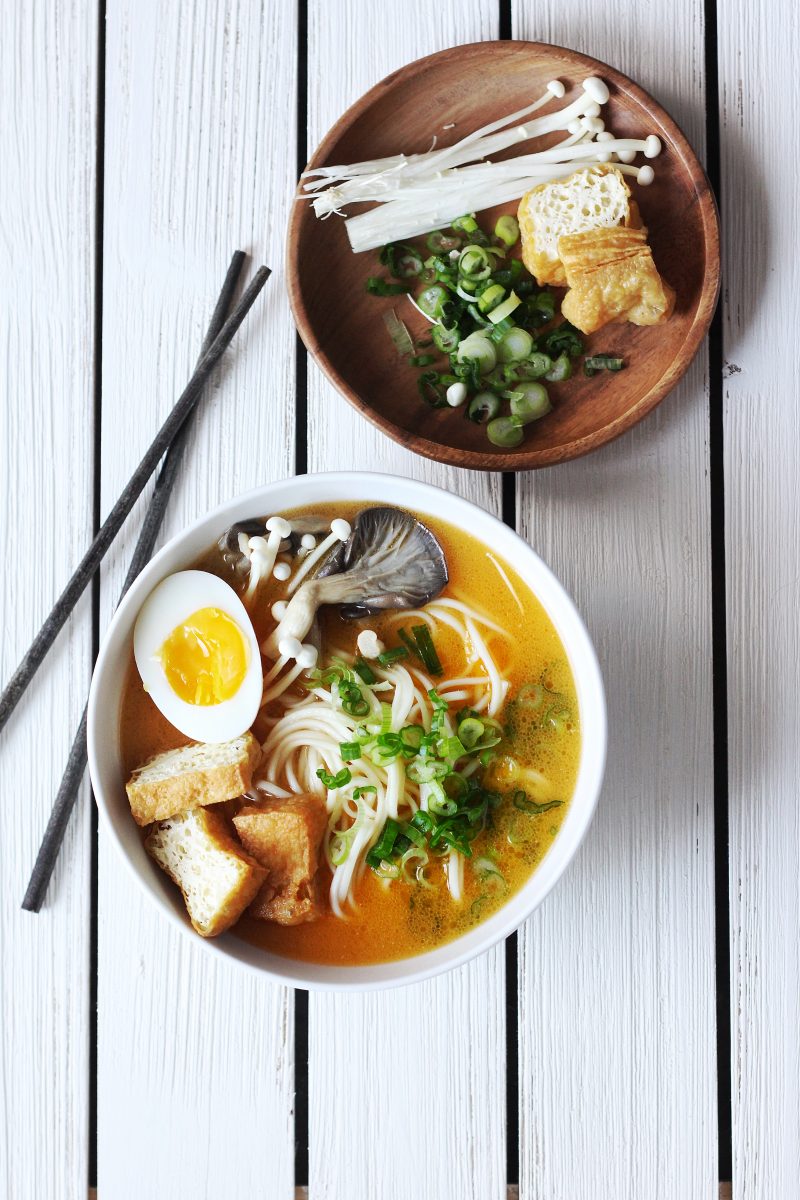 The base for the broth of this ramen is sesame seed paste (or tahini) and chicken broth. The tahini can be found pretty much in any big grocery stores where we live. And as for the chicken broth, we suggest getting the unsalted ones since we are adding soy sauce in the broth. And if it's not salty enough, you can always add more salt, that way you can easily control the salt level of your broth.
As with every ramen recipe we make on our blog, the ingredients we put in this ramen are optional depending on your taste. But if you can get your hands on those fried tofu puffs at your local Asian grocery store, then please do! They're so good especially in this broth. Once those tofus soak a bit in the flavourful broth, they'll become super juicy and flavourful.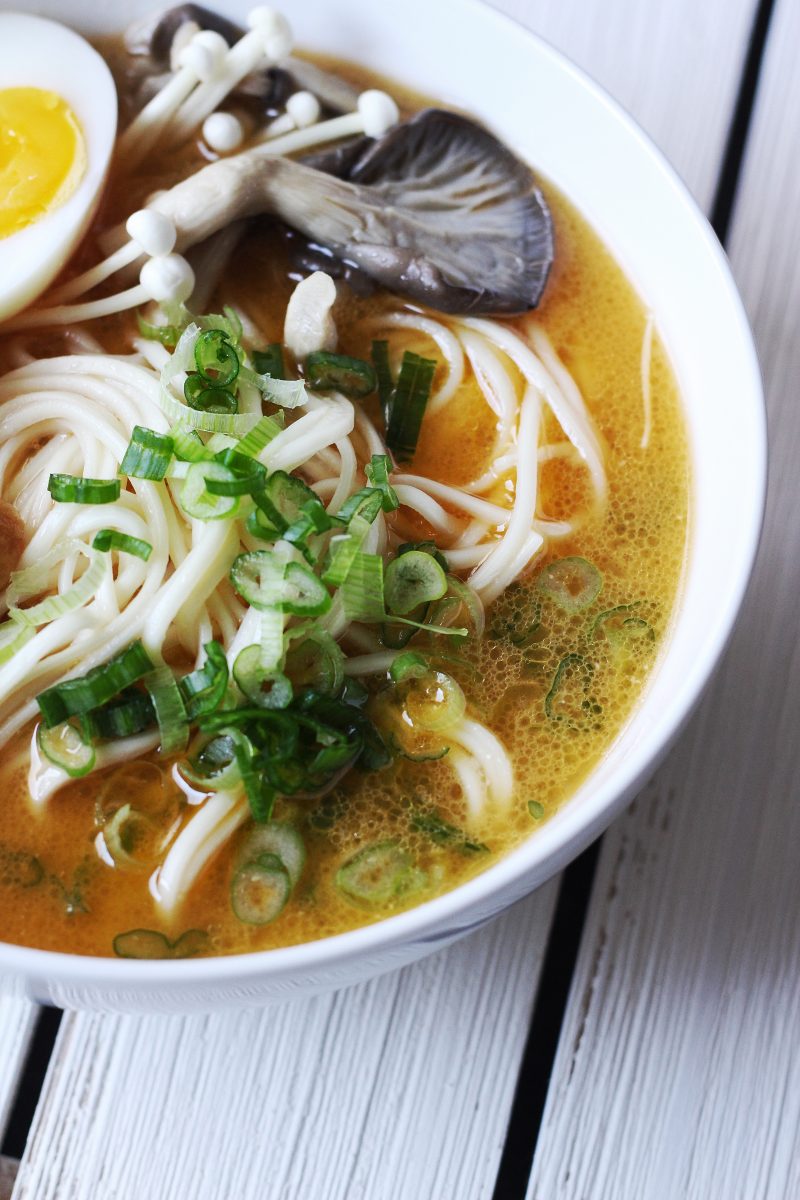 We've made another easy, creamy ramen recipe before with our Easy & Quick Spicy Creamy Spicy Miso Ramen recipe using miso paste, and that was so good that we had to make a variation using sesame paste. If you'd also like lighter, less rich ramen broths, check out our Easy & Light Shoyu Ramen recipe.
That's it for today's recipe guys, hope you enjoy it and happy eating!
Ingredients
6

tbsp

tahini (sesame seed paste)

3 3/4

cups

chicken broth

4

tbsp

low-sodium soy sauce

1

tsp

sesame oil

1

tbsp

Sambal oelek

or chilli sauce of your choice

1

tbsp

granulated sugar

4

cloves

garlic

minced

1

tbsp

ginger

minced

6

ounces

ramen noodles

2

ounces

enoki mushrooms

1/3

cup

maitake mushrooms

6-8

fried tofu puffs

cut into bite-sized pieces

green onions

chopped, for topping

2

tbsp

canola oil
Instructions
In a mixing bowl, combine the tahini (sesame seed paste), low-sodium soy sauce, sesame oil, sambal oelek, and granulated sugar and mix well. Set aside.

In a pot, heat the canola oil over medium high heat. Add the minced garlic and ginger and stir-fry until fragrant and tender. Add the sesame paste mixture into the pot and stir for about 1 minute. Add the chicken broth into the pot and stir using a whisk to dissolve the sesame paste mixture. Let broth come to a simmer and let cook for 2-3 minutes. Add in the enoki mushrooms and the maitake mushrooms and let cook for 1 minute. Add salt and pepper to taste. Remove pot from heat and remove the enoki mushrooms and maitake mushrooms onto a small bowl using a slotted spoon. Pass the broth through a mesh strainer onto another clean pot to remove undissolved sesame paste.

Cook ramen noodles according to packaging's instructions. Set two medium bowls with the ramen noodles, enoki mushrooms, maitake mushrooms, and fried tofu puffs. Pour broth into each bowl and top with chopped green onions.