The most delicious crispy-fried egg tofu, juicy ground pork bits, incredibly soft eggplants, all topped with savoury gravy-like Chinese stir fry sauce... Paired with a hot bowl of white rice, this dish is absolutely ah-mazing!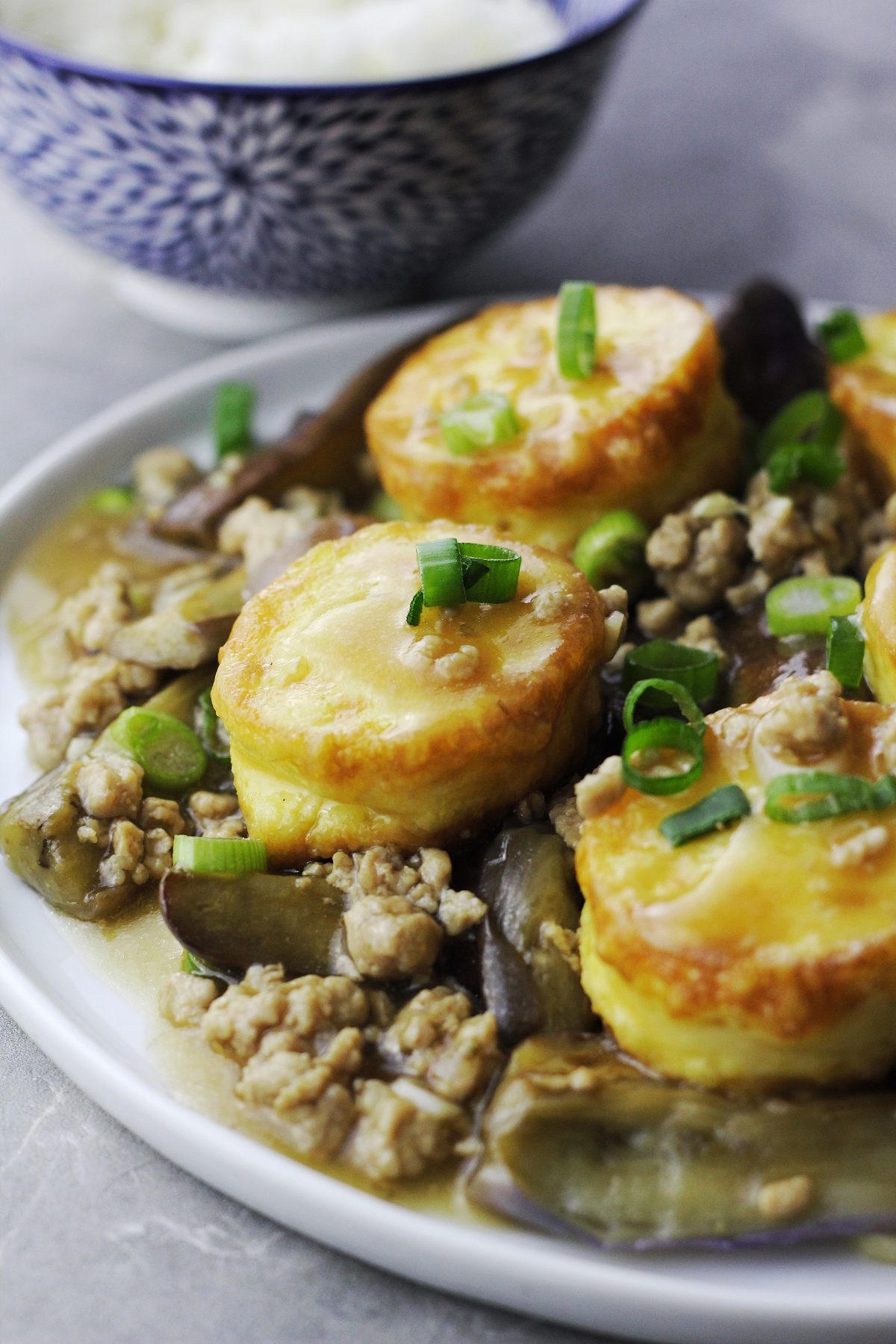 Hey guys! We know it's been a while since we last posted a recipe, we've just been super busy with work. BUT we have a bunch of exciting new recipes lined up and we can't wait to share them with you all! Now back to today's recipe, Fried Egg Tofu and Eggplants!
This is a dish that not that many people may be familiar with. We find that this dish is so underrated since it's super duper delicious and is one of our favourite Chinese recipes!
Check out our web story!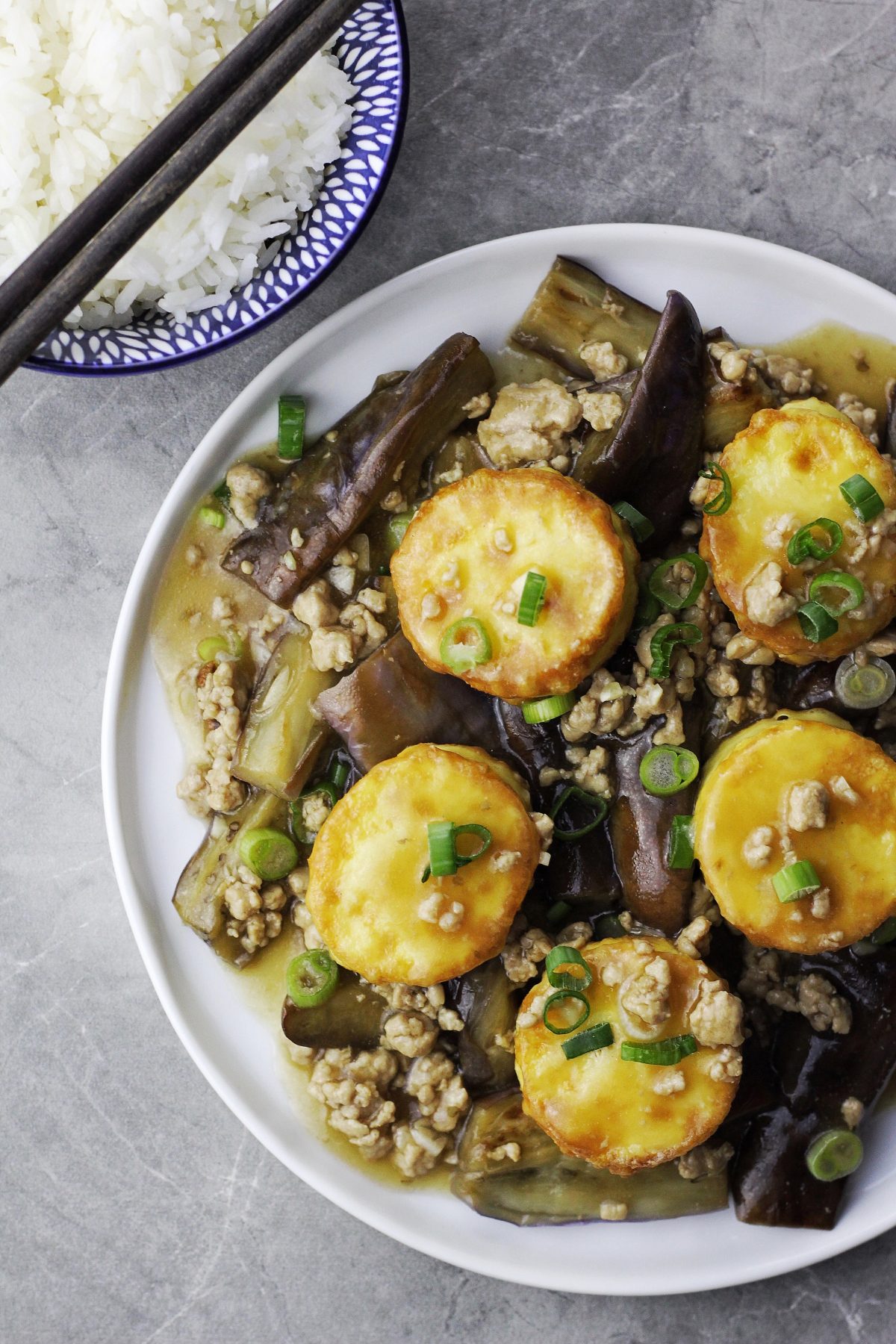 The star of this dish is the one and only, the incredibly yummy egg tofu! Some people call it Japanese tofu or scallop tofu since it comes in tube form and is often cut into thick circular disks like a scallop. But what we love the most about this tofu is the slight eggy flavour and its silky smooth texture. It's perfect to fry since you'll get that crispy exterior with a soft, luxuriously smooth interior! The egg tofu may be a little bit hard to find at your regular grocery stores, but you should be able to find them at your local Asian supermarket. It usually comes in a tube form, wrapped in a transparent packaging.
The other star of this dish is the eggplants! It's important to note that for this dish, we're using Chinese or Japanese eggplants. They have thinner skins and less seeds, and have a less bitter, more delicate flavour. In Asian dishes, the cooked eggplants are supposed to have this incredibly soft texture that's pretty similar to cooked zucchini, but slightly firmer.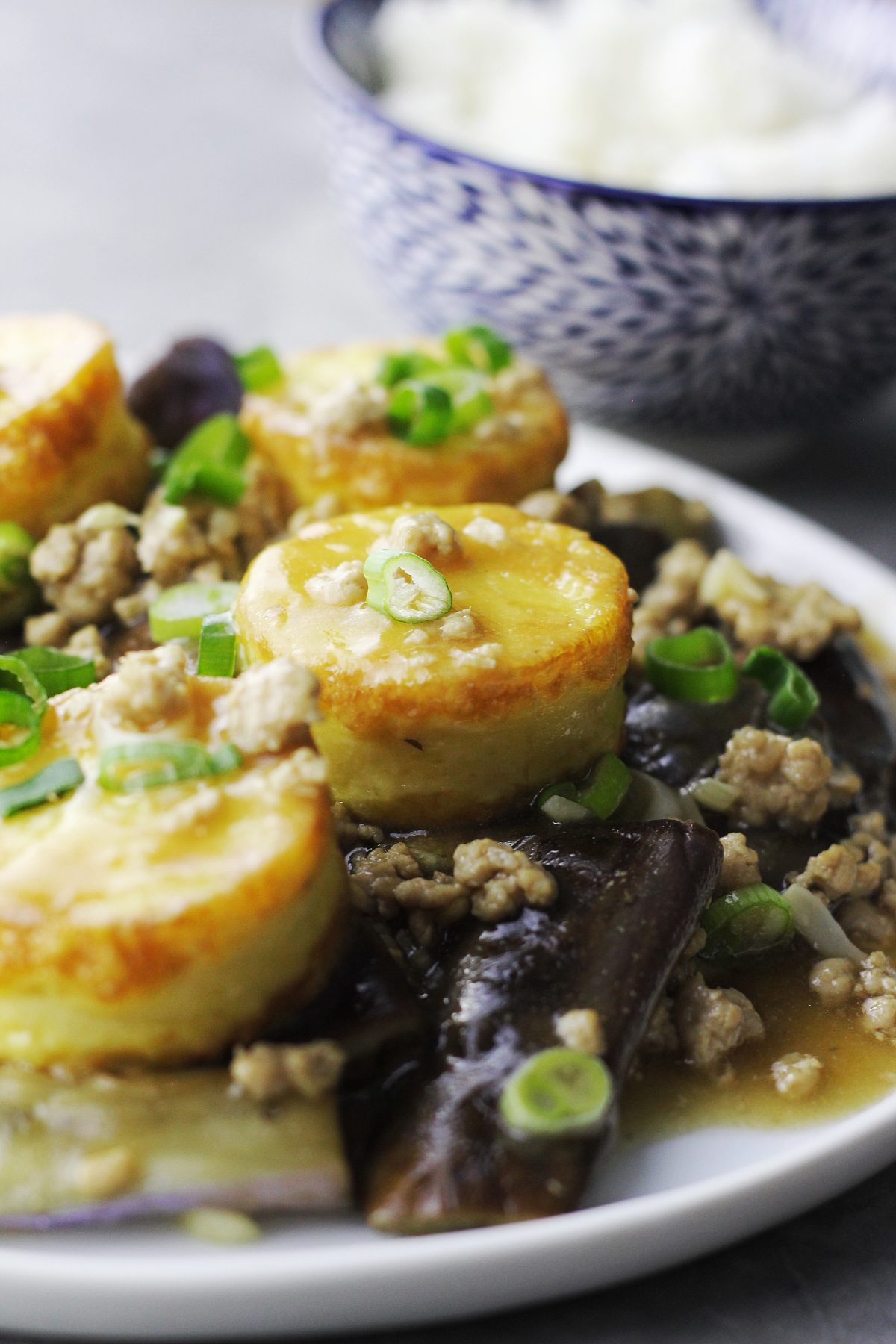 Cooking the eggplants might take about 10 minutes to get it to that soft, delicate texture that we want. And an important step to do before cooking the eggplant is to soak them in some salt water for about 15 minutes to prevent it from absorbing too much oil and become too soggy and oily. But believe us, all the preparation and cooking time are well worth it to get the perfectly cooked, delicious eggplants!
And the element that brings this whole dish together: the sauce! It's subtly flavourful and slightly thick and consistent for a nice gravy-like effect. Just pour that sauce on your hot bowl of rice, you'll be amazed at how good they are together!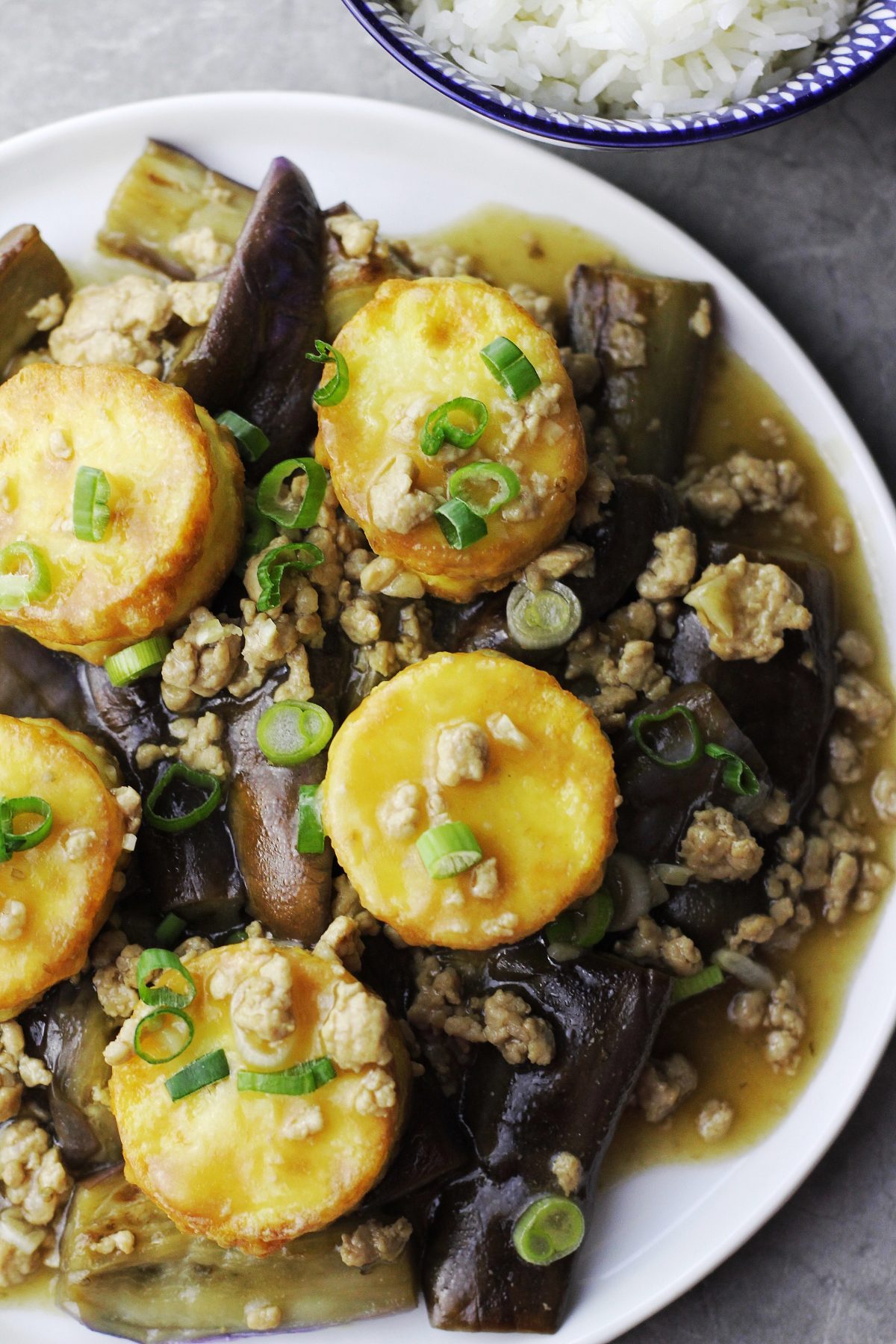 We hope you enjoy this recipe because it's definitely one of our favorites! It's simple yet so comforting and addictively delicious. If you want to explore other yummy Chinese recipes, check out our recipes for General Tso's Chicken and Beef Chow Fun.
We hope you guys enjoy it and happy eating!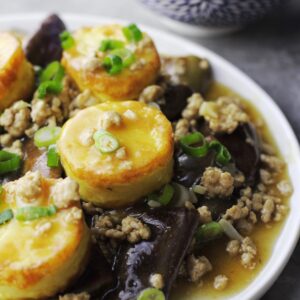 Ingredients
8

ounce

egg tofu

2

Chinese eggplants

150

grams

ground pork

2

cloves

garlic

minced

2

tbsp

green onions

chopped

1

tbsp

cornstarch

canola oil

for cooking
Sauce
1

tbsp

low-sodium soy sauce

1/2

tbsp

oyster sauce

1/4

tsp

sesame oil

3/4

cup

water

5

tbsp

chicken broth

3/4

tbsp

cornstarch

3

tbsp

water
Instructions
Cut the egg tofu into 2 cm thick circular disks and lay flat on a paper towel for 5 minutes on each side. Pour about 1 tablespoon of cornstarch on a plate and dip each flat side of the egg tofu in cornstarch. Set aside.

Cut eggplant into long strips and soak in salted water for 15 minutes. After 15 minutes, drain off water and pat eggplants dry using paper towel.

To make the sauce mixture, combine 1 tbsp soy sauce, 1/2 tbsp oyster sauce, 5 tbsp chicken broth, 1/4 tsp sesame oil, and 3/4 cup water in a bowl. Set aside.

Add about 1 tablespoon of oil on a pan and heat over medium high heat. Add the eggplants and stir fry for about 8-10 minutes or until soft and tender. Remove from heat and set aside.

Pour enough oil to cover the bottom of a cooking pan and heat over medium high heat. Gently place the egg tofu disks flat on the hot oil and fry for about 2 minutes on each side, or until golden brown. Remove from heat and place on paper towel to absorb excess oil.

In a small bowl, combine 3/4 tablespoon of cornstarch with 3 tablespoons of water and mix well to make a cornstarch slurry. Set aside.

In a large pan, heat about 1 tablespoon of oil. Add the garlic and stir fry until fragrant and tender. Add in the ground pork and separate into smaller bits. Cook for about 2-3 minutes until brown or no longer pink. Add in the sauce mixture and bring to a simmer over medium heat. Pour in th conrstarch slurry and mix well. Bring the sauce to a boil and the sauce should be thicker and more consistent, but still runny. Mix in the fried egg tofu, eggplants, and green onions and toss together gently until they are covered with the sauce. Remove from heat and serve with hot white rice.