Crispy fries, delicious garlicky flavour, and no frying involved!! It's such a great feeling to know that we can eat and enjoy one of our favourite food ever, guilt-free! And if we're being honest here, it tastes just as good as fried if not better.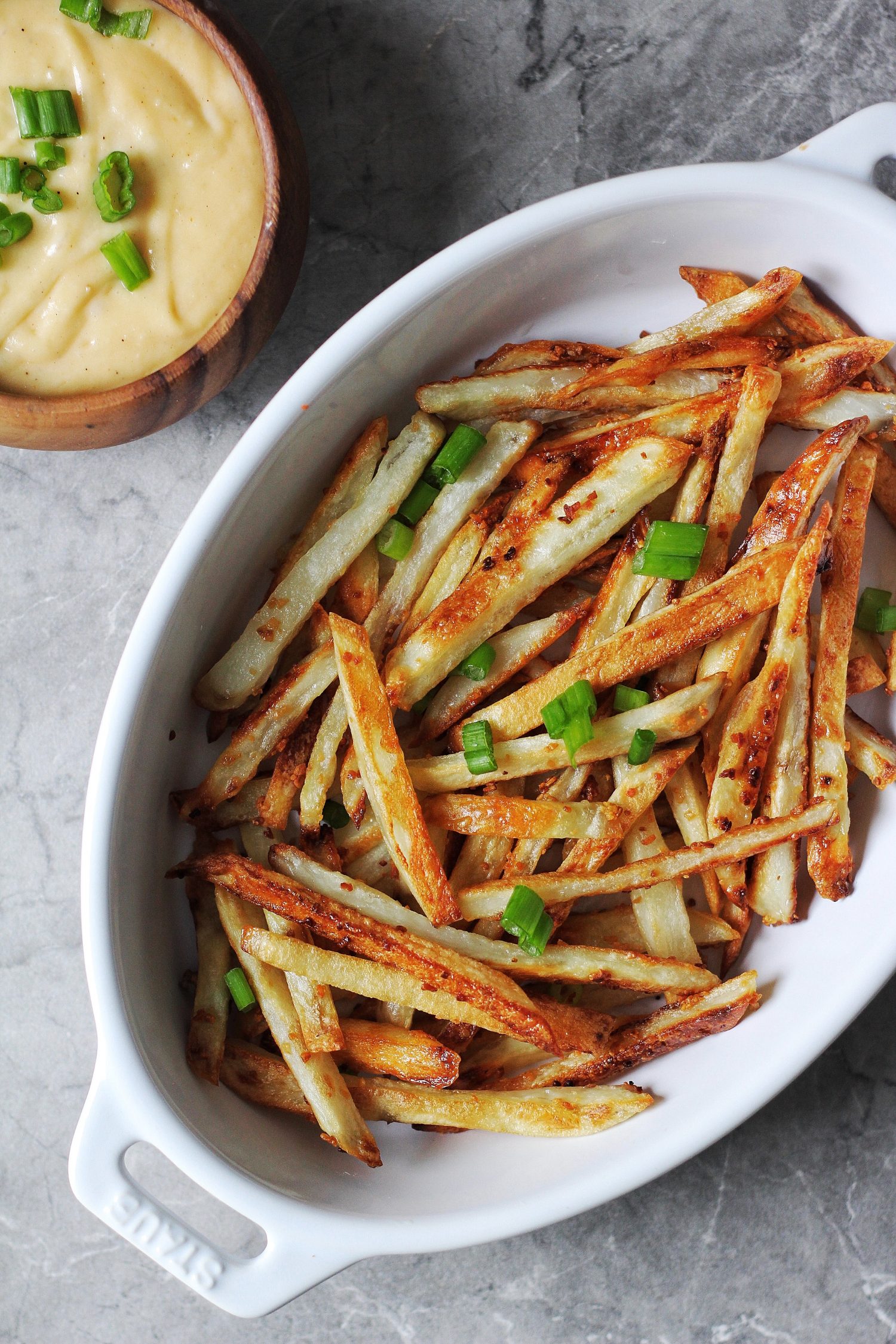 As HUGE (huge is an understatement) fans of french fries, we find it super hard to control ourselves from eating them too often considering they are fried, and not the best for you. So when we finally figured out how to make the CRISPIEST fries, without frying involved, it was like a revelation! Can't believe we didn't figure this out earlier. We actually kinda prefer them baked now. It's even crispier!
Here are a few important notes for the yummiest, crispiest baked garlic fries:
Soak the potato sticks in very cold water for at least 10 minutes. This process removes the starch from the potatoes, which helps it get more crispy. Once they are soaked long enough, drain off excess water and make sure that they are completely fry by pat drying them using a kitchen towel or a paper towel.
Put the baking sheet lined with aluminum foil in the oven while it is pre-heating. When the temperature reaches 400 degrees Fahrenheit, you can spread the fries on the heated baking sheet and it will allow them to sizzle and help with the crispiness.
Make sure that the potatoes are well coated with a thin coat of oil (not excessively, since they will become soggy). This will prevent them from burning and help them become crispy. Make sure that the aluminum foil is well coated with oil in order to prevent the fries from sticking.
Turn the fries after about 12 minutes and bake for about another 15 minutesin order to get an even, golden brown color and crispiness on both sides.
Add the salt after the fries are finished baking. Seasoning the uncooked potatoes with salt might bring out the water in the potatoes and make them not as crispy.
We love garlic powder
so much. If we can, we'd put garlic powder on every recipe. Such a quick and easy way to get some yummy garlic flavours! We also added some toasted garlic bits for extra garlic flavours, for those of you out there who, like us, can never get enough of garlic! Of course, it's optional, since the garlic powder itself is already flavourful enough!
Super easy, literally only like 3 to 4 ingredients, this Crispy Baked Garlic Fries is a must try!! We've been converted to baking our fries now since we don't really see the point of frying them anymore. It's healthier, and it tastes just as good or better! Plus, when you bake your fries you can infuse any kind of flavours you like into your fries, like garlic!
And if you're big a big fan of potatoes, check out our Garlic Miso Butter Mashed Potatoes and Mexican-Style Breakfast Potatoes.
We hope you enjoy this recipe, and happy eating!
Ingredients
1

lb

russet potatoes

2 1/2

tbsp

canola oil

1

tsp

garlic powder

1

tsp

toasted garlic bits

optional
Instructions
Pre-heat oven to 400 degrees Fahrenheit. Line a baking sheet with aluminum foil and brush 1 1/2 tbsp of canola oil evenly on the surface. Place the baking sheet in the oven while it is pre-heating.

Peel skin off potatoes and cut into fries-shaped sticks (about 1/3 inch thick). Soak the potatoes in a large bowl of cold water for at least 10 minutes. Remove the potatoes from the water, drain off excess water, and pat dry by using paper towels.

In a large mixing bowl, combine the potatoes, 1 tablespoon of canola oil, and the garlic powder. Mix until all fries are covered with oil and the garlic bits are mixed evenly.

Remove the baking sheet from the oven and spread the potatoes in a single layer. Bake for about 12 minutes on one side, turn the potatoes and bake for another 15 minutes or until golden brown and crispy. Sprinkle toasted garlic bits (optional) for extra garlic flavours.