In 2016, when we lived in Shanghai for 6 months, we made a weekend trip to Beijing and we ate the best Pekin duck we ever tasted. It was juicy, tender and crispy. If you don't know what is Pekin duck, well you're definitely missing out. It's a dish that it eaten with very thinly made crepes, fresh scallions and cucumbers, topped with hoisin sauce. It is usually one of the most expensive dish at Chinese's restaurant because it is very elaborate to prepare.
We often crave Pekin duck but we don't always feel like eating out and spending all that money, so we made our own recipe inspired by Beijing's most famous dish. In this recipe we used chicken because we're simply much more familiar with this protein. We marinated the meat in our go-to marinade which is basically soy sauce, sesame oil, honey, and garlic. We just can't get enough of this combination. Simple. Tasty. Light.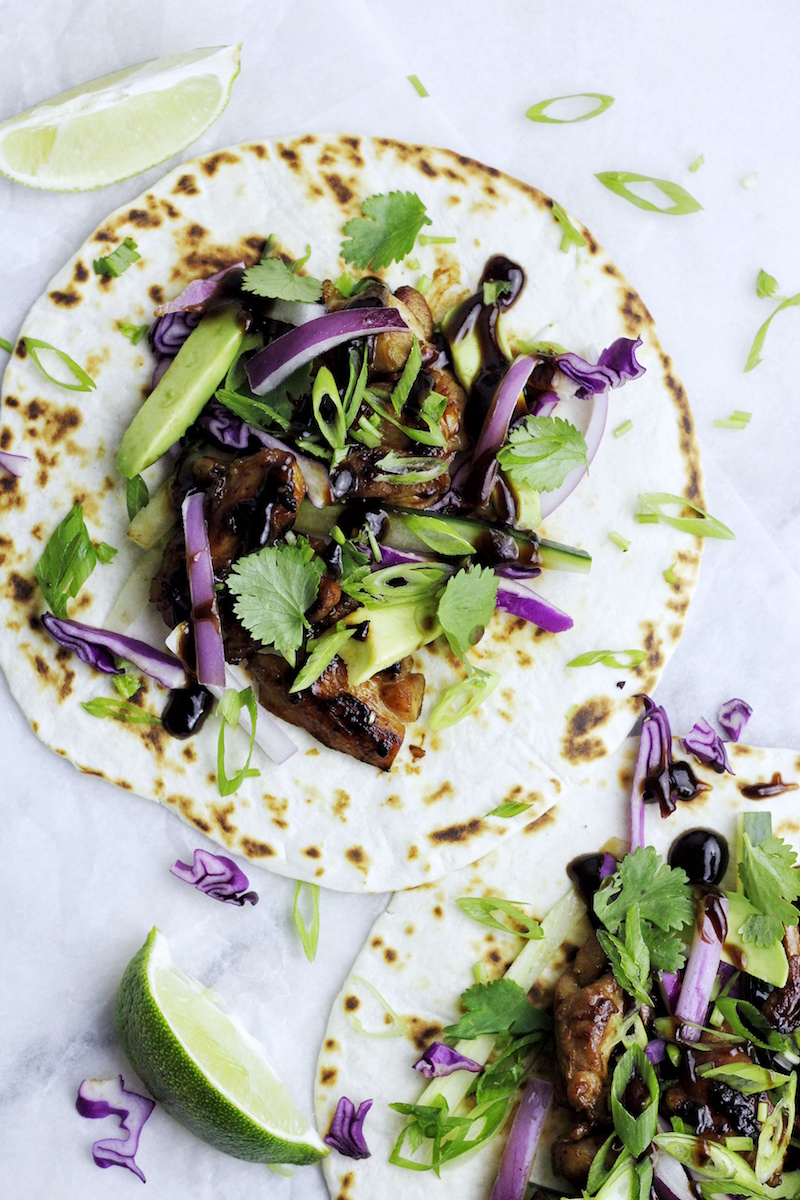 For toppings, you will definitely want cucumbers cut in stripes, scallions, and hoisin sauce to have to pekin duck flavours. The hoisin sauce we use is this one. For other toppings, you can get pretty creative and add whatever ingredient you feel like. We added cilantro and red onions to add even more freshness.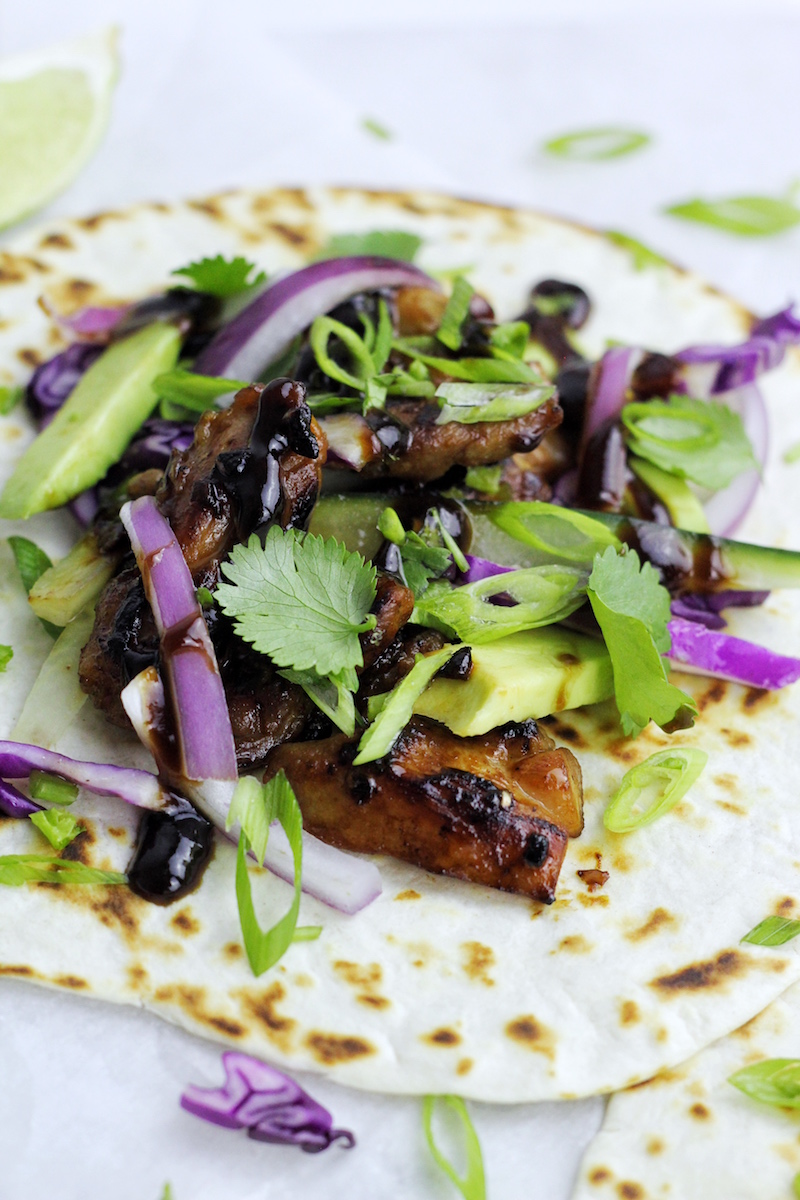 If you want, you can definitely make your own tortilla! We unfortunately haven't mastered that recipe yet, so for now we are using just regular small tortillas that you can find in any regular supermarket. We prefer soft tacos (Well, actually, Alvin prefers hard tacos, but I insist that soft tacos are better!), but you can use hard tacos if you prefer.
If you are craving asian food, try out these other recipes.
Ingredients
100

g

boneless, skinless chicken thighs

cut into 1-inch cubes

7

tbsp

low-sodium soy sauce

2

tbsp

sesame oil

3

cloves

garlic

minced

3

tbsp

honey

1/2

cup

shredded purple cabbage

1

avocado

thinly sliced

1/4

large cucumber

shredded

1/4

cup

cilantro

chopped

1

green onion

chopped

1/2

lime

for topping

4

large tortillas

canola oil

for cooking

Hoisin sauce

for topping
Instructions
In a mixing bowl, combine the soy sauce, sesame oil, honey, and garlic. Add the cubed chicken into the marinade and mix well until every chicken piece is covered with the marinade. Let marinate in the fridge for at least 30 minutes.

Heat a large pan over high heat. Place a tortilla on the pan one at a time and let toast for about 20-30 seconds or until browned. Flip the tortilla and toast the other side. Remove tortilla from heat and keep in a large bowl covered with damped towel.

Heat 1 tbsp of oil on a pan over medium high heat. Add the marinated chicken into the pan and cook for about 2 minutes on each side or until cooked thoroughly. Remove chicken from pan and transfer to a bowl. If you want the chicken to have a charred flavour, drain off juice from the pan and wipe using paper towel until dry. Reheat pan on high heat and add the cooked chicken. Grill over high heat for about 30 seconds on each side or until charred and remove from heat.

To assemble the tacos, place about 1/4 of the cooked chicken on a tortilla. Add the shredded purple cabbage, shredded cucumber, avocado slices, cilantro, and green onions. Top with some lime juice and Hoisin sauce to taste.