A restaurant-level dish that can be made at the comfort of your own home and doesn't take an eternity to make! The fried chicken is perfectly crispy and so so tender on the inside, and the salted egg yolk sauce is rich, savoury, and just plain amazeballs. Believe me, if you're a fan of the salted duck eggs, this dish is an absolute must-try!
These days it seems like it's just been salted egg yolk everythang with us. If you haven't heard, salted egg yolk sauce is super IN right now in Asia. And even though we don't live in Asia, here in North America, many Chinese restaurants serve a variety salted egg yolk dishes. Our first time trying a salted egg yolk dish was in a restaurant called Little Alley in New York City and we went nuts for it! It was then there where our obsession with salted egg yolk sauce started.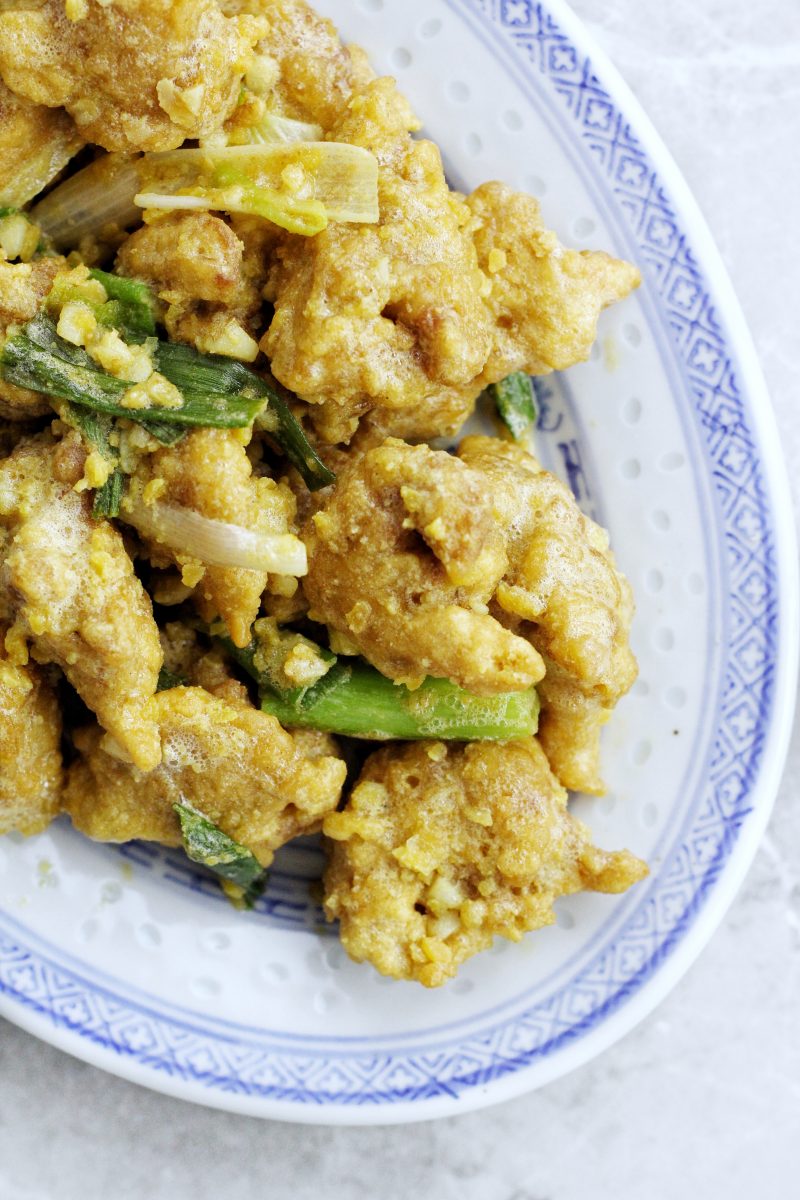 If you're not that familiar with Asian cuisine, a salted duck egg is a preserved food that's made by soaking the egg in brine. The curing process results in a salty, soft bur firm egg white and a rich, firm orangey-colorer yolk. The salted duck egg is often eaten with congee or as a side with other dishes (although I also like to eat it just on its own too). To make this sauce, all you need is the cooked yolk. You can find the cooked, salted duck egg yolk in the refrigerated sections at Asian grocery stores. We found ours at a Vietnamese supermarket, at the refrigerated section next to the yogurts and eggs and came in a vacuumed plastic bag.
The recipe for the fried chicken is the same one that we used for our Honey Garlic Fried Chicken and General Tso's Chicken recipes. Super tender on the inside and perfectly crispy on the outside, yet doesn't get soggy too quickly when mixed with the sauce! Oh, and as usual, always use chicken thighs if you want more tender fried chicken pieces!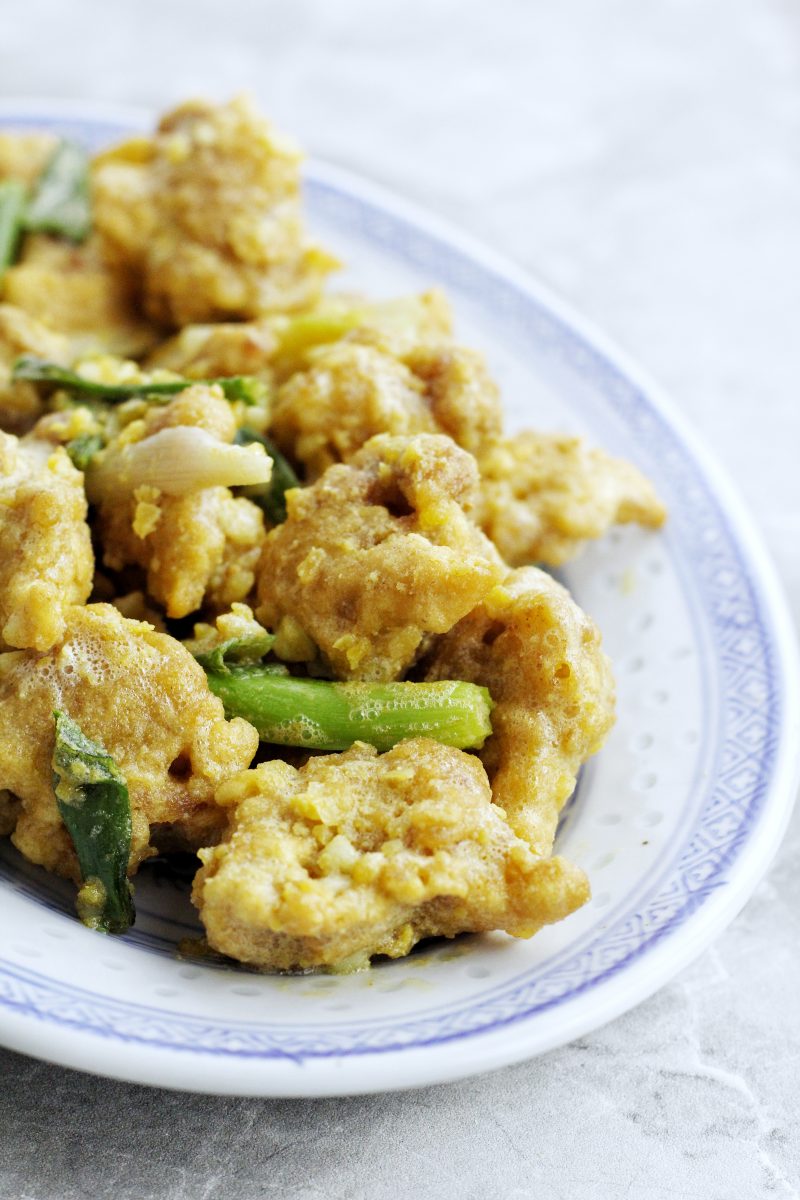 This Crispy Chicken with Salted Egg Yolk Sauce recipe is a must try for all of you foodies who are on the hunt for new flavours! It might sound weird for people who are not even familiar with salted duck eggs, but hey it's all about trying new things right!? And if you do like salted duck eggs, then this is the recipe for you my friend!
We hope you enjoy this recipe and give this a try, and happy eating!
Ingredients
300

g

boneless, skinless chicken thigh

cut into bite-size pieces

1

tbsp

soy sauce

1/4

tsp

salt

1/2

tsp

black pepper

1

large egg

1/2

cup

cornstarch

3

tbsp

unsalted butter

4

cloves

garlic

minced

3

cooked, salted duck egg yolk

1

stalk

green onion

cut into 1-inch strips
Instructions
Place the bite-sized chicken thigh in a mixing bowl. Add soy sauce, salt, and black pepper and mix well.

In a small bowl, beat egg until blended and pour into the bowl of chicken marinade and combine. Add the cornstarch and mix well until well-combined and there are no visible white cornstarch. The batter should have a sticky consistency and every piece of chicken should be evenly coated.

Fill up a deep pan with canola oil to about 1 inch of depth and heat over medium high heat. Test by dropping a drop of the batter into the oil. If it sizzles and immediately floats into the surface, then the oil is hot enough. Gently drop the chicken into the hot oil one at a time and fry over medium high heat for 2-3 minutes, or until cooked thoroughly. Remove chicken from oil and let rest on a drying rack for 5 minutes. Once the fried chicken have rested for 5 minutes, gently drop them into the hot oil and fry for a second time, about 1 minute or until golden brown and crispy. When ready, remove chicken from oil and let cool on a drying rack.

In a small bowl, mash the cooked salted duck egg into very small crumbles and set aside.

Heat 1 tbsp of unsalted butter on a pan over medium high heat and let melt. Add the minced garlic and stir fry until tender and fragrant. Add the other 2 tbsp of unsalted butter into the pan and let melt. Once melted and slightly bubbling, add the mashed cooked salted duck egg into the pan and mix until a thick sauce forms. Cook while stirring continuously until the sauce becomes foamy and doubles in quantity, about 1-2 minutes. Add the fried chicken and the green onions into the pan and combine until every piece of chicken is coated with the sauce. Remove from heat and serve with hot white rice.