The simple yet amazingly delicious Mapo Tofu... One of our all-time favourite Chinese dish! You can ditch that Chinese takeout menu and make your very own Mapo Tofu at home, in just under 30 minutes. It honestly tastes just as good as takeout (if not better!) AND you can customize the spiciness level or the texture of the sauce according to what you like!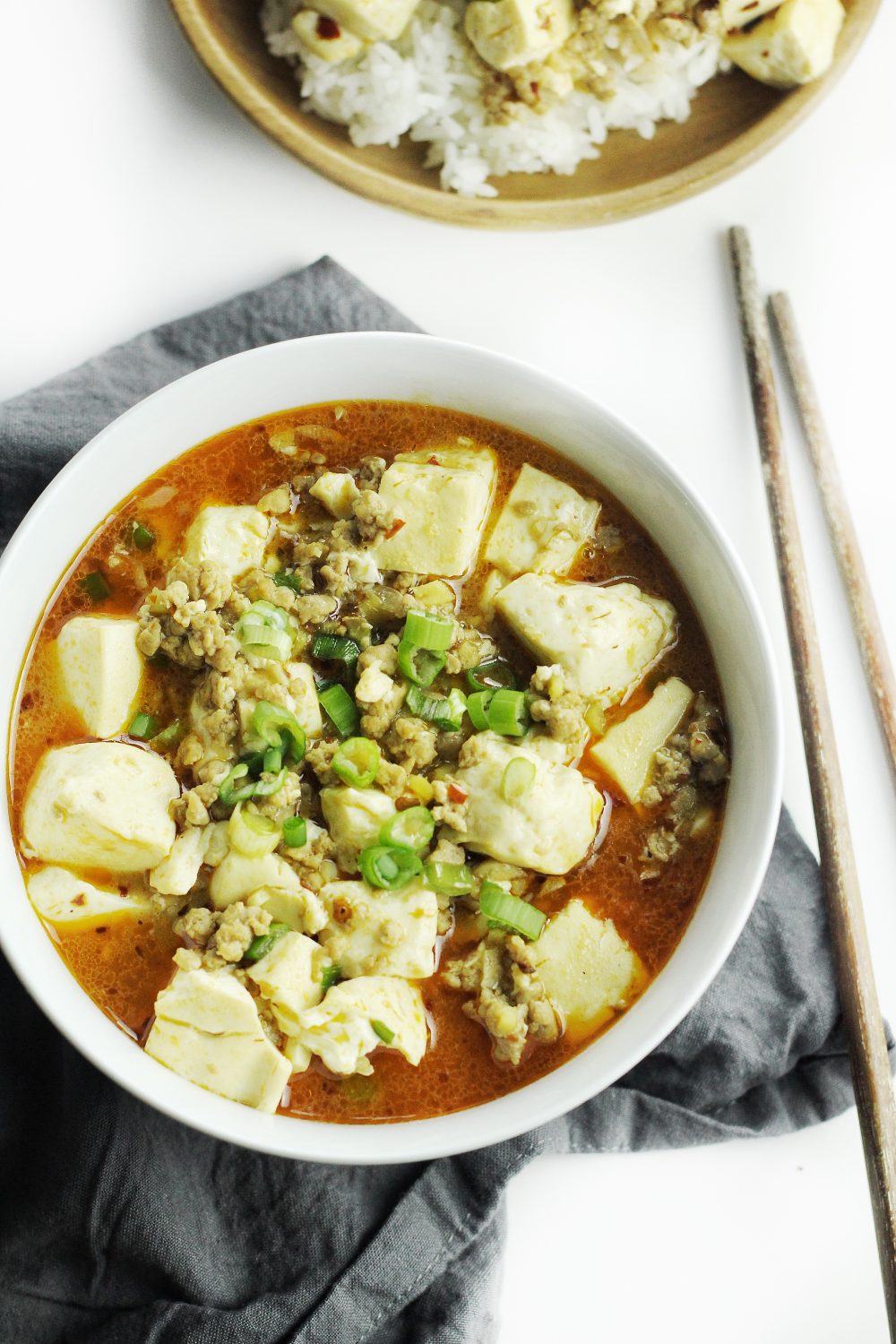 Silky smooth tofu and tender pieces of ground pork in spicy flavourful sauce, all that on a bowl of hot white rice? Yes please.
The secret to an amazing Mapo Tofu for us is this one ingredient: spicy chilli bean sauce (or doubanjiang). It's spicy, it's salty, it's full of flavour! One tablespoon of this sauce goes a long way and adds so much dimension to your dish. Although, I'm not sure how it is where you live, it was a bit hard to find in our local grocery stores. We had to go to a Chinese supermarket to buy it, but hey it was worth the trip though! They are also online
if you don't live near an Asian grocery store. I know, thank god for the internet!!
You can also make your own chilli sauce and use some Sichuan peppers. But since these peppers are hard to find here in Montreal, and we're not big fans of the numbing sensation that these peppers have on the tongue, the spicy chilli bean sauce
is an excellent alternative to use!
Now, let's talk about the star of this dish, the tofu. Some might suggest using firm tofu and others soft. It's really up to you. We prefer a softer, silkier tofu texture so that's why we used soft tofu in this recipe. It's silky, but it still keeps its shape even with all the mixing and stirring in the pan. But if you find soft tofu to be a bit too mushy, then you can definitely use firmer tofu for this. It's YOUR dish, you can tweak it however you want! That's the beauty of cooking at home!
Oh how we love how fast, easy and yummy Chinese food is. Perfect for busy weekday nights when the last thing we want to do is spend hours in the kitchen making dinner. Try also our recipes for Asian Garlic Sesame Noodles and Beef and Broccoli Noodles, which are real life savers for meal preps!
Ingredients
200

grams

lean ground pork

800

grams

soft tofu

4

cloves

garlic

minced

1 1/2

tbsp

ginger

minced

2

tbsp

soy sauce

1 1/2

tbsp

spicy chilli bean sauce

doubanjiang

1

cup

chicken broth

1 1/2

tsp

cornstarch

3

tbsp

water

2

tsp

sesame oil

3

green onions

chopped
Instructions
Heat sesame oil in a pan or a wok over medium high heat. Put in the ground pork and stir fry while breaking the pork apart into pieces until browned and cooked thoroughly, about 3 minutes.

Add the minced garlic and ginger into the pan and stir fry until tender and fragrant. Add the spicy chilli bean sauce and soy sauce and stir well until they are well combined with the ground pork.

Pour in the chicken broth and stir gently to mix. Once the sauce boils, add in the cubed tofus and gently stir making sure to not break the tofus too much. Let simmer for about 3-5 minutes.

In a small bowl, prepare cornstarch slurry by mixing the cornstarch and water. Add in the chopped green onions and the cornstarch slurry and mix gently. Once the sauce boils and becomes slightly thicker, remove pan from heat and serve. Top with some sesame oil and more green onions.