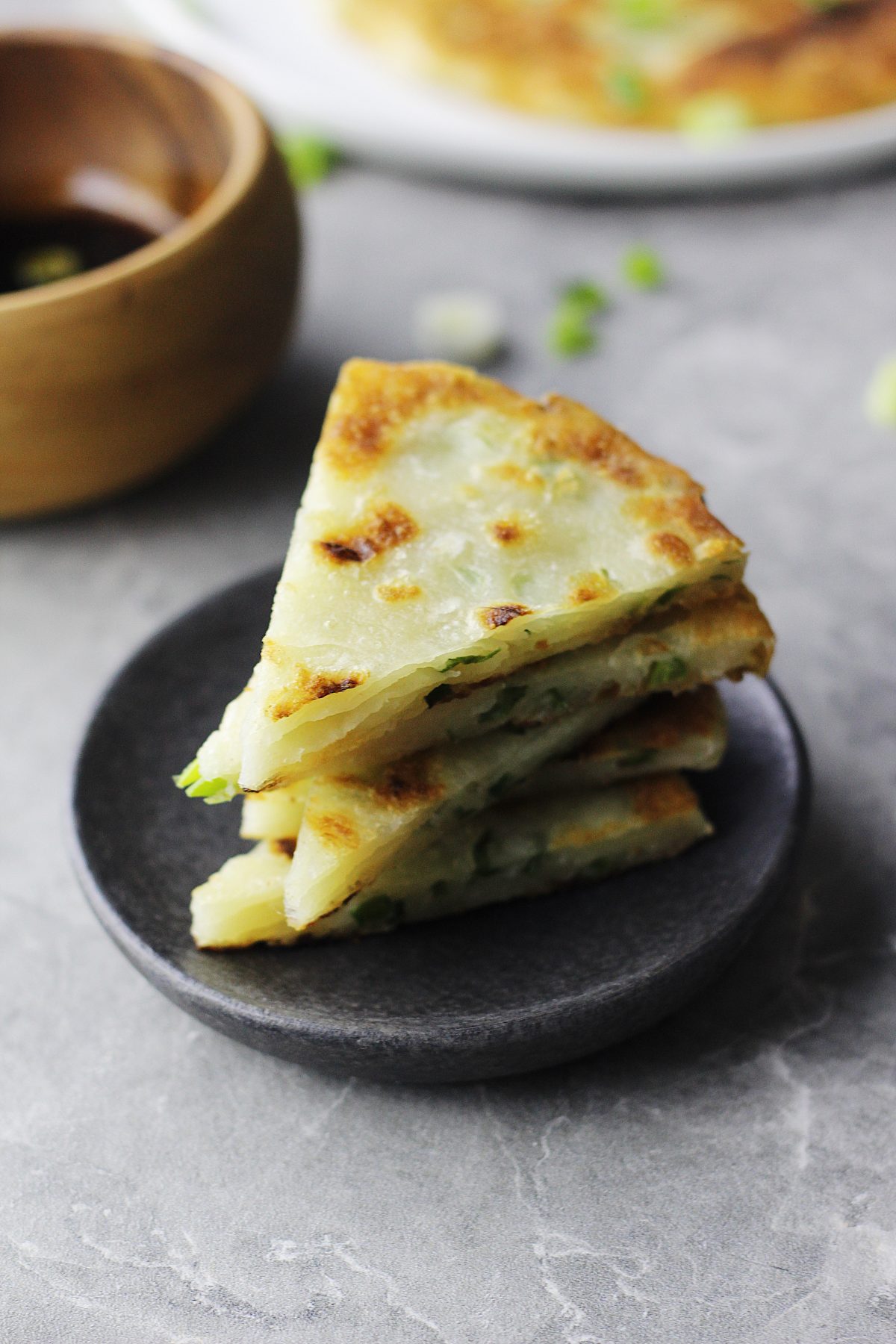 Last year, we were not in Montreal during Winter, but in Shanghai to learn Mandarin. Although I was born here, and Alvin has been living here since the age of 9 years old, we still get surprised every time winter comes. We get reminded of how cold it can be (Can you believe that for more than 2 weeks straight, we had -20 degrees Celsius weather?) and we always end up having the winter blues after Christmas. It's times like these that remind us of our dolce vita in Shanghai, when the biggest decisions we had to make was where to eat after our morning (and only) class. As a snack, we loved to to get 葱油饼 (Cong You Bing - Scallion Pancake), and our favourite spot was conveniently at the front gate or our University.
It is one of China's most famous street food and it is actually so easy to make, you just need to learn the technique. Important tips and tricks to remember are:
When pouring the hot water into your bowl of flour, you need pour it little by little and keep mixing to get the right consistency.
Knead the dough gently until tender, about 5 to 10 minutes.
Let the dough rest between 20 to 30 minutes, and don't forget to cover the bowl. We wet a kitchen towel to get it humid and is it as a cover.
Roll the dough as thinly and uniformly as possible to create nice layers in the pancake.
Use enough oil over medium high heat to fry for a crispier and flakier pancake.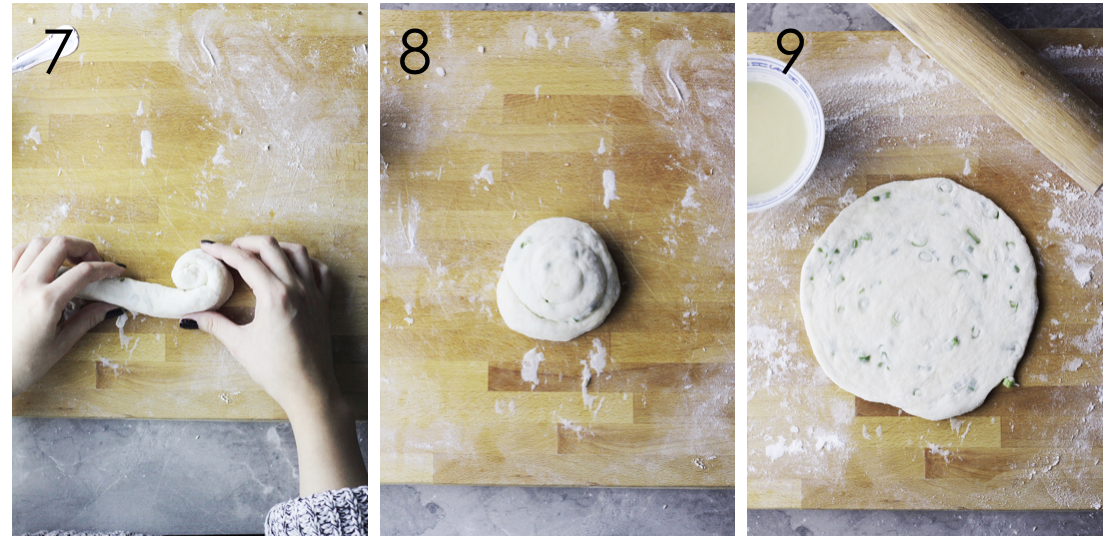 Chinese people like to eat these as a snack or even for breakfast. Add an egg on top and you're good to go! When we were in China, we noticed that a lot of the street vendors would use pork fat (or lard) to add flavour to the pancake. Although it is not the healthiest choice, it taste ah-ma-zing. Unfortunately, it isn't as easy to find it in your local grocery store so we didn't add it to our recipe. We're so glad we finally learned how to make these delicious scallions pancake. There are so easy to make once you know how to make them, and they're the perfect satisfying snack after a long day at work.
Ingredients
1 1/2

cup

all-purpose flour

1

cup

hot water

1

cup

green onions

finely chopped

2

tsp

salt

vegetable oil

for cooking
For oil paste
1/4

cup

all-purpose flour

1/3

cup

vegetable oil
Instructions
To make the pancake dough, add 1 1/2 cup of all-purpose flour in a large mixing bowl. Slowly add the hot water while mixing consistently until large flakes form (Picture 1). Press the flakes together to form a dough ball (Picture 2), dust hands with flour to prevent sticking.

Transfer the dough into a floured board and knead gently until soft, about 5 to 10 minutes. Lightly flour the bottom of a large bowl and place the kneaded dough inside, covered with a wet kitchen towel (Picture 3). Let dough rest for about 30 minutes.

To make the oil paste, combine 1/4 cup of all-purpose flour and 1/3 cup of vegetable oil in a bowl and mix well until it forms a smooth, consistent, thick consistency.

Place dough on a lightly floured board and roll gently into a thick cylinder. Equally cut the cylinder into 4 equal-sized pieces and shape each piece into a ball (Picture 4). Place 3 quarters back into the bowl and cover with wet kitchen towel. Working with one piece at a time, roll as thinly as possible into a rectangular shaped sheet using a lightly floured rolling pin. Brush enough of the oil paste to cover the surface of the rolled dough. Season with about 1/2 teaspoon of salt and evenly sprinkle 1/4 cup of the chopped green onions.

Starting along the long side, roll the sheet into a long strand (Pictures 5 and 6). Twist roll the strand into a spiral (Pictures 7 and 8), making sure to tuck in the end of the strand underneath the roll.

Lightly press on the spiral roll to form a flat disk and roll out as thinly as possible, making sure that the green onions do not break out of the pancake (Picture 9). Repeat steps with the other 3 pieces of dough.

In a medium-sized pan, pour about 2 1/2 of vegetable oil or enough oil to cover the bottom of the pan. Heat over medium high heat and fry one disk at a time for about 2 minutes on each side, or until golden brown.