Hands down, best twist on a mac and cheese that we've ever tasted! It's luxuriously cheesy, it's got crunch, and it's packed with flavours! This Baked Tex-Mex Mac and Cheese is so easy to make, contains no heavy cream (hence less fatty) and is THE ultimate comfort food!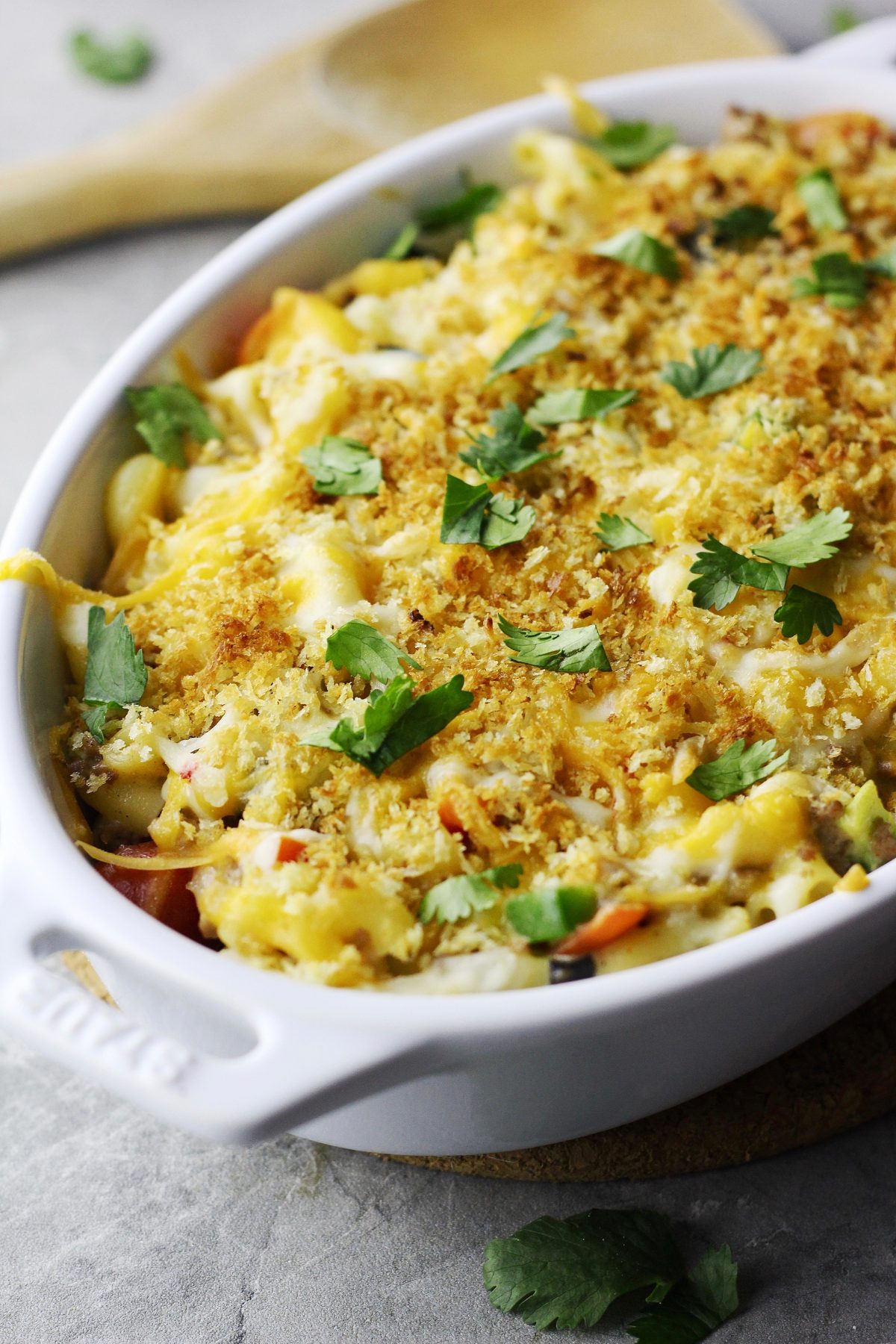 As avid mac and cheese fans, we were literally jumping up and down like little kids when the dish came out of the oven. Because we had to take pictures, we had to wait before we were able to scoop out a portion and get a bite of this yummy goodness. Seriously, one of the hardest things we've ever had to do! I mean, just look at that spoonful of goodness!
And if you didn't know, Tex-Mex food is LYFE and we love the ingredients involved in Tex-Mex cooking. The addition of the jalapeño, tomatoes, olives, onions, cilantro to this mac and cheese really brings this dish to life. It adds so much flavour complexity, freshness and amazing textures!
Important ingredient: It is a must that you add Taco seasoning both in your beef and in your sauce! It adds so much flavours and really makes this mac and cheese taste truly "Tex-Mex". We used the Old El Paso Taco Seasoning
, and a teaspoon goes a long way. But, you can add more if you want even more flavours!
One thing you need to pay attention to is the texture of your sauce before you mix in the macaronis and the rest of the ingredients. Make sure not to reduce the sauce too much. You're going to bake the macaroni in the sauce and it will reduce further in the oven.  If you over reduce the sauce in the pan and it becomes too thick, you won't have that much sauce left after baking it in the oven. A way to tell if the sauce is reduced enough is when you can make a path along the bottom of the pan using a spatula, but the sauce is still runny enough to recover the path quickly.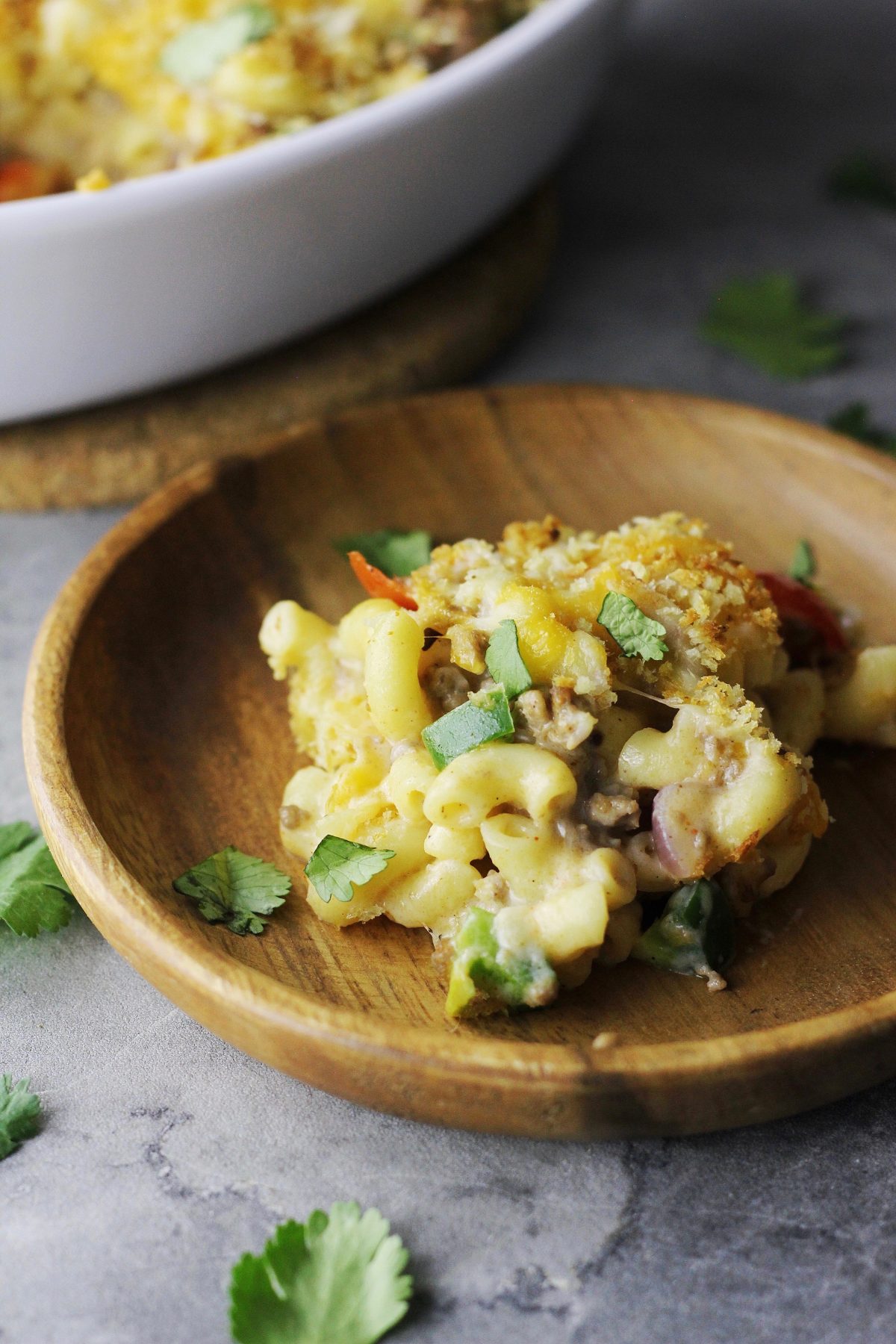 This dish reminds us of our Spicy Korean Kimchi Nachos. The perfect blend of flavours between two completely different kinds of food. We love us some fusion dishes!
Well, we're off to scraping off and eating the leftover baked cheese that's stuck to the baking dish (our personal favourite). Hope you enjoy this recipe, and happy eating!
Ingredients
Beef
200

grams

ground beef

3

cloves

garlic

minced

1/2

jalapeño pepper

chopped

1/2

red onion

chopped

1 1/2

tsp

Taco seasoning

1/2

tsp

salt

1/2

tsp

black pepper

1/2

tsp

sugar

1 1/2

tbsp

canola oil
Mac and Cheese
250

grams

elbow macaroni

2

tbsp

unsalted butter

2

tbsp

all-purpose flour

2

cups

milk

1

tsp

Taco seasoning

1

cup

shredded mozzarella and cheddar cheese

1

tsp

black pepper

salt

to taste

3/4

cup

cherry tomatoes

cut into quarters

1/3

cup

black olives

chopped

cilantro

chopped, for topping
For Baking
1/4

cup

shredded mozzarella and cheddar cheese

for topping

1

tbsp

unsalted butter

1/3

cup

Panko breadcrumbs
Instructions
Pre-heat oven to 400 degrees Fahrenheit.

On a pan, heat 1 tablespoon of butter and add the Panko breadcrumbs. Stir-fry until they are slightly golden and set aside for baking.

Cook pasta according to packaging's instructions. Drain off excess water and set aside.

To make the beef, heat 1 1/2 tablespoon of oil on a pan. Cook garlic, red onions, and jalapeño pepper over medium high heat until they are fragrant and tender, about 1 minute. Add in the ground beef and cook while also separating them into smaller pieces. When the beef are browned and cooked, about 3-5 minutes, add the Taco seasoning, salt, and pepper and stir well. Remove from heat and set aside.

To make roux for the mac and cheese sauce, melt 2 tablespoons of unsalted butter on a pan over medium high heat. Add 2 tablespoons of flour and mix using a whisk until there are no more visible raw flour, about 30 seconds. Pour in 1 cup of milk and stir well using a whisk, breaking off the bigger pieces of the roux. Once the sauce thickens, add another 1 cup of milk. Stir until the sauce thickens again (you can make a path along the bottom of your pan using your spatula, but the sauce is still runny). Add in the cheese, Taco seasoning, salt, and pepper to taste. Mix in the cooked macaronis, cooked beef, tomatoes, olives, and fresh jalapeño into the sauce and combine well.

To bake, transfer the mac and cheese into a baking dish and top with cheese and the buttered Panko breadcrumbs. Bake for 7-10 minutes or until the cheese is fully melted and the Panko breadcrumbs are golden brown. Serve with cilantro.