From time to time, we like to treat ourself and order some takeout when we don't feel like cooking or eating out. Alvin's favourite thing to order is Chinese food. Although my parents cook Chinese food everyday, there's something special about ordering out. Maybe it's because we watched too many movies set in NYC with people eating out of these cute take out box... But how can you resist greasy, tasty Chinese food from your local favourite restaurant?!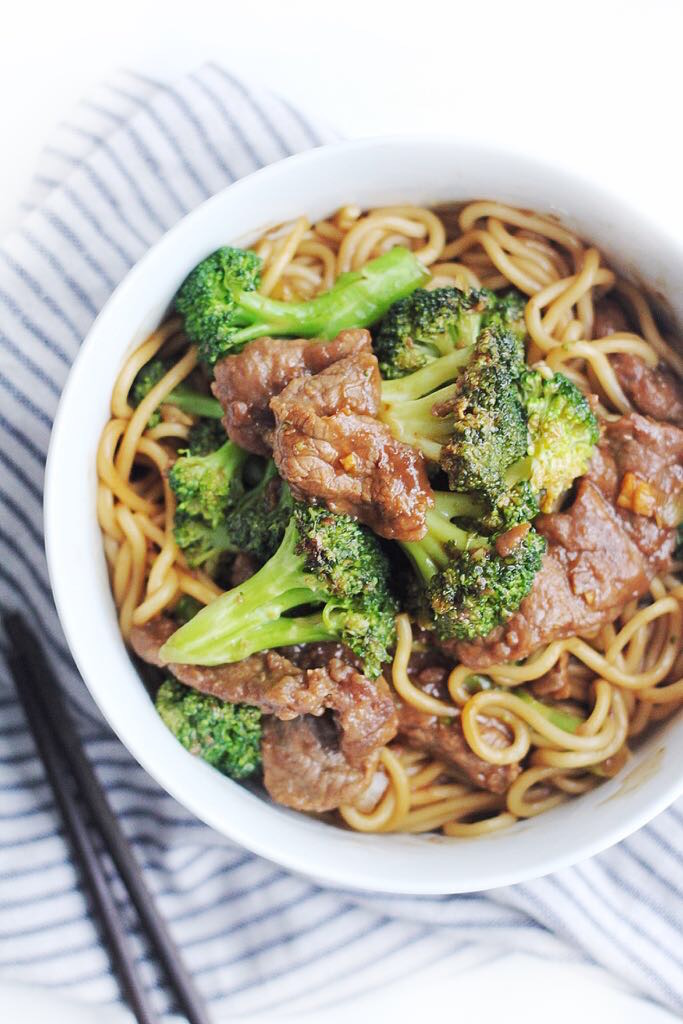 One of the most popular dish among North Americans is beef and broccoli. The beef is always so tender, and perfectly balanced with the broccolis. We were craving it the other day, so we decided to make our usual recipe and add some ramen noodles for carbs. This recipe is perfect for a lazy night in, or even to meal prep for the week ahead, which is what we ended up doing.
The secret for tender beef is to coat it in cornstarch, and what makes the sauce so tasty is the black bean sauce, which can easily be found in a Chinese supermarket. We also like to add yellow onions to add sweetness to the mix. We used inside round steak and cut it at an oblique angle. We tried to cut it in somewhat thin slices (around 0.50cm) and not more than 5cm long. It's faster to cook and more enjoyable to eat.
We decided to add ramen noodles and mix it with the sauce instead of eating it with rice. Why? Simply because we felt like it! Sometimes it's refreshing to change the type of carbs you eat. As we both grew up in asian household, we are used to eating rice everyday. But as we are getting to cook our own food more and more, we realize that eating rice all the time can get a bit boring!
We're definitely saving this recipe for a lazy (and cold) Saturday night, sitting back on our sofa, watching Netflix, and eating a nice bowl of hot Beef and Broccoli Noodles!
We hope you enjoy the recipe, and happy eating!
Ingredients
0.2

kg

inside round steak

thinly sliced into bite-sized pieces

2

cups

broccoli florets

1

tbsp

ginger

finely chopped

2

cloves

garlic

finely chopped

1/3

cup

soy sauce

2

tbsp

honey

1/3

cup

chicken broth

1/2

tsp

sesame oil

2

tbsp

cornstarch

2

tbsp

water

1

tsp

black bean paste

200

g

noodles

of your choice

1

tbsp

canola oil
Instructions
In a bowl, combine the sliced beef with 1 tablespoon of cornstarch and toss well until every piece is well coated with the cornstarch. Set aside.

In a mixing bowl, combine the garlic, ginger, soy sauce, honey, chicken broth, sesame oil, and black bean paste and mix well. In a separate mixing bowl, combine 1 tablespoons of cornstarch with 2 tablespoons of water. Add the cornstarch slurry into the sauce mixture and mix well. Set aside.

In a skillet, heat the canola oil over medium high eat. Stir fry the beef for about 3-5 minutes, or until cooked thoroughly. Remove from heat and set aside.

On the same skillet, stir fry the onions and broccoli florets until the onions are soft and fragrant, and the broccolis are soft but still a little bit crunchy, about 5 minutes. To cook the broccoli faster, you can also add about 3 tablespoons of water into the skillet and cover with a lid to steam them.

Add the beef into the skillet. Add the sauce mixture into the skillet and let cook until the sauce thickens to the desired consistency. Mix well until the beef and broccolis are all well coated with the sauce.

Cook the noodles separately according to the packaging's instructions. Add the cooked noodles into the skillet and combine to coat the noodle with the sauce. Serve in a bowl.