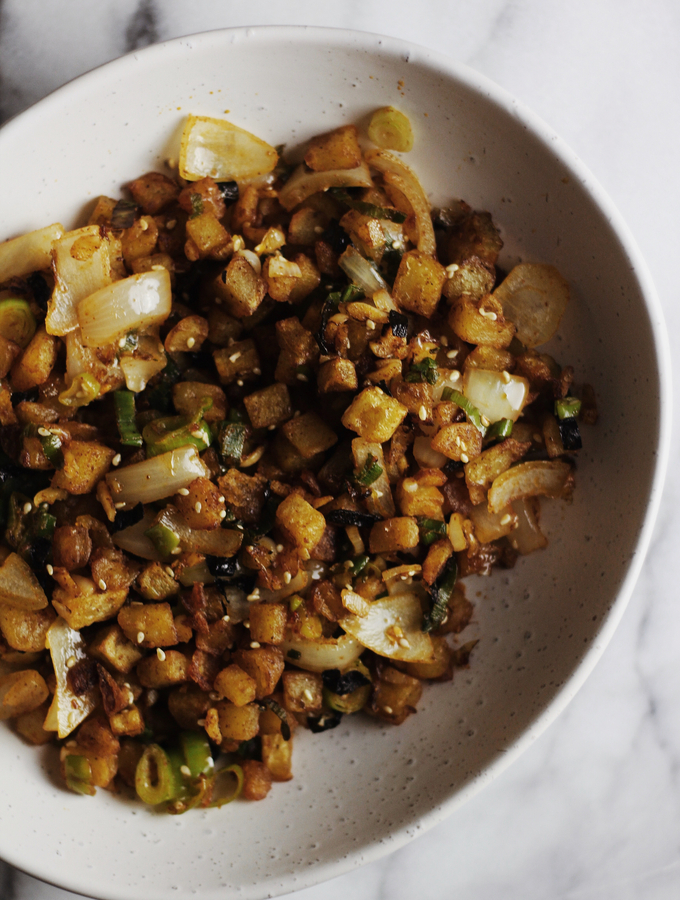 This spicy furikake air-fried potato hash is AH-MAZING. It's the most perfect blend of Asian and Western. Perfectly crispy potato cubes, stir-fried in a flavourful mix of garlic, onions, green onions, and spicy furikake mixture. YUM!
If you are not familiar with furikake, it is basically a Japanese seasoning consisting of dried fish, sesame seeds, and chopped seaweed. You can put them on cooked white rice or as a topping for some dishes to add some nice big umami flavours.
The flavours come from the dried fish, so it is something that you might have to get used to especially if you don't like fish. But adding some of this seasoning to potato hash just gives the dish an extra umami-ness and more dimension to the flavours that's super addicting. We bought the dried fish (bonito flakes) in our local Japanese supermarket. If you can't find any where you live, you can buy them online.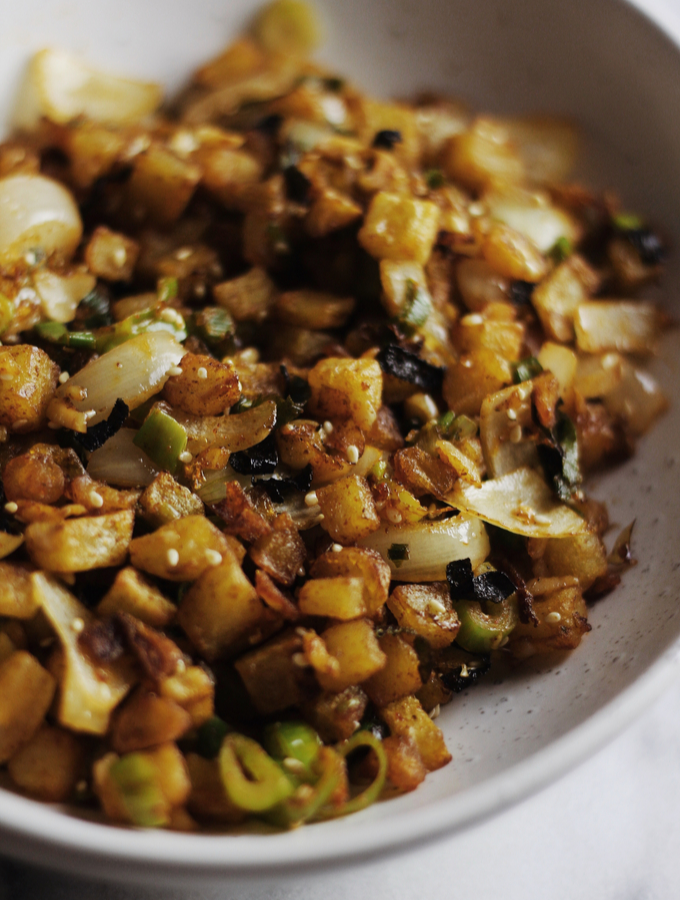 And yes, this recipe does require an air-frier to cook the potatoes. You can definitely fry them or bake them in the oven. But we prefer using the air-frier since it makes great crispy potatoes without using too much oil.
This is the perfect Asian and Western fusion recipe if you're craving for some flavourful brunch or yummy side dish. We also like to add some poached eggs into the dish for some protein and it goes super well together!
We hope you enjoy the recipe and happy eating!
Ingredients
400

grams

Yukon gold potatoes

1

tbsp

canola oil

to air-fry the potatoes

5

cloves

garlic

finely minced

1

small onion

chopped

1

green onion

chopped

3

tbsp

dried bonito flakes (katsuboshi)

1/2

tsp

sesame seeds

1

nori sheet

20 cm x 18 cm or 8'' x 7''

1

tsp

cayenne pepper

1/2

tsp

salt

2

tbsp

canola oil

to toss the potatoes
Instructions
Peel of the skin of the potatoes. Cut potatoes into 1.5 cm (2/3 inch) cubes and let soak in a bowl of cold water for 5 minutes. Drain off the water and pat the potatoes dry using a clean kitchen towel.

Transfer the potato cubes into a large mixing bowl. Add 1 tablespoon of canola oil and mix well. Cook in the air-fryer for about 30 minutes, until the potatoes are crispy and golden brown. Transfer to a bowl and set aside.

Cut the nori sheet into about 1 inch thin strips and set aside in a small bowl. Set aside.

In another small mixing bowl, to make the seasoning mixture, combine the dried bonito flakes, sesame seeds, salt, and cayenne pepper. Set aside.

In a frying pan, heat 2 tablespoons of canola oil over medium high heat. Add in the garlic and onions and stir-fry for about 2 minutes, or until they are tender and fragrant. Add in the green onions and stir-fry for about 30 seconds. Add in the crispy potatoes, the nori seaweed strips, and the seasoning mixture. Toss everything together and stir fry until well combined and the potato cubes are evenly coated with the seasonings. Remove from heat.

Serve with some more sesame seeds and green onions.