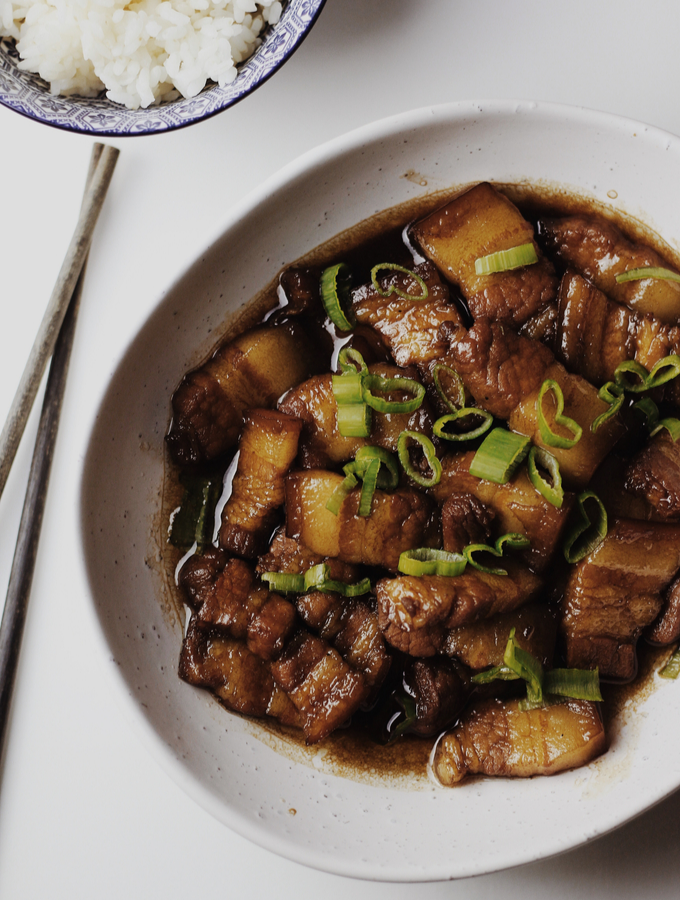 This Chinese braised pork belly is the definition of comfort homecooked meal! Whenever we're craving some simple yet tasty homecooked meal, this pork belly is easily our go-to recipe. Succulent, tender pieces of pork belly with rich, flavourful, slightly sweet sauce poured over steamed white rice? Yes please! And bonus: it is one of the easiest recipes to make, which makes it even better!
Pork belly is a very popular ingredient in Chinese cuisine, and a very popular ingredient in our household. And this braised pork belly especially is one our favorite dishes to eat. It's so easy to make, does not take too much time, and it's such a good hearty, flavourful dish to eat with white rice.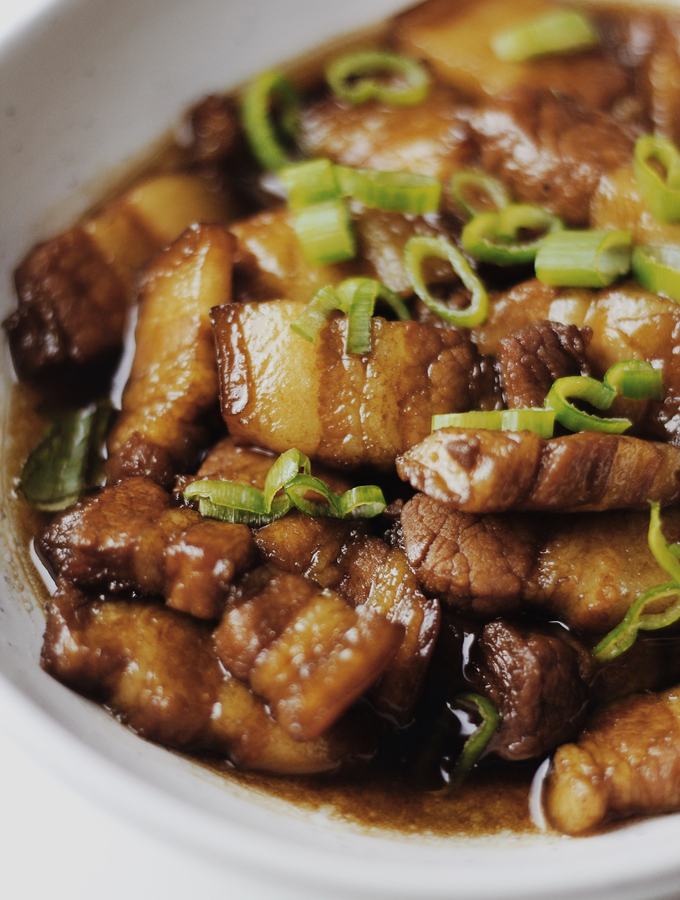 This braised pork belly recipe is our own version of hong Shao rou, a famous Shanghainese dish. While the traditional hong shao rou features a thicker, more caramelized sauce and longer braising time, our version has more of a concentrated, flavourful liquid texture sauce that can be easily poured over rice.
We also used sesame oil and kecap manis (Indonesian sweet dark soy sauce), which are not traditionally used ingredients in hong shao rou. But they do add a lot of flavours and give this dish an extra oomph!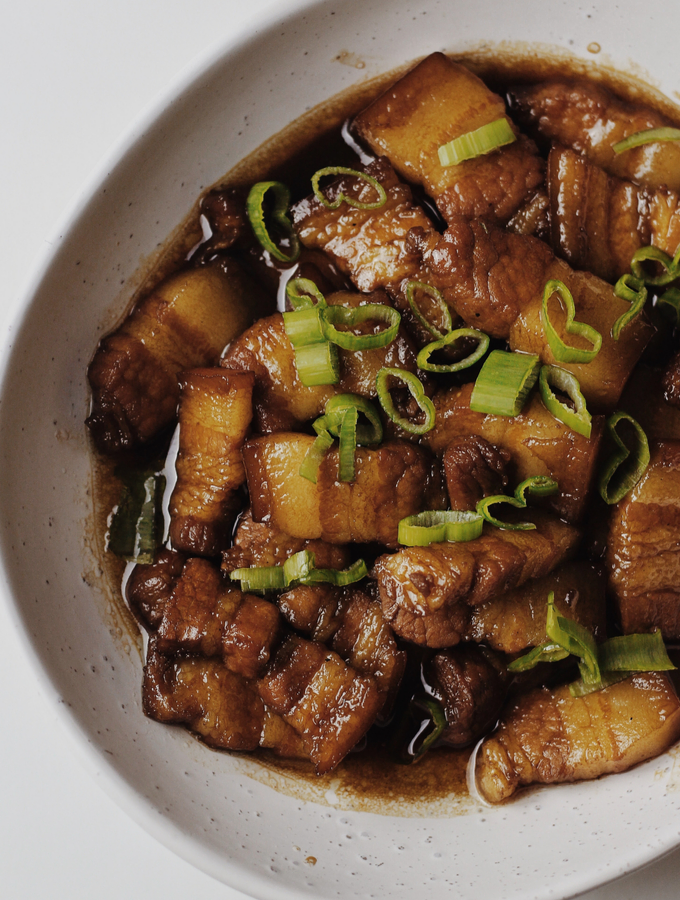 They don't really serve this dish in most Chinese restaurants where we live, so it kinda really is a meal that you usually have at home. It is so simple, so delicious, and so comforting, we really hope you guys will try it! Happy eating!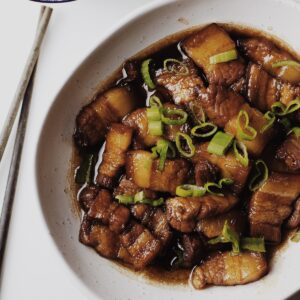 Ingredients
12

ounces

pork belly, skin-on

cut into small, 1 inch square pieces

4

tbsp

low-sodium soy sauce

3

tbsp

kecap manis

Indonesian sweet soy sauce

1

tbsp

shaoxing wine

1

tbsp

sesame oil

1/2

cup

water

1

tbsp

canola oil

green onions

for topping
Instructions
In a mixing bowl, combine the cut pork belly pieces with 1 tablespoon of low-sodium soy sauce and let marinate for 5 minutes.

To prepare the sauce, in a small bowl, combine 3 tablespoons of low-sodium soy sauce, 3 tablespoons of kecap manis (Indonesian sweet sauce), 1 tablespoon of shaoxing wine, and 1 tablespoon of sesame oil and mix well. Set aside.

Heat 1 tablespoon of canola oil on a frying pan over medium high heat. Add the marinated pork belly and cook for about 3-4 minutes, until no longer pink and cooked. Pour in the sauce mixture and 1/2 cup of water and stir to mix. Cover the pan with a lid and lower heat to medium. Let simmer for about 5 minutes. Remove the lid and simmer for another 15 minutes, until the pork belly turns rich brown in color and the sauce reduces and darkens in color.

Transfer to a serving bowl and top with green onions.