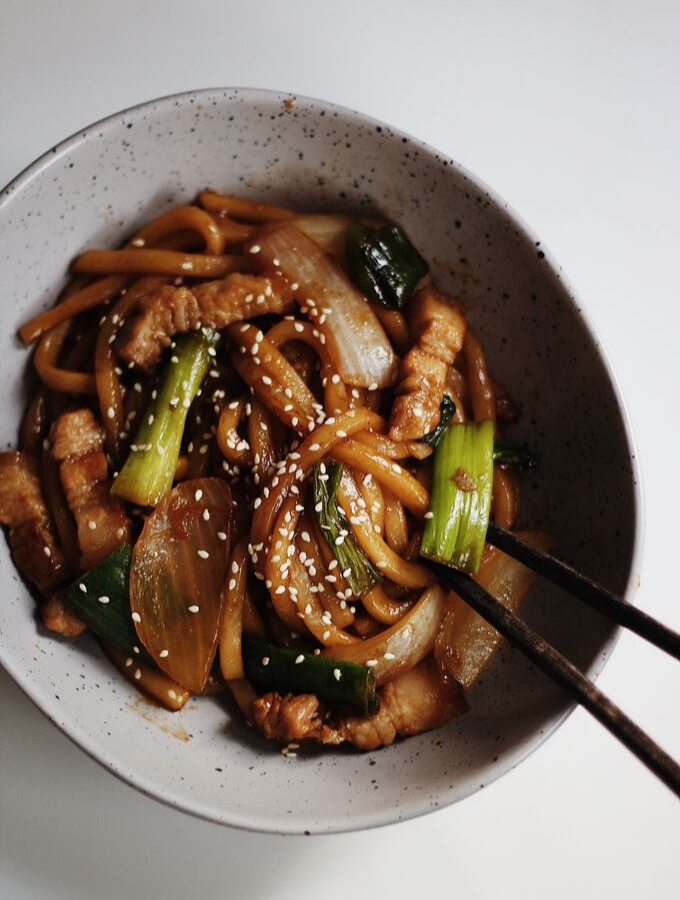 We are always on the search of easy, quick, and delicious recipes ever since we started our 9-5 job. With so little time and so little energy when we get home from work, we definitely don't want to spend 2 hours in the kitchen preparing dinner or our lunch the next day.
Through cooking our dinner and lunches for work everyday, we have one tip for you folks out there who are on the same boat: stir-fry dishes!
Stir-fry dishes are easy, quick, and you can basically use any ingredient you have laying around in your fridge. And let's face it, they're super delicious and they.re probably one of the few types of dishes that taste just as good reheated in the microwave as they are freshly made (perfect for lunches!).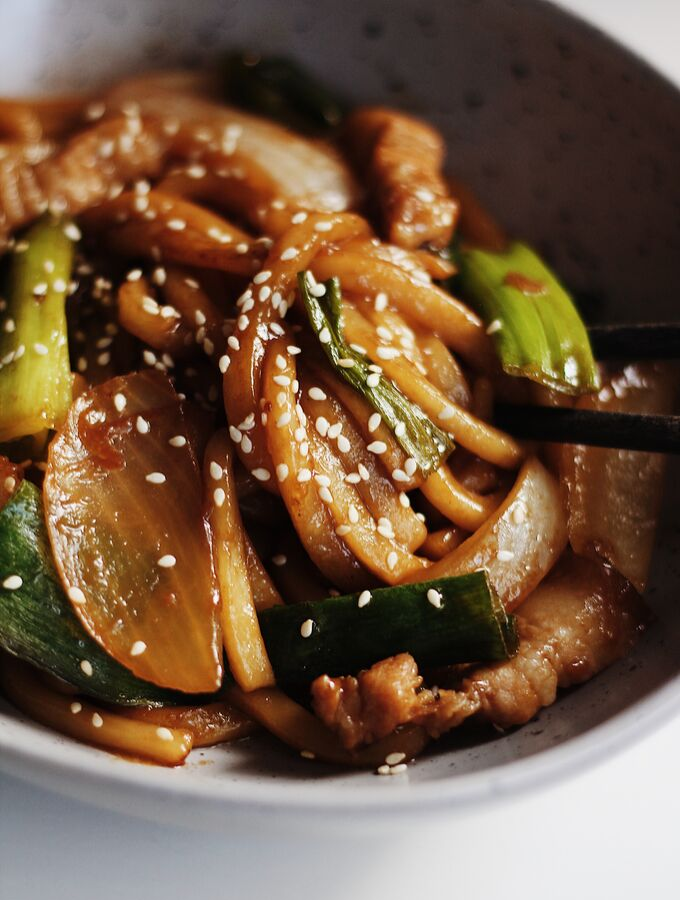 This fried udon & pork stir-fry is a classic in our household and a go-to dish when we want to eat something yummy, but we're too lazy to spend hours in the kitchen. And the beauty with any stir-fry dishes is that you can substitute the meat or the veggies with anything you want: they're super versatile.
The sauce is really simple to make: low-sodium soy sauce, kecap manis (also known as sweet soy sauce), and sesame oil. Those 3 simple ingredients make for a very flavourful udon stir-fry and you can definitely use it for other stir-fry dishes! You can get kecap manis (Indonesian sweet soy sauce) in some Asian grocery stores or online.
We love using udon noodles for their thickness and chewiness that's so satisfying to the palate. We used the store-bought frozen udon noodles, which taste perfectly fine for this stir-fry recipe.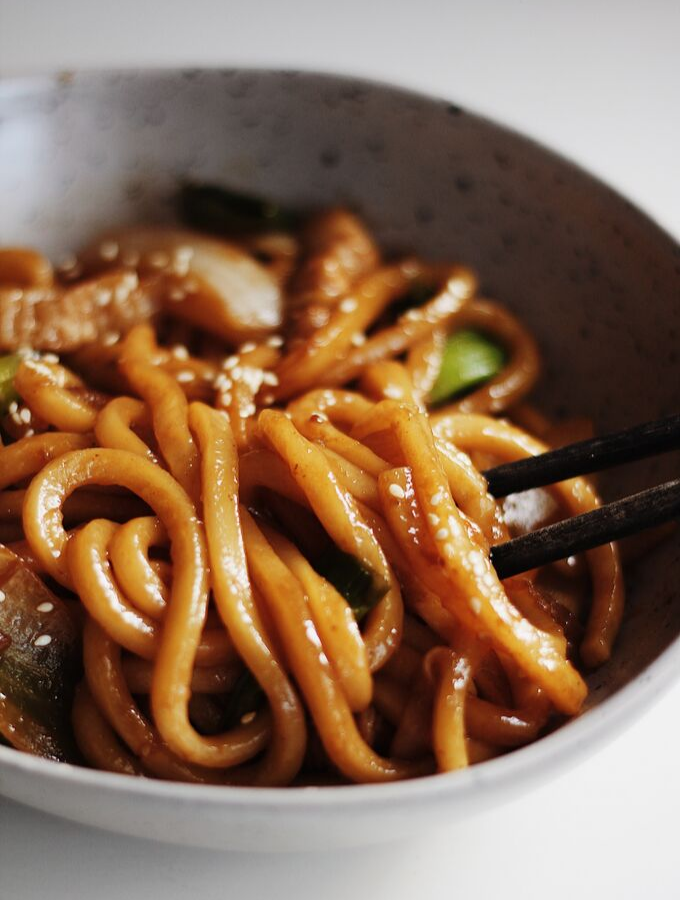 As for the protein, we love love love pork belly. It's basically a thicker bacon. Who doesn't love that, right? The fat and juices from the pork belly just adds that extra oomph to the dish!
We hope you guys enjoy this fried udon & pork stir-fry recipe and happy eating!
Ingredients
500

grams

udon noodles

200

grams

pork belly

cut into strips

3

cloves

garlic

finely minced

3

tbsp

low-sodium soy sauce

3

tbsp

sweet soy sauce (kecap manis)

1

tbsp

sesame oil

1

medium onion

cut into strips

2

large green onions

cut into strips

2

tbsp

canola oil

white sesame seeds

for topping
Instructions
Cook the udon noodles according to the packaging's instructions. Transfer to a strainer and run cold water through the noodles to stop them from cooking. Set aside.

To make the sauce, in a small bowl, combine the low-sodium soy sauce, sweet soy sauce (kecap manis), and sesame oil and mix well. Set aside.

In a frying pan or a wok, heat 1 tbsp of canola oil over medium high heat. Cook the pork belly strips for about 2 minutes or until cooked. Add in the minced garlic, onions, and green onions and cook for another 2 minutes until the onions are softer. Add about 2 tablespoons of the sauce mixture and combine well. Turn the heat to high, add another tablespoon of canola oil into the pan and add in the cooked udon noodles (If the noodles stick together, run them through cold water until they are separated before adding them into the frying pan). Stir-fry for 1 minute, and add in the rest of the sauce mixture and combine well until all the noodles are equally coated with the sauce. Continue stir-frying for another 1 to 2 minutes to get a little bit of charring on the noodles. Remove from heat and transfer to a serving plate.

Top with white sesame seeds or more green onions.