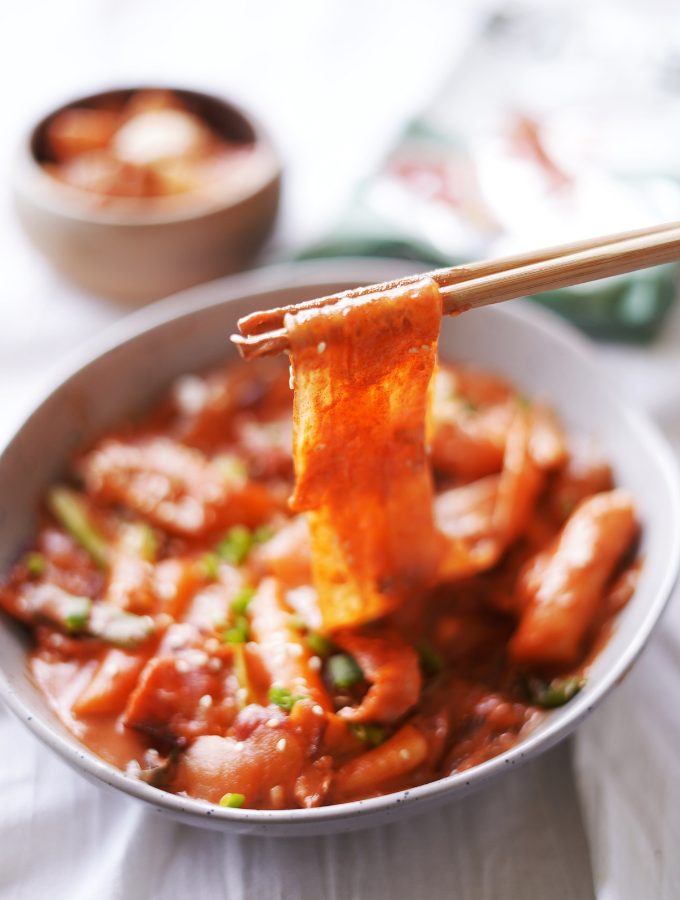 If you watch a lot of mukbang videos on YouTube like us, then you've probably heard all about the thick, wide glass noodles hype. It's these very thick, very long, wide glass noodles made with potato or cassava starch and probably the bounciest noodles we've ever tasted. I mean, doesn't that just sound too good to be true!? So our hunt to find them began.....
While the hype is all too real in Korea and in the YouTube world, it's been very difficult to find these noodles in our local supermarkets. Usually, the only Korean noodles we could find are for Japchae. Although very similar, Japchae noodles are round and much thinner, which gives them less of a chewy texture.
Check out our web story.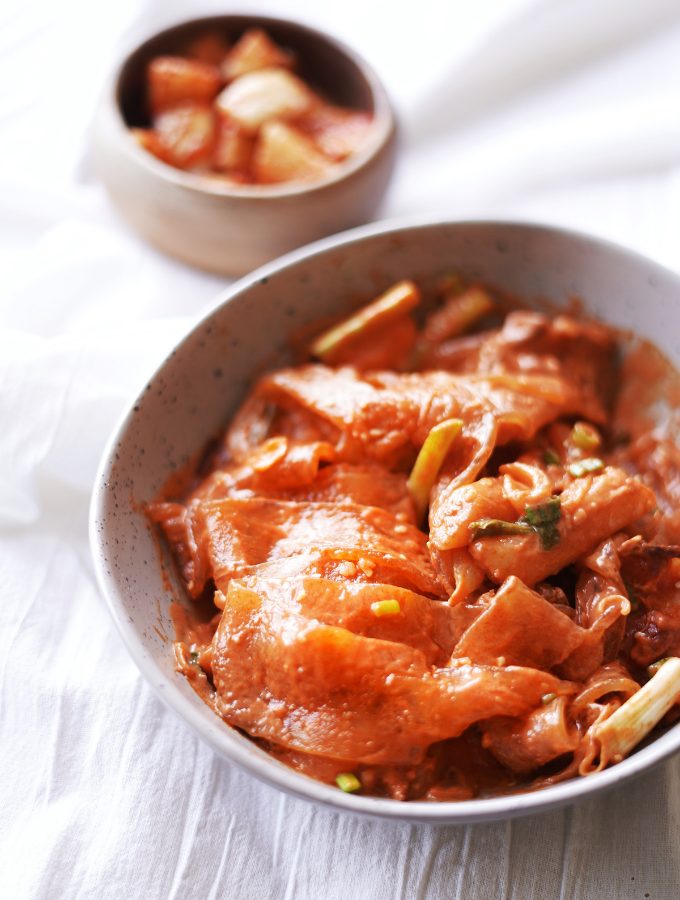 But don't worry! We are so excited to partner with 1ST MKFOOD on this recipe. They were nice enough to send us their Rothy thick glass noodles straight from SOUTH KOREA!
About Rothy Glass Noodles
We tried their regular noodles and they were unreal. These noodles are so popular among YouTubers and all over South Korea (We first saw these noodles in a South Korean mukbang YouTube video!). They even have been featured in local TV, so you know the hype for these noodles is real in Korea! The Rothy glass noodles are made out of cassava starch and not only are they gluten free, but they're also low in calories. They come perfectly packaged in 1-2 portions so you don't have to break your head portioning the dish. We followed their instructions for the cooking time and it came out perfectly soft and chewy. You don't even have to soak them in water before so they're pretty quick to prepare! You can easily find their noodles here, shipped to the convenience of your own home. Can't believe we didn't find them sooner! This would've avoided us so many trips to our Asian supermarkets to find these noodles.
In our recipe, we made our own spicy creamy sauce using Korean red pepper paste, or gochujang and used these noodles from 1ST MKFOOD They also offer Rothy red noodles, which comes with not only the thick glass noodles but also a pre-made spicy red sauce. The sauce is so easy to prepare as it comes in a dry packet and you just need to add water. It's perfectly garlicky, and has the perfect balance between sweet and spicy! You can buy the Rothy red noodles here.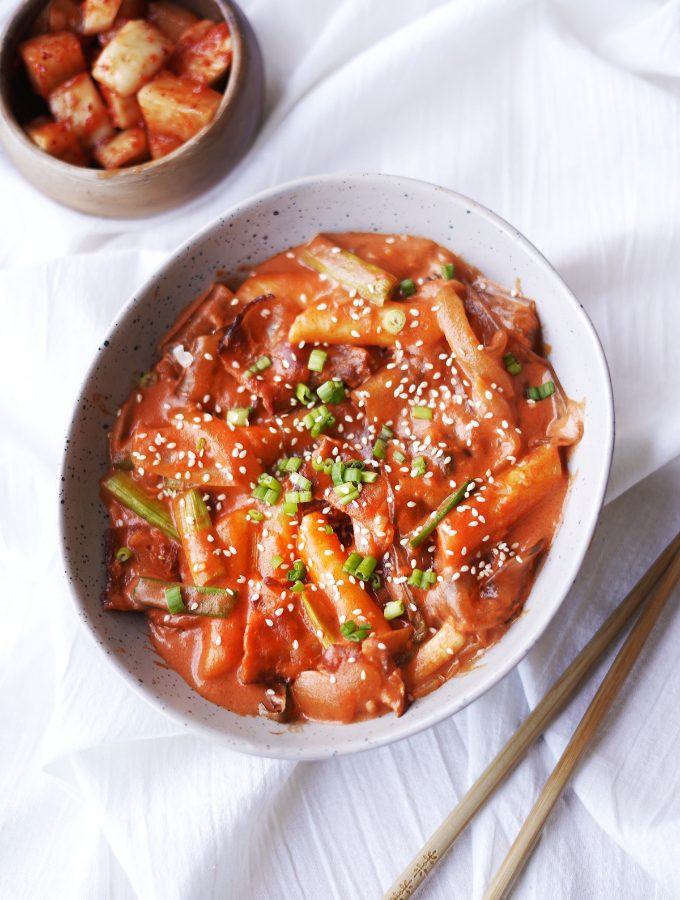 These Rothy thick glass noodles are so versatile. You can eat them in any type of stir-fry, dry noodle dish, cream or tomato pasta, the possibilities are endless. For this recipe, we made our Rothy glass noodles with rice cakes and a spicy creamy sauce that complements these noodles so so well!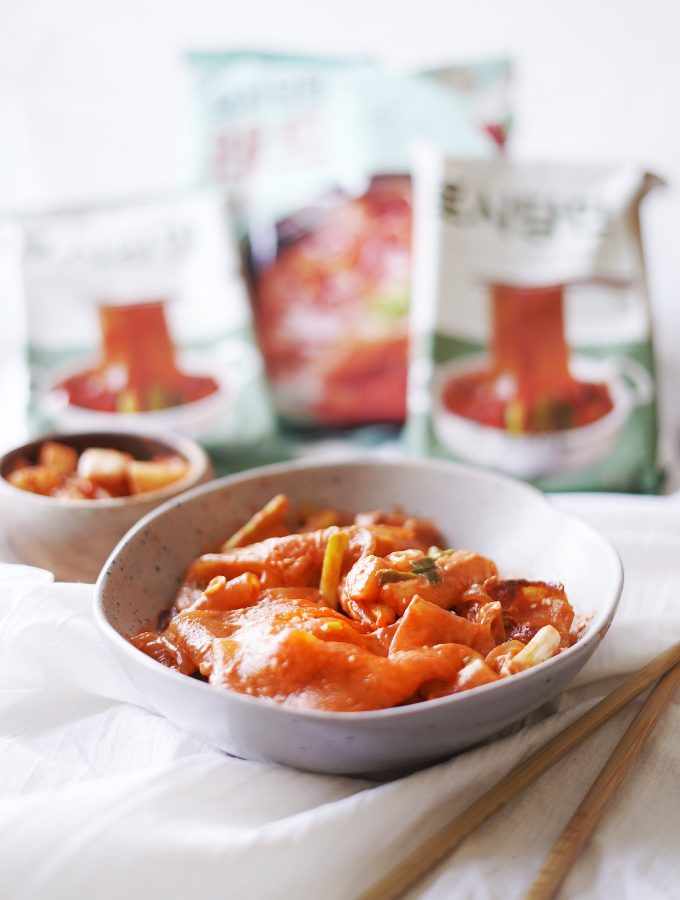 If you love creamy sauce, bold flavours, and bouncy noodle textures, then this Spicy Creamy Thick Glass Noodles and Rice Cakes is definitely for you! We hope you enjoy and happy eating!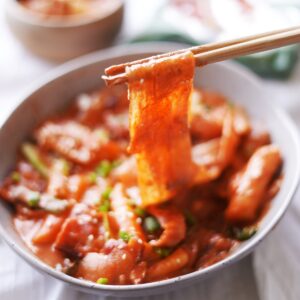 Ingredients
1

pack

Rothy glass noodles

150 grams

2

cups

korean rice cakes

1

tbsp

minced garlic

2

small onions

sliced

2

tbsp

Korean red pepper paste

gochujang

2

cups

milk

2

tsp

dashi powder

4

strips

bacon

2

tbsp

unsalted butter

5

green onions

cut into strips

1

tbsp

Korean red chili pepper flakes

gochugaru

salt

to taste

roasted sesame seeds

for topping
Instructions
Bring about 6 cups of water to a boil in a pot. Add in 1 pack (150g) of Rothy glass noodles and boil for 8 minutes, covered. Once the noodles are cooked, drain off the water and place noodles in a strainer. Run cold water through the noodles to prevent them from sticking and set aside.

Cook the bacon strips in a pan for about 3 and a half minutes on each side on medium high heat. Once cooked, remove from heat and let cool. Cut bacon into bite sized pieces using kitchen scissors and set aside.

In a medium pan, heat 2 tbsp of unsalted butter on medium high heat. Put in the sliced onions and cook until fragrant and tender, about 2 minutes. Add in 2 tbsp of minced garlic and cook for another minute. Add in 2 tbsp of Korean red pepper paste (gochujang) and 2 cups of milk. Bring sauce to a boil and stir well to make sure the red pepper paste is well dissolved into the sauce. Add in 2 tsp of dashi powder and mix well. Add in the Korean rice cakes and green onions, cover the pan and let simmer on medium heat for 3 and a half minutes or until the rice cakes are tender and chewy. Remove the cover and add in the cooked Rothy glass noodles and 1 tbsp Korean red chili pepper flakes and mix well. Let cook for another 3-5 minutes uncovered until sauce thickens. Season with salt to taste and add in the cooked bacon.

Remove from heat and serve with sesame seeds and extra green onions for topping.