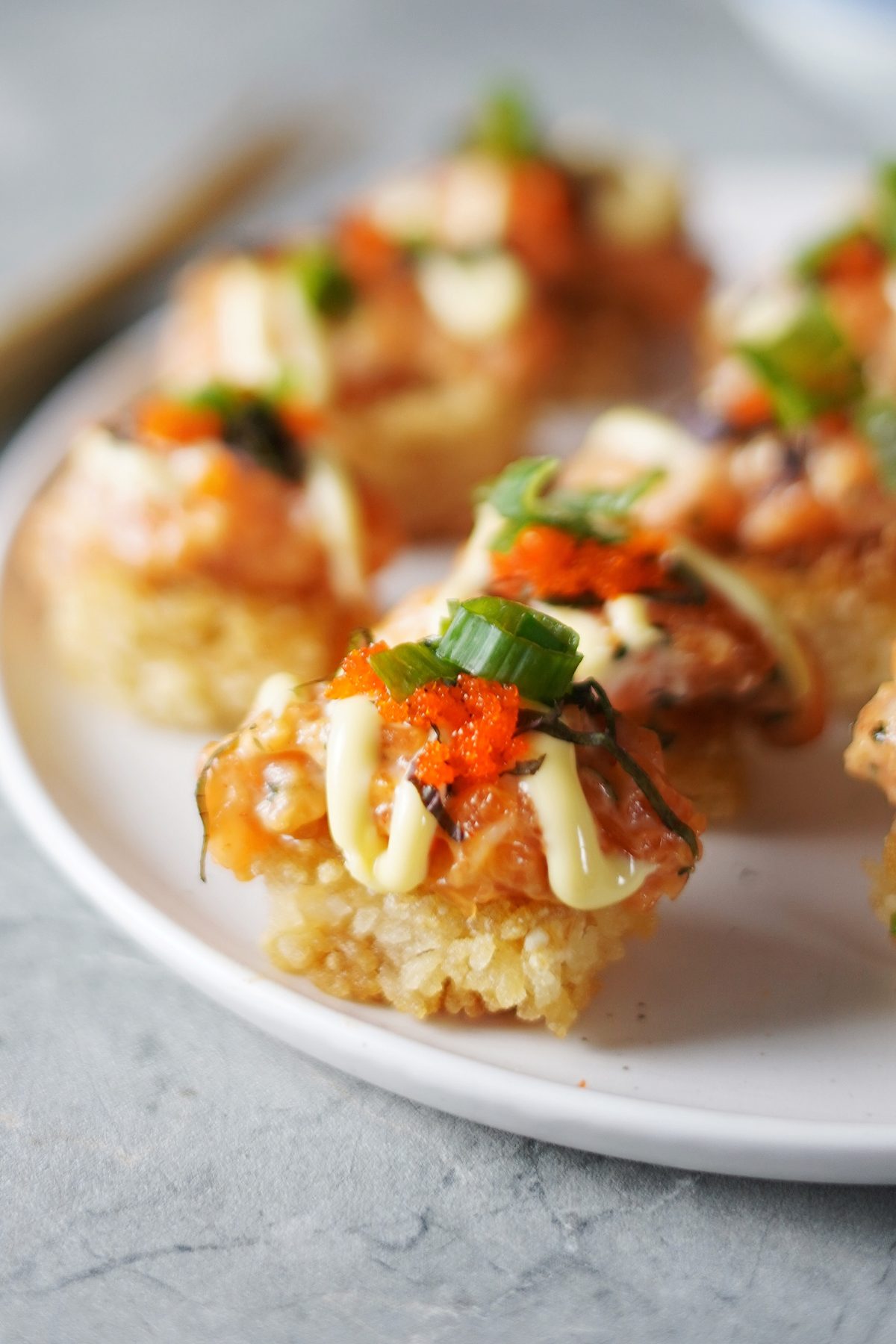 If you're in North America, chances are you've already heard of or seen the spicy salmon crispy rice in restaurants on Instagram. This trendy Japanese fusion dish originated in California, but has become so popular all over North America, and with good reason. It's just too yummy!
This spicy salmon crispy rice is not that popular yet in Canada where we live, although we do have our own version of it called the sushi pizza. But since it's so delicious and we kind of crave it too often, we decided to make our own version at home! And while they look pretty fancy, the spicy salmon crispy rice is so easy to make at home. Whether you want it for dinner, or as appetizers for a small gathering you're having, this dish is a surely a great crowd pleaser that everyone will just love!
The most important thing to note for this recipe is to use sashimi-grade or tartare-grade salmon. You can easily find them at your local fish/seafood market. You can safely eat these sashimi-grade or tartare-grade salmon and they taste better! Although they can be a bit more pricey, you won't need to buy as much for this recipe and it's well worth it!
As for the seasoning for the spicy salmon, we do recommend using Japanese mayonnaise if you can get your hands on one. You can use normal mayonnaise and it will still taste great, but Japanese mayonnaise has more acidity and is richer and fuller in flavour.
We chose to use the Indonesian ABC chili sauce for this recipe because it is on the sweeter side, which we find adds a bit more dimension to the flavour of the spicy salmon. Plus, it's our favourite chili sauce! But you can use Sriracha or any other chili sauce that you have available, it will still be yummy!
This spicy salmon crispy rice is so full of flavour and texture, we're obsessed! We hope you enjoy the recipe and happy eating!
Ingredients
200

g

sashimi-grade salmon

chopped into small cubes

1

tbsp

Japanese mayonnaise

1

tsp

ABC chili sauce

or chili sauce of your choice

2

medium shiso or perilla leaves

optional, finely chopped

1/4

tsp

sesame oil

1

tsp

lemon juice

2

cups

cooked white rice

Japanese mayonnaise

for topping

masago

for topping

shiso or perilla leaves

chopped, for topping

green onions

chopped, for topping
Instructions
In a cling wrap covered baking dish or baking pan, spread the cooked white rice evenly to get a flat, uniform surface. Make sure to use a baking dish or baking pan that will get you a thickness of no more than 3 cm of rice when you spread the rice in. Let cool in the fridge for at least 2 hours.

To make the spicy salmon mix, combine the salmon, Japanese mayonnaise, chili sauce, shiso leaves, sesame oil and lemon juice and mix well. Set aside in the refrigerator.

Gently pull the molded rice out of the dish and cut into rectangular shape bite-sized pieces. It should yield about 12 to 16 pieces, depending on the thickness and size of each piece.

Heat vegetable or canola oil in a pan over medium high heat. Make sure to have enough oil in the pan to shallow fry the rice pieces, about 1/2 cm depth of oil. Shallow fry the larger surface side rice pieces for about 1.5 to 2 minutes on one side, then flip and fry for another 1.5 to 2 minutes or until the bottom and top sides are crispy and lightly golden. Remove from heat and let rest on drying rack to drain off excess oil. Season with some salt to taste while the rice pieces are still hot.

Top each fried rice piece with about 1 heaping tbsp of the spicy salmon mixture, distributing evenly to have about the same amount of salmon topping for each fried rice piece. Garnish with more Japanese mayonnaise, chopped shiso leaves, masago, and chopped green onions.