Let us introduce you to our favourite food ever. Well, actually, anything that involves raw fish is our favourite food ever.
You might have noticed this little trend going around the internet called "poke bowls" during the past year. I don't know about where you live, but here in Montreal, poke bowl restaurants have been popping up all over the place. But if you're not aware of the existence of this gorgeous Hawaiian dish, it consists of cubes of raw fish marinated with different types of sauces, and some people call it "raw fish salad".
Check out our web story.
We've been a fan of poke bowls for quite a while now, and we thought it's about time to share with you our favourite way of eating this dish. I'd like to point out thought, we would have loved to make poke at home with fresh tuna, but dang that thing is expensive. And since we wanna be able to eat poke more often at home, we thought it'd be more realistic and easier on our wallets if we make it with a more affordable, yet equally delicious fish, fresh salmon!
Difference between poke and sashimi: poke is cut into cubes and marinated with some kind of sauce, while sashimi is cut into thin slices and is not marinated, but eaten with soy sauce as dipping sauce.
The sauce for this recipe is "shoyu", which is basically soy sauce. However, we also added some brown sugar, green onions, white onions, and sesame oil to it to make it a lot more flavourful!
The most important thing: get sashimi-grade salmon! Usually, the fish that we have in Canada is pretty delicious eaten raw. But depending on where you live, fresh fish is not always readily available, so make sure that the quality of the salmon that you get is good enough to be eaten raw.
Oh, and did I mention that it's the easiest thing ever to make? We literally only had 2 dishes to wash after making this salmon poke bowl, which is a mixing bowl and a spoon to mix.
This salmon shoe poke bowl will definitely be our go-to recipe for those lazy, hot summer days since it involves literally no cooking whatsoever! If you're into raw fish dishes too, make sure to check out our Sushi Pizza and Sushi Tacos recipes, cause they're honestly our favourite food ever too (raw fish is lyfe). We hope you enjoy this delicious recipe, and happy eating!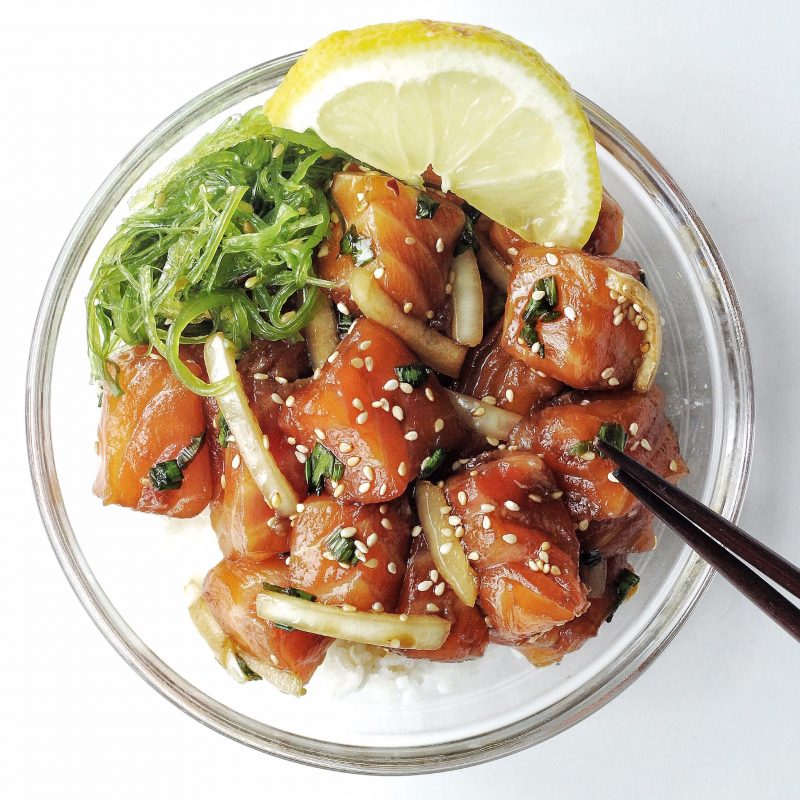 Ingredients
6

ounces

fresh salmon filet

¼

cup

premium soy sauce

2

tbsp

brown sugar

¼

white onion

cut into stips

1

tsp

sesame oil

2

tbsp

green onions

finely chopped

1

tbsp

sesame seeds

1

tsp

ginger

finely chopped

1

lemon wedge

optional

seaweed salad

wakame, optional
Instructions
Take off the skin from the salmon filet and wash it with cold water. Dry the salmon filet and cut into 1/2 inch cubes, or smaller or larger depending on your preferences.

To make the marinade, in a large mixing bowl, combine the soy sauce, sesame oil, brown sugar, ginger, white onion, and green onions and mix well. Add in the salmon cubes into the marinade bowl and let marinate in the fridge for at least 30 minutes.

Eat as a salad or serve on top of a bowl of rice. Top with some lemon juice, seaweed salad and some sesame seeds.
SaveSave