So, this makes me feel nostalgic.
Back in Indonesia, one of the things we love the most to eat is Chicken Satay with Spicy Peanut Sauce. And it's not any kind of Chicken Satay. It has to be the ones that are sold on carts by street vendors roaming around our neighbourhood. It comes in this modest plastic paper (clean I hope), and is usually served with lontong (rice cakes) and a LOT of peanut sauce. When I say a lot of sauce, it means a lot of sauce cause Indonesians are serious about their sauces!
So we're happy that we're able to recreate this popular and delicious (and nostalgic, for me) dish at the comfort of our home in Canada without having to look for any rare ingredients that are hard to find here in our area. Although one very important thing to have (or in any Indonesian dish, for that matter) is Indonesian sweet soy sauce
, or kecap manis. Consider it the salt and pepper of Indonesian food. We put that thing on pretty much everything, it's almost scary. So if you wanna make a GOOD Chicken Satay with a GOOD peanut sauce, then the Indonesian sweet soy sauce
is a must!
In Indonesia, they would make these satays on a grill, with a fire and some kind of fan to fan away the smoke. It's quite a view. Anytime you walk by a satay cart you'd think something is burning with all the smoke coming out. But we obviously can't do that in our homes, unless you have a barbecue grill outside. But if you don't, you can still make on an electric stovetop on a regular pan, like us! They still came out nicely charred and delicious.
One thing to note is that usually, they would make the sauce using blended fried beans in Indonesia. But since it is quite hard to find here, a good ol' smooth peanut butter will do the trick!
There you are, hope you enjoy that little taste of Indonesian street food!
If you have any questions or any suggestions for what recipe we should make next, feel free to leave a comment below. If you're curious about Indonesian food, check out our recipes for Indonesian Fried Rice (Nasi Goreng) and Indonesian Cheese Croquettes. Hope you enjoy and happy eating!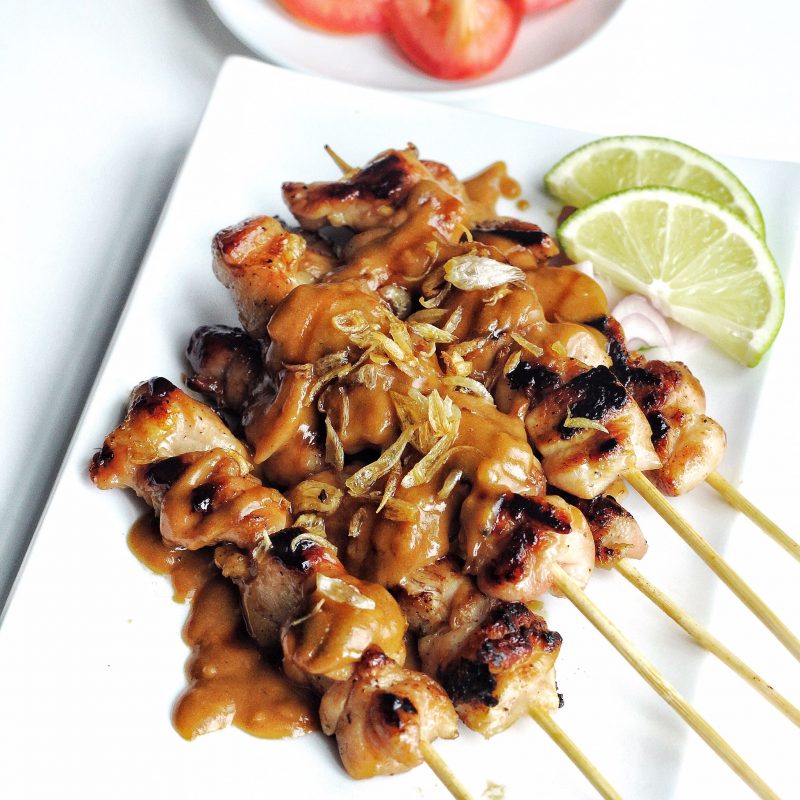 Ingredients
2

medium chicken thighs deboned

skinless, cut into cubes

6

tbsp

low-sodium soy sauce

2

tbsp

brown sugar

1

tbsp

Indonesian sweet soy sauce

kecap manis

1

tbsp

margarine

melted

½

tsp

salt

½

tsp

white pepper

6

bamboo skewers
spicy peanut sauce:
2

tbsp

smooth peanut butter

1

cup

warm water

2

fresh red chilies

2

cloves

garlic

2

tbsp

red onions

finely chopped

2

tbsp

Indonesian sweet soy sauce

kecap manis

salt and pepper

to taste

fried shallots

for topping

lime wedges

for topping
Instructions
In a large mixing bowl, combine the chicken cubes, salt, and pepper. Thread about 4-5 chicken cubes onto each bamboo skewers. Set aside.

To make the marinade, combine soy sauce, brown sugar, Indonesian sweet soy sauce, and melted margarine in a large flat-bottomed plate and mix well. Place the chicken skewers in the marinade, making sure both sides are well coated.

Grease pan with oil and heat over medium high heat. Make sure the pan's bottom is large enough in order to be able to lay the chicken skewers flat. Grill the chicken skewers for about 3 minutes on each side or until fully cooked. Remove from heat. Dip the cooked chicken skewers back into the marinade and grill over high heat until charred and browned.

To make the spicy peanut sauce, combine the fresh red chillies, garlic, and red onions in a food processor and blend until smooth. In a mixing bowl, combine the mixture with the smooth peanut butter and warm water until well incorporated. Cook sauce over medium heat for about 5 minutes and add the Indonesian soy sauce, salt, and pepper. If sauce is too thick, add more warm water.

To serve, place cooked chicken satays on a plate and pour spicy peanut sauce over the chickens. Top with some more Indonesian sweet soy sauce and fried shallots.
SaveSave
SaveSave