A recipe for the the most delicious chewy flat rice noodles topped with savoury, thick egg gravy sauce. It's easy, it's quick, it's delicious, it's a definite must for lazy weeknight dinners or lunch preps!
In Indonesia, we eat kwetiau (flat rice noodles) mainly two ways: fried or with egg gravy flavoured with oyster sauce. The latter is called kwetiau siram because the word "siram" in Indonesian means to pour, which is exactly what this dish is: egg gravy poured over lightly stir-fried flat rice noodles!
Growing up, this Chinese-Indonesian dish has always been a favourite in our home since it's so easy and quick to make, yet it's still super yummy. The noodles are lightly stir-fried in low-sodium soy sauce and sesame oil, which makes them savoury and aromatic. The egg gravy is slightly thick in consistency and rich due to the addition of the eggs, and is subtly flavourful from the oyster sauce, soy sauce, and chicken broth. The whole dish is completed with delicious shrimps, some juicy ground pork, and crunchy bok choys. Doesn't that just sound amazing!?
Making the perfect egg gravy sauce
It's important to get the flavours and the texture of the egg gravy sauce right since the noodles themselves will only be seasoned with low-sodium soy sauce and sesame oil. So the whole flavour of this dish relies on the gravy sauce!
The flavour of the sauce: The flavour of the sauce mainly comes from oyster sauce, low-sodium soy sauce, and chicken broth, all of which contribute to the salty component of the sauce. So it's important to add some sugar to balance out the flavours and to mellow out the salty flavour of the sauce. We added 1/2 teaspoon of sugar into our sauce based on the salt level of the oyster sauce, soy sauce, and chicken broth we used. So the amount of sugar to add for a balanced flavouring of the sauce will depend on the brands that you use.
Sesame oil is also an important component of the sauce as it gives it an extra aroma that's nutty and just plain addicting. But be careful to not overdo it with sesame oil as a little goes a long way. You definitely don't want the whole dish to smell and taste like sesame oil!
The consistency of the sauce: The egg gravy should be slightly thick in consistency but not too much otherwise it will become too heavy. When it's done, the sauce should be slightly thick, but it should be able to trickle down from a spoon in continuous flow. If it falls in goops, then the sauce is too thick.
The thickening agent for the sauce, as with many other Chinese dishes, is cornstarch. We added two teaspoons of cornstarch to about 2 cups of liquid sauce, which made a sauce that is slightly thick, enough to stick and coat the noodles, but not too thick that they become too rich and heavy. Remember, adding the egg to the sauce will also thicken it, so you don't want to add too much cornstarch.
A great trick to make sure that you get the perfect sauce consistency is to add the cornstarch slurry a little bit at a time and wait for the sauce to come to a boil each time you add some, since you can only see the full effect of the cornstarch only when the sauce is boiling.
And one thing to remember: don't add the cornstarch on its own directly into the hot sauce. This will result in the cornstarch to immediately curdle. Instead, combine the cornstarch with enough cold water to dilute it in a separate, small bowl, then add it into the sauce while stirring continuously. This way, you can thicken the sauce while still keeping its smooth consistency.
As we mentioned before, the most important parts of this recipe is the flat rice noodles and the egg gravy sauce. You can definitely replace the proteins with some chicken, beef, or even fishballs if you'd like! That's the beauty of this dish, the sauce is so versatile that it'd go well with basically any types of proteins!
This Chinese-Indonesian style flat rice noodles with egg gravy sauce, or kwetiau siram is definitely a must-try. It's simple yet delicious, and it's such a comfort food! And of course, if you wanna eat it like a real Indonesian, don't forget to add some sambal into the dish! Enjoy!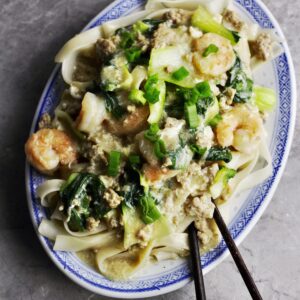 Ingredients
Flat rice noodles (kwetiau)
200

grams

flat rice noodles

1

tbsp

low-sodium soy sauce

1

tsp

sesame oil
Egg gravy sauce
2

cloves

garlic

minced

1

shallot

minced

2

thin singer slices

about 3 cm diameter

2 1/4

cup

chicken broth

1

tbsp

low-sodium soy sauce

1

tbsp

oyster sauce

1

tsp

sesame oil

1/2

tsp

sugar

1/8

tsp

white pepper

1

whole egg

2

tsp

cornstarch

5

tsp

cold water

100

grams

white shrimps

de-shelled, de-veined

100

grams

ground pork

3

tbsp

cooking oil

green onions

for topping
Instructions
Flat rice noodles (kwetiau)
Cook the flat rice noodles according to packaging's instructions. The flat rice noodles we used took about 7 minutes boiled in water to cook. Transfer to a strainer to drain off water and run cold water through the noodles to prevent them from sticking.

Heat 1 tsp of sesame oil on a non-stick pan over medium high heat. Add the cooked flat rice noodles and 1 tbsp of low-sodium soy sauce. Stir-fry until the noodles are evenly coated with the soy sauce, about 45 seconds. Remove noodles from heat and transfer onto a serving plate.
Egg gravy sauce
Heat 1 tbsp of oil on a non-stick pan over medium high heat. Add the shrimps and cook for about 30 seconds on each side. Remove from heat, transfer to a bowl and set aside.

To prepare the sauce mixture, combine the low-sodium soy sauce, oyster sauce, sesame oil, sugar, and white pepper in a small bowl and set aside.

To prepare the cornstarch slurry, combine 2 tsp of cornstarch with 5 tsp of cold water in a small bowl and set aside.

Heat 2 tbsp of oil on a non-stick pan over medium high heat. Add the garlic, shallots, and ginger and stir-fry until fragrant and tender, about 30 seconds. Add the ground pork and stir-fry while breaking the pork into smaller pieces. Continue to stir-fry the pork for about 1 minute, or until it is no longer pink. Add the bok choys and stir-fry for another minute until they are softer but still has a crunch. Pour in the chicken broth and add the sauce mixture and stir well. Let the sauce come to a boil and stir in the cornstarch slurry. Let sauce come back to a boil and thicken slightly, then add the beaten egg while continuously stirring the sauce. Add the cooked shrimps and let sauce simmer for another minute.

Pour sauce directly over the flat rice noodles and top with chopped green onions.