This egg tofu with mushroom gravy sauce recipe is a definite household favorite! Whenever we're craving something simple yet comforting, this is our go-to meal. The smooth, silky egg tofu coated in savory mushroom gravy sauce paired with a bowl of rice is THE definition of Asian comfort food!
When it comes to tofus, egg tofu is the king of all tofus for us. It's rich yet light, it's silky, it's smooth without being too mushy... The most perfect texture! But we do admit that it takes a little bit of shopping around to get our hands on this yummy ingredient. None of the Western grocery stores in Montreal sell egg tofus, and you definitely have to go to an Asian grocery store to find them. And even so, only Chinese or Vietnamese supermarkets sell them, since we couldn't find egg tofus at our local Japanese or Korean supermarket.
The mushroom-based sauce is honestly so simple and so so good. It has a mild mushroom-y flavor that gives it that extra umami. And it pairs so well with the egg tofu, enoki mushrooms, and bok choys in this dish. And of course, you gotta put some of that savory sauce on your rice!
If you're into egg tofus like us, we also made a similar dish Egg Tofu with Eggplants, which was equally delicious but with a slightly different sauce and with the addition of eggplants and ground pork!
We hope you enjoy this simple homey recipe of egg tofu with mushroom gravy sauce. It's such a comforting dish with so many textures and flavors, and we're definitely obsessed with it!
Happy eating guys!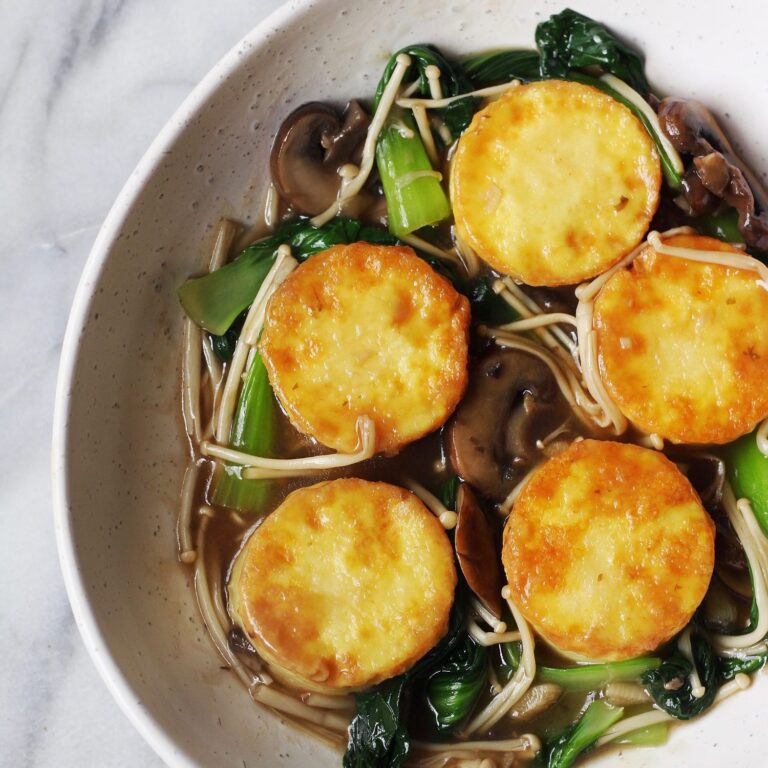 Egg Tofu with Mushroom Gravy Sauce
Easy, simple, and delicious recipe for fried egg tofus with cremini mushrooms, enoki mushrooms, and bok choys coated with savory mushroom gravy sauce.
Print
Pin
Rate
Ingredients
2

packages of egg tofu

about 245g each package

1/4

cup

cornstarch

for tofu coating

cooking oil

for shallow frying

2

heads

bok choy

bottom removed
Mushroom Sauce
3

cloves

garlic

minced

8

large cremini mushrooms

sliced

100

g

enoki mushrooms

bottom removed

2

tbsp

cooking oil

1

cup

water

1

tsp

chicken broth powder

1

tbsp

low-sodium soy sauce

1/2

tsp

sesame oil

2

tsp

cornstarch

for cornstarch slurry

3

tsp

water

for cornstarch slurry
Instructions
Squeeze the egg tofu out of the packaging (like a toothpaste), keeping its cylindrical shape intact. Cut laterally into 1-inch disks and place each disk on a paper towel to dry, flat side down, for 1 minute. Flip each disk to dry the top side.

Pour about 1/4 cup of cornstarch onto a plate. Dip each flat side of each tofu disk into the cornstarch and shake off excess flour.

Add enough cooking oil into a frying pan to cover the bottom of the pan. Heat over medium high heat. When the oil is hot enough (you can test by dropping some cornstarch into the oil, if it bubbles then it's ready) gently add each tofu disk into the pan, flat side down and fry for 2 minutes. Flip the tofu disks and fry the other flat side for another 2 minutes. Remove the egg tofu from oil and let rest on drying rack.

Boil about 3 cups of water in a pot and add in the bok choys. Let cook for about 1 minute, and remove from heat. Set aside.

To make the cornstarch slurry, combine cornstarch with water in a small bowl and set aside.

To make the sauce, heat 2 tbsp of cooking oil in a frying pan over medium high heat. Add in the sliced cremini mushrooms and minced garlic and stir fry for 1 minute. Add 1 cup of water and bring to a boil. Lower heat to medium and cover. Let simmer for 15 minutes. After 15 minutes, remove cover and put heat on medium high. Add 1 tsp chicken broth powder, 1 tbsp of low-sodium soy sauce, and 1/2 tsp of sesame oil and stir well. Add in the enoki mushrooms. Pour in the cornstarch slurry while continuously stirring and bring sauce back to a boil (the sauce should thicken). Add in the cooked bok choys and fried egg tofus and gently fold to mix. Serve with a bowl of rice.