After indulging ourselves with rich, decadent guilty pleasure foods like our Apple Pie Spring Rolls recipe yesterday, we often try to compensate by binge eating healthier, lighter meals. And what we usually end up making is Vietnamese Spring Rolls! These rolls are healthier and light, yet it's still packed with a lot of Southeast Asian flavours and textures. And eating them with a peanut dipping sauce just adds so much more flavours and texture. It's definitely refreshing and great for the coming warmer spring and summer days!
The method to make these Vietnamese Spring Rolls is pretty straightforward. First you cut your vegetables, cook the glass noodles (or vermicelli), and wrap 'em up in rice paper. It's just like making sushi! Only it demands less technique and easier to make!
You can make this with either rice vermicelli or glass noodles. Glass noodles are basically vermicelli too, but they become translucent when cooked, whereas rice vermicelli becomes white. Both will work great in these spring rolls. It's all about preferences!
As for the dressing, there are so many variations that you can do with this salad. A lot of the Vietnamese restaurants in Montreal serve them with nuoc mam, or fish sauce. While we love that, we decided to serve them with some spicy peanut sauce! It's spicy only if you want it to be though, you can always not add the chili sauce if you want it mild. We find it just adds a little bit more texture and makes it more fun to eat!
The detailed recipe for the Vietnamese Spring Rolls with Peanut Dipping Sauce is written below, so make sure to check that out! If you love Southeast Asian food and would like more recipes, we recommend our Chicken Rice Porridge and Indonesian Nasi Goreng (Fried Rice) recipes. Hope you enjoy, and happy eating!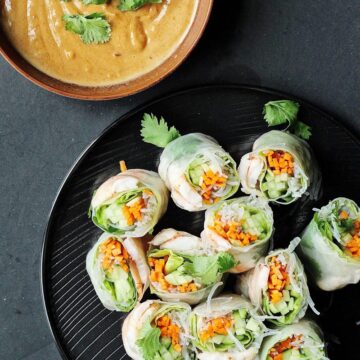 Ingredients
Vietnamese Spring Rolls
12

rice papers

6

lettuce leaves

cut into two, depending on the size

5

ounces

mung bean vermicelli noodle

weight after cooked

1

large carrot

cut into thin sticks

1/2

cups

coriander leaves

1

medium cucumber

cut into sticks

24

medium shrimps

1 1/2

tbsp

fish sauce

1

tsp

sugar

1

tbsp

vinegar

Salt and pepper

to taste
Peanut Dipping Sauce
3/4

cup

smooth peanut butter

2

tbsp

hoisin sauce

3

tbsp

soy sauce

1/2

cup

water

1

tbsp

sugar

1/2

tsp

sesame oil

1

tbsp

lime juice

1

tbsp

chili garlic paste

optional
Instructions
To make the peanut dipping sauce, combine the peanut butter, hoisin sauce, soy sauce, water, sugar, sesame oil, and lime juice in a bowl and mix using a whisk. Add chili garlic paste if desired.

Boil shrimps until fully cooked, about 40 seconds. Drain off excess water and let cool. Cut shrimps into two lengthwise.

Boil glass noodles (mung bean) for about 2 minutes or until transparent and cooked. Drain off excess water. Season with 1 1/2 tbsp of fish sauce and some salt and pepper to taste.

Cut carrots into very thin 7-8 cm long sticks. Season with vinegar and sugar and set aside. Cut cucumber into sticks and cut lettuce leaves into two, if they are too large (should be about 1/4 of the size of the rice paper).

To make the spring rolls, soften the rice papers one by one with warm water. Lay one on a flat surface. Place 1 or 2 lettuce leaves at the bottom of the paper and place cucumber, carrots, and glass noodles on top of the lettuce. In the middle of the paper, place 4-5 coriander leaves in a row, parallel to the lettuce. At the top of the paper, place 4 shrimp halves in a row, parallel to the corianders and lettuce. To wrap, start by folding from the bottom of the rice paper, covering the lettuce, glass noodles, cucumbers, and carrots. Fold sides inward, and tightly roll the wrapper starting from the bottom where the lettuce is. Repeat steps for each roll. Serve with peanut dipping sauce.