Chicken congee (or rice porridge) is for us the ultimate comfort food. The flavours are nothing out of the extraordinary, but what always hits the spot is that comforting feeling that you get when you take a bite of the warm, soft, and savoury rice porridge.
It brings back nostalgic memories of when we were kids and our parents would make us some warm rice porridge for breakfast or whenever we were sick. And with the right toppings, you'd be surprised of the flavours and textures that you can get from a simple bowl of rice porridge.
Growing up, we used to eat congee made just with water, and would eat it with very flavored food, such as pickled vegetables, pork floss, and century eggs. However, after meeting Alvin, I discovered that people would actually make congee with broth (!!!). I know, shocking. This is his personal recipe, and it's delicious!
What is Congee (粥)
Congee is a rice porridge that has originated in China but since has been spread through many other Asian countries. The rice is cooked in water, or broth, for a very long time, breaking the grains and creating a thick, creamy porridge. The consistency is similar to oatmeal, polenta, gruel, or grits. This dish is often eaten when you're feeling sick, or as a comfort food on a cold day, because it's usually made very plain. It's easy on the stomach, and the thick creamy texture makes it very enjoyable to eat! Congee is also known as Jook, in Cantonese, or Xifan, in Mandarin. It's usually eaten for breakfast, but honestly, we eat it for any meal of the day, and can also be a side dish or a meal on it's own.
More Related Recipes:
How to Make the Best Chicken Congee
Rice
We personally like to use long-grain rice, but there really isn't any specific rule. If you only have short-grain rice on hand, use that instead. However, keep in mind that short-grain to have more gluten, hence making the congee more thick in consistency. You can easy use brown rice for a healthier alternative.
Broth
No matter what kind of broth you use, make sure you use a good, tasty broth since all the flavours in the porridge basically comes from the broth. You can even make your own broth to make sure the flavours are just how you want them to be. We used a store-bought chicken broth that we like, and it still does a good job with flavouring our porridge. One thing to note, most rice porridges are made with meat-based broth and have some kind of meat chunks in them. If you're vegetarian, you can definitely try making it with some vegetable broth, although we've never tried ourselves. Maybe we'll give it a try one day and let you know how that turns out!
Seasoning
Don't skip on the soy sauce and the white pepper! It's the secret in making your congee more complex in flavor since it's such a basic recipe. With all the toppings, this recipe rapidly becomes a staple's favorite in every asian household!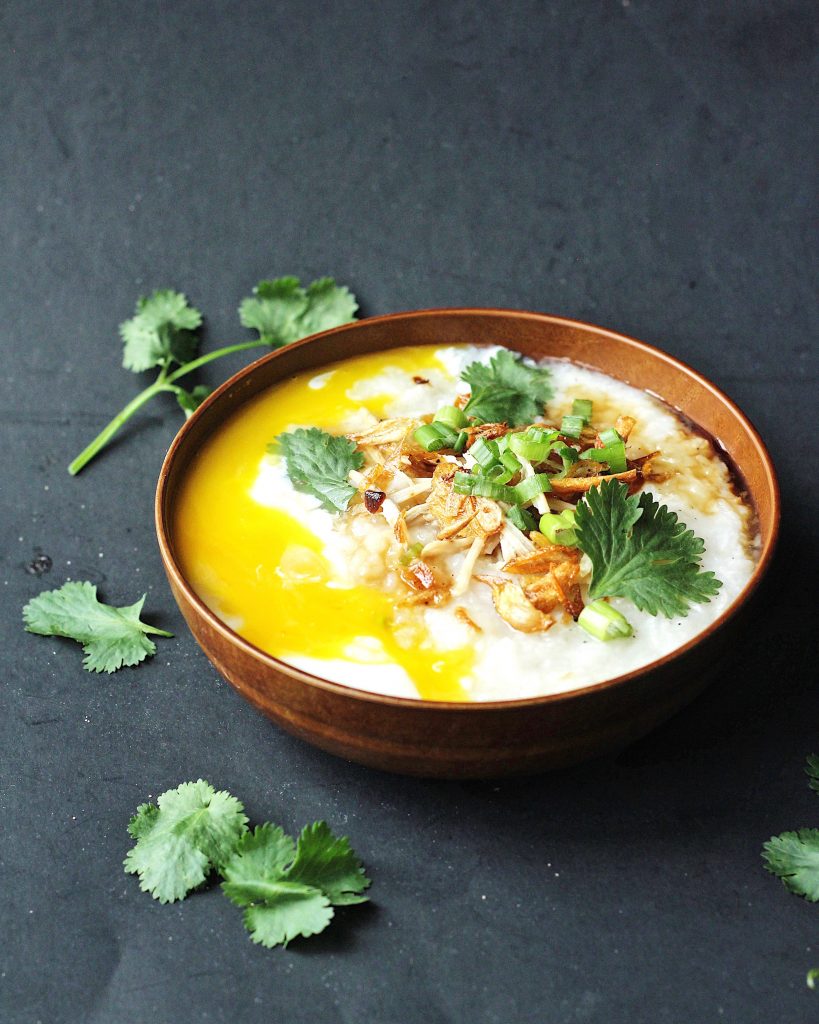 What Toppings to Serve with Chicken Congee
Some people love eating porridge on its own, without any toppings whatsoever. But us, we're basically the king and queens of toppings. We'd put so much toppings that sometimes you wouldn't even be able to see that there's porridge underneath (true story). Fried shallots, green onions and coriander are our favorite toppings to add to our bowl of rice porridge. It's the trinity of toppings (for us anyway). They just give the dish so much more flavours, fragrance, and textures! You can make fried shallots at home by simply deep-frying some shallots, or you can also buy it online
or at an Asian supermarket. You can also add eggs such as century eggs or salted eggs. And one of the best best best sides to eat the porridge with is youtiao, or Chinese fried doughnuts. Other popular topping includes zhacai, salted duck eggs, bamboo shoots, pickled tofu, or century eggs.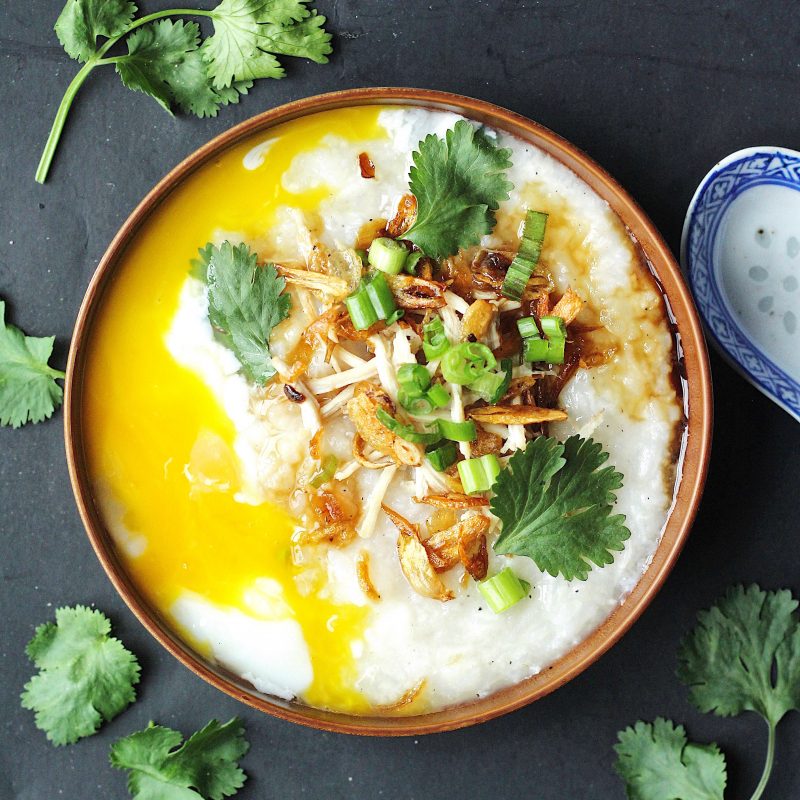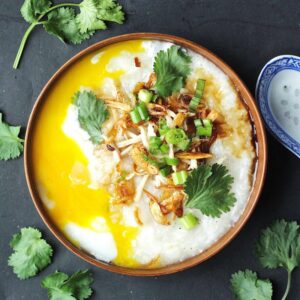 Chicken Congee (Rice Porridge)
Chicken congee (or rice porridge) is for us the ultimate comfort food. The flavours are nothing out of the extraordinary, but what always hits the spot is that comforting feeling that you get when you take a bite of the warm, soft, and savoury rice porridge.
Print
Pin
Rate
Ingredients
3/4

cup

long-grain white rice

4-5

cups

low-sodium chicken broth

5

ounces

boneless

skinless chicken thighs

2

tsp

fried shallots

2

tsp

green onions

finely chopped

2

tsp

soy sauce

2

whole eggs

coriander leaves

for garnish

salt and white pepper

to taste
Instructions
To make the chicken, season the chicken thighs with some salt. In a pot, bring water to a boil and season it with salt. Add the chicken thighs into the boiling water and let boil for about 7-8 minutes, or until cooked thoroughly. Remove from heat and let chill. Shred the chicken by hand into fine, long strips.

In a pot, bring 4 cups of chicken broth to a boil at high heat. When the broth is boiling, add the uncooked rice into the pot and stir constantly to prevent the rice from sticking to the bottom. Let the rice cook for 15 minutes while stirring occasionally. After 15 minutes, the rice should become fluffy and soft. Continue cooking the rice for another 10 minutes while stirring constantly. After 10 minutes, add another cup of chicken broth, stir, and cook for another 5 minutes. The porridge should have very soft, thick texture. If you want your porridge to more watery, you can add more chicken broth to your taste. Season with salt and white pepper to taste.

To make eggs, place two eggs in a pot and fill up the pot with boiling water slowly until both eggs are fully submerged. Cover with lid and let cook for 15 minutes. Do not turn on the stove, the heat from boiling water itself will cook the eggs to a soft, half-cooked texture. After 15 minutes, transfer eggs into a bowl of cold water to stop it from cooking further.

Transfer rice porridge into two medium-sized bowls. If porridge becomes too thick, add a little bit of hot water and stir. Crack an egg onto each bowl of porridge and top with the shredded chicken, fried shallots, green onions, soy sauce, and coriander.
Nutrition
Calories:
344
kcal
|
Carbohydrates:
23
g
|
Protein:
31
g
|
Fat:
14
g
|
Saturated Fat:
5
g
|
Polyunsaturated Fat:
2
g
|
Monounsaturated Fat:
6
g
|
Trans Fat:
0.01
g
|
Cholesterol:
205
mg
|
Sodium:
586
mg
|
Potassium:
765
mg
|
Fiber:
0.4
g
|
Sugar:
1
g
|
Vitamin A:
258
IU
|
Vitamin C:
1
mg
|
Calcium:
58
mg
|
Iron:
4
mg