You know what they say, less is more.
With this Chinese Egg Drop Soup, we cannot agree more! Like a lot of other Chinese recipes, this soup is so simple and modest, but never fails to satisfy our appetite!
And let us explain just how simple it is to make this Chinese Egg Drop Soup: boil chicken broth, add cornstarch slurry, pour the eggs and seasoning. You're done! It took us 5 minutes to make it, 5 minutes!! Even instant noodles take more time to make. What's cool about it is that it tastes like it took hours to make!
If you've ever been to a Chinese restaurant, then you'd probably already seen an Egg Drop Soup. It's a slightly thick, eggy, flavourful soup that's sooo comforting and delicious. Plus, if you're into sesame flavours, adding some sesame oil really makes this soup that much more yummy! You best believe we be pouring that sesame oil in ours!
This Chinese Egg Drop Soup is perfect for an appetizer or a side dish to a Chinese meal. We usually make this when we want to add some delicious side dishes to our meal but don't wanna spend too much time cooking.
The recipe we made is very basic, but you can add an endless choice of ingredients and toppings. We've seen people add tofu or shrimp for protein, and coriander for toppings (which sounds SUPER yummy). If you wanna make it a seafood soup, you can even add some clams or crab meat (which is what we probably might try next time we make it!).
P.S. If you want to get a more yellowish color for the soup, you can either add some turmeric (which may give a slightly different taste) or get a chicken stock that is more yellow in color, like the one we used
.
Today's recipe is super simple, but hey, sometimes the best things are the easiest to make! No need to always spend hours in the kitchen to make a delicious dish for yourself or your friends and family! Leave us a comment if you have any questions, and share with us what ingredients and toppings you put in your Chinese Egg Drop Soup. Hope you enjoy the recipe, and happy eating!
Other Chinese recipes you might like:
Pork Dumplings with Spicy Peanut Sauce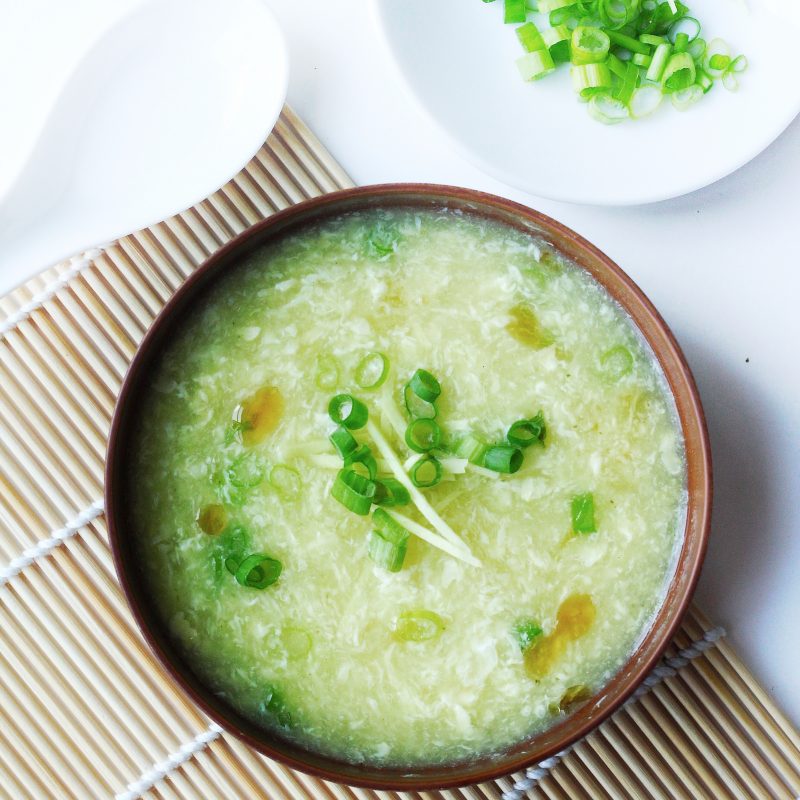 Ingredients
3

cup

low-sodium chicken stock

2

tbsp

cornstarch

2

tbsp

water

2

whole eggs

1/2

tbsp

sesame oil

salt and pepper

to taste

3

tbsp

green onions

finely chopped

ginger

sliced for topping, optional
Instructions
Beat eggs until the whites and yolks are well combined. Set aside.

In a large pot, bring chicken stock to a gentle boil over medium high heat. In a small bowl, combine the cornstarch and water to make a slurry. Slowly add the the cornstarch slurry into the chicken stock while constantly stirring. Make sure to add slowly and to stir constantly to avoid lumps. If lumps form, you can pass the soup through a strainer.

Once the soup thickens and simmer, add the sesame oil and stir. Slowly pour the egg into the soup in a steady, circular motion, forming egg strands in the soup. Let egg cook for about 15 seconds, and stir the soup in a circular motion.

Add salt and pepper to taste, and add the green onions and stir well. To serve, add soup in a bowl and top with ginger and some more green onions.