I don't know how it is where you live, but here in Montreal, it's been raining like crazy. And it's cold. And in a weather like this, we always crave something hearty, flavourful, and substantial that will get us through the rainy days. Something saucy! Hence the making of this delicious, rich Coconut Shrimp Curry!
There are so many versions of curries out there, but I have to say, Southeast Asian style curry with coconut milk is our favourite! Maybe because we grew up eating this kind of curry and we're totally biased, but they are pretty dang tasty! For us, it's like comfort food. It's rich, it's full of sauce, it's flavourful. And you MUST eat it with some white rice (Jasmine rice, to be more precise). The mixture of texture is unbelievably good.
For this recipe, we used shrimp for our proteins because that's what we have in our fridge at the moment. But the recipe will work great with chicken, beef, or any other type of protein that you find might go well with the curry sauce.
A tip: We made the sauce separately from the shrimp. This way, we can use a sufficient amount of sauce for one meal and mix in the shrimps, and keep the rest of the sauce in the fridge for use another day. And the next time you'll be craving this curry sauce, you'll have the sauce ready and you can change up the protein if you feel like it! Plus, making the protein separately is always a good idea for us since we can have more control to not overcook the proteins.
The Coconut Shrimp Curry is definitely an easy recipe, and if you have all the ingredients, all you have to do is stir. Coconut milk can be found in most local grocery stores, and Thai red curry paste can be found in Asian supermarkets. You can also check out the links we provided to buy them online. We hope you enjoy this recipe and let us know if you have any questions, and as usual, happy eating!
Our other Southeast Asian food recipes: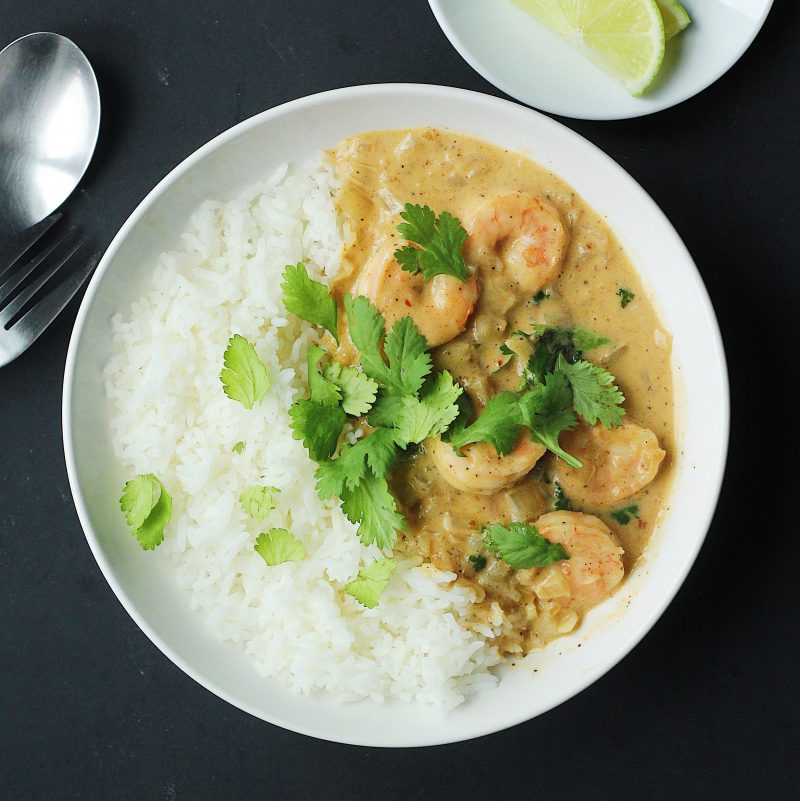 Ingredients
18

medium-sized shrimps

deshelled, deveined

2

tbsp

white onions

chopped into small cubes

2

cloves

garlic

finely chopped

¼

cup

water

½

cup

coconut milk

1 ½

tbsp

unsalted butter

1

tbsp

fish sauce

3 ½

tbsp

thai red curry paste

3

kaffir lime leaves

salt and pepper

to taste

½

tsp

sugar

1 ½

tbsp

lime juice

coriander leaves

for topping
Instructions
Heat 1/2 tablespoon of butter in a pan over medium high heat. Season the shrimp with salt and pepper and cook over medium high heat for about 30 seconds on each side until thoroughly cooked. Remove from heat and set aside.

Melt the rest of the butter on pan over medium high heat. Cook the onions and garlic until soft and fragrant, about 2 minutes. Add the Thai red curry paste and mix well. Add in the water, coconut milk, sugar and kaffir lime leaves. Stir well until well combined. Add the fish sauce and mix well. Let sauce cook over medium to medium high heat until it boils and thickens. Remove from heat and season with salt and pepper.

Add the cooked shrimps into the sauce and stir well until all the shrimps are coated with the sauce. Squeeze about 1 1/2 tablespoon of lime juice and mix well. Garnish with coriander leaves and serve with white rice.