Whoop whoop for Japanese potato salads. If you've never had them, you're missing out! Although they look like your regular American-style potato salad, the taste is very different. The Japanese version uses rice wine vinegar
and Japanese mayonnaise
as seasoning, which makes ALL the difference. We love them so much, the other day we made a huge batch that we obviously cannot finish. But worry not friends, we're not about wasting food. We saw the Panko breadcrumbs sitting in our pantry and obviously, we decided to make some Japanese croquettes (known as korokke) with the leftover potato salad!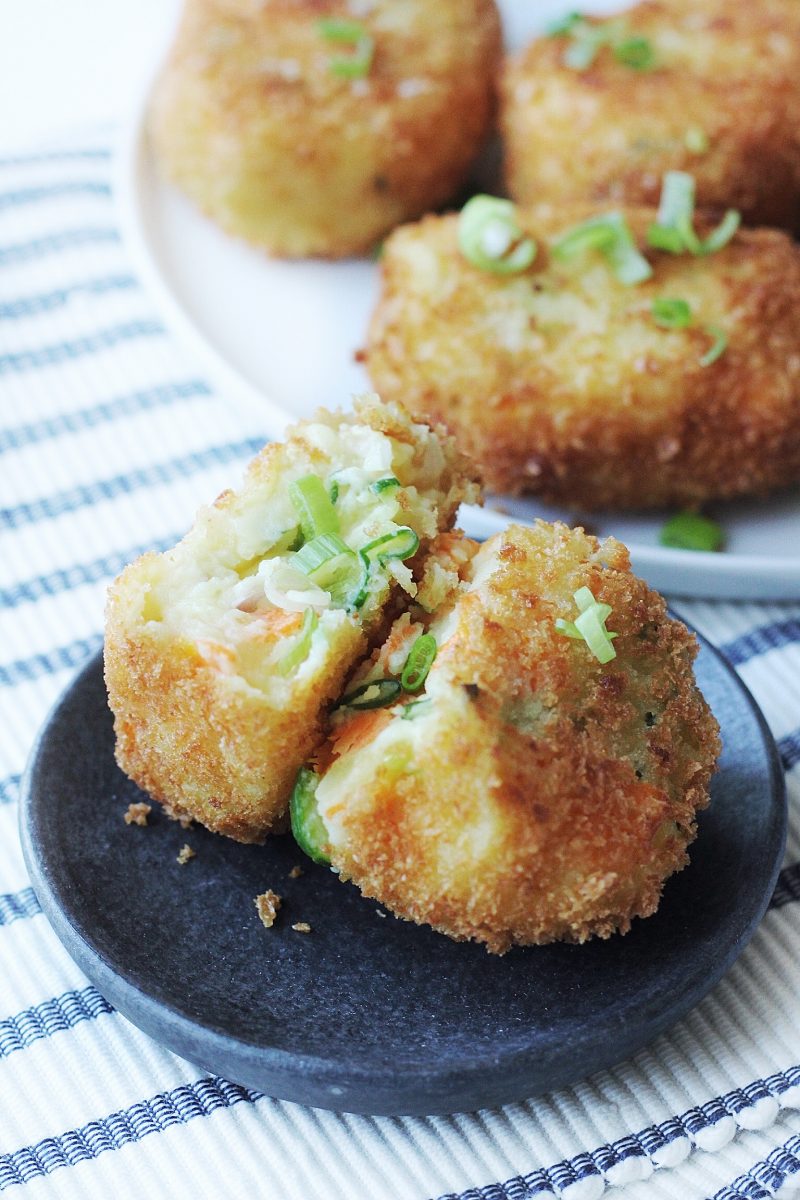 And the result was amaze-ballsssss. We love Japanese potato salads. We love croquettes. I can't believe the idea never even crossed our minds to combine them together and make some delicious Japanese Potato Salad Croquettes! But hey, better late than never. We're so glad we opted to make this cause it is so delicious and so simple to make. We'll definitely be making these more often!
Important to note: The flavours from the seasoning will not taste as strong once you've fried the croquettes. So we suggest to slightly over season the Japanese potato salad so that you'll still be able to taste the seasonings after frying them.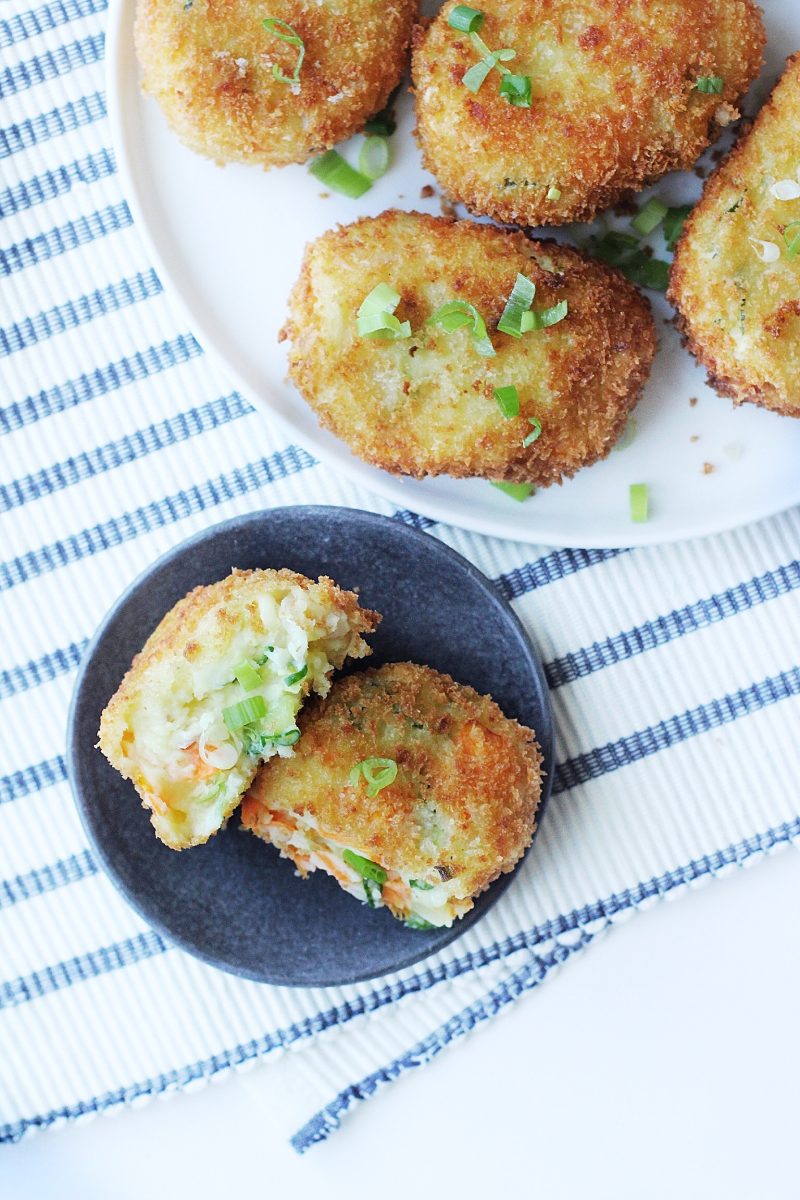 In terms of the texture, it really depends on your preferences. When it comes to potato salads, we like it when there are some chunks of potatoes. But when it comes to croquettes, we like it when the potato filling is thoroughly mashed and smooth. So we had to mash the leftover potato salad to make it have the smooth texture that we want for croquette filling. But it all depends on your preferences, and feel free to make any adjustment to have the texture you want.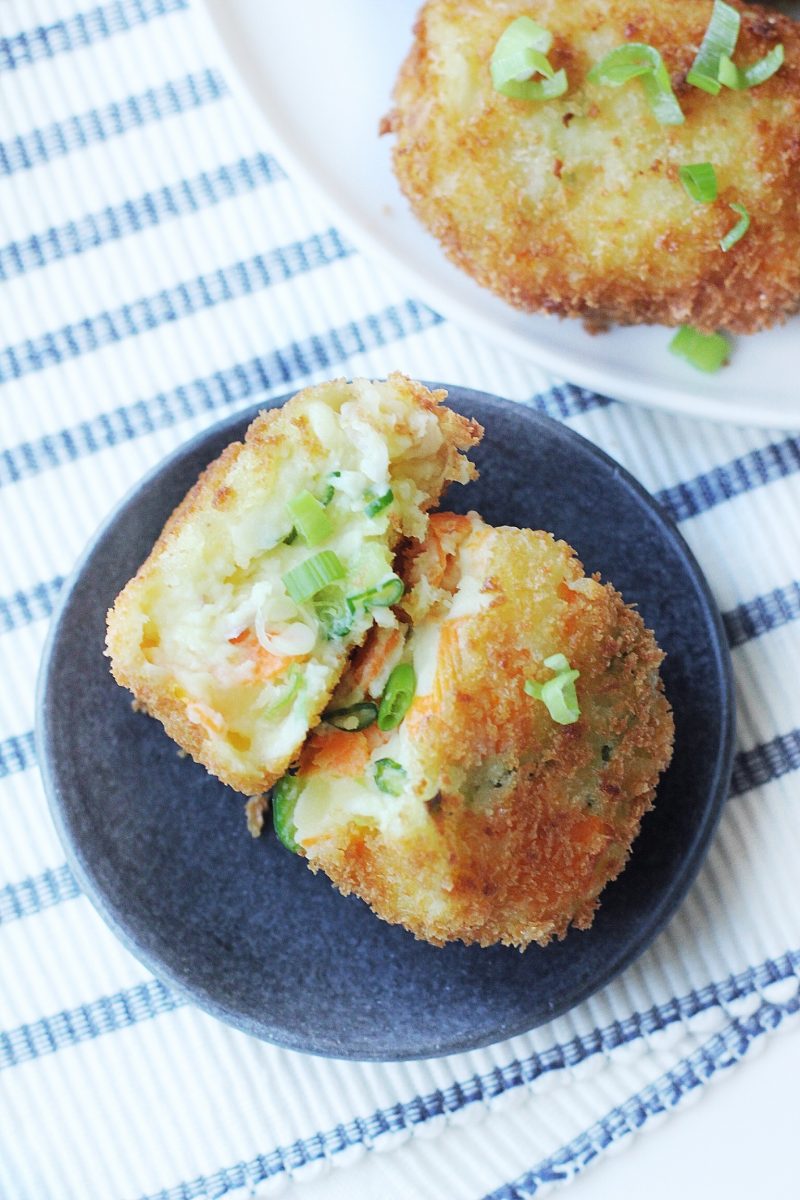 We also used carrots, cucumbers, red onions, and green onions in our filling. We usually would also add some ground pork in the mix, although we didn't have any on hand when we made it. And another popular ingredient you can add in the filling is some hard-boiled eggs. They add so much texture to the croquettes!
If you're curious the Japanese mayonnaise that we always use is this Kewpie Japanese mayonnaise
!
We hope you enjoy the recipe and feel free to let us know if you have any questions! Happy eating!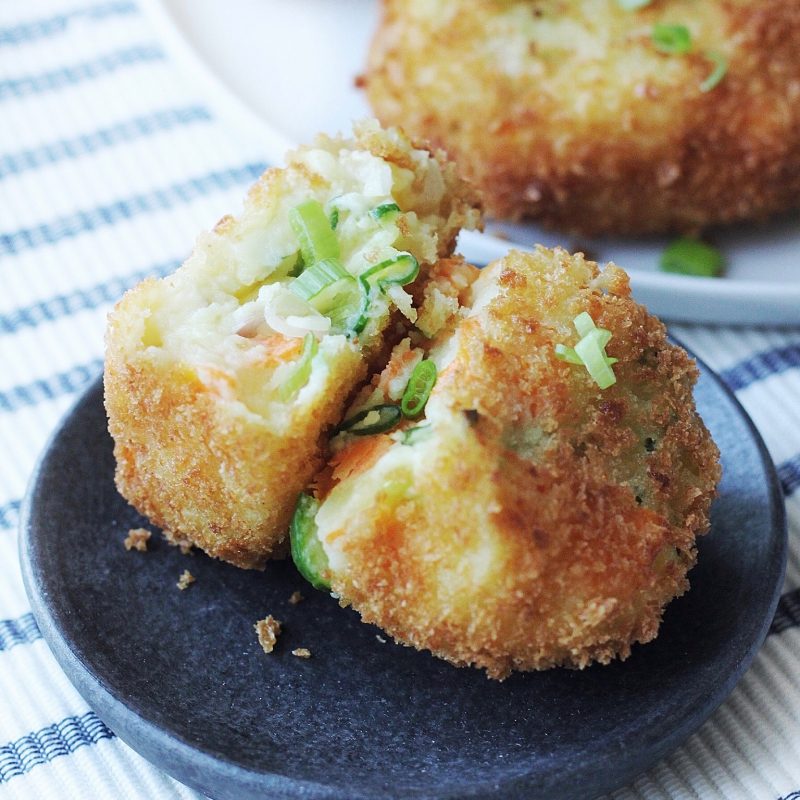 Ingredients
1

lbs

potatoes

1/2

cup

carrots

thinly sliced

1/2

cup

cucumbers

thinly sliced

2

tbsp

green onions

chopped

2

tbsp

red onions

cut into think sticks

1 1/4

tbsp

rice wine vinegar

2

tbsp

Japanese mayonnaise

1

cup

all-purpose flour

1

egg

lightly beaten

1

cup

Panko breadcrumbs

Salt and pepper

to taste
Instructions
Wash the potatoes and dry with kitchen towel. Peel off the skin and cut potatoes into small cubes of approximatively the same size. In a large pot, bring water to a boil and add 1 teaspoon of salt. Gently place the potato cubes into boiling water and make sure all the potatoes are submerged in the water. Boil at medium high heat for about 9-10 minutes or until soft and tender. Remove potatoes from water and drain off excess water.

In a large bowl, place the cooked potatoes and mash using fork until smooth. Add the sliced carrots, sliced cucumbers, chopped green onions, and sticks of red onions into the bowl. Add the salt, vinegar, and Japanese mayonnaise and combine everything together until well mixed.

Once the mashed potatoes are cooled, form about 1 1/2 to 2 heaping tablespoons of mashed potato into a flattened oval ball. Repeat with the rest of the mashed potatoes (the recipe should yield about 5-6 croquettes). Place croquette balls on a plate and let chill in the refrigerator for about 30 minutes.

Once the croquettes are cooled and firm, coat each ball with all-purpose flour, then egg, and finally Panko breadcrumbs. Repeat these steps with each croquette ball.

Heat about 1/2 inch of oil in a pan on high heat. Once the oil is hot enough, bring temperature to medium high and fry the croquettes for about 2-3 minutes on each side or until golden brown. Remove from heat and drain off excess oil.