The first Korean dishes I have ever tasted and fell in love was Tteokbokki. The soft and chewy rice cakes paired with the spicy creamy sauce win us over every time2. We organize potlucks from time to time with our friends, and we always ask our Korean friends to bring Tteokbokki, because we know it's a yummy dish that everyone like and that's easy to prepare.
However, we had never prepared it ourselves until a few weeks ago when we were really craving for it, but too lazy to go out to eat. If you have all the ingredients in your fridge (which you probably don't, but all ingredients are easily found at your local Asian supermarket), it is one of the easiest and tastiest recipes you will ever make! Gochujang (Korean red pepper paste) is the base of the sauce for this dish, and you can find this at your local Korean supermarket or online
. For some extra spice, for the adventurous out there, you can add some gochugaru, and you can find it here
. This is not the one we use (we buy ours at our local Korean supermarket), but gochugaru is basically red pepper powder, so it is pretty easy to find. The rice cakes that you should be using for this recipe are the ones in a cylindrical shape. Sometimes, they are sold in a very long cylindrical shape, but I would suggest cutting them to not be longer than 4 to 5 centimeters.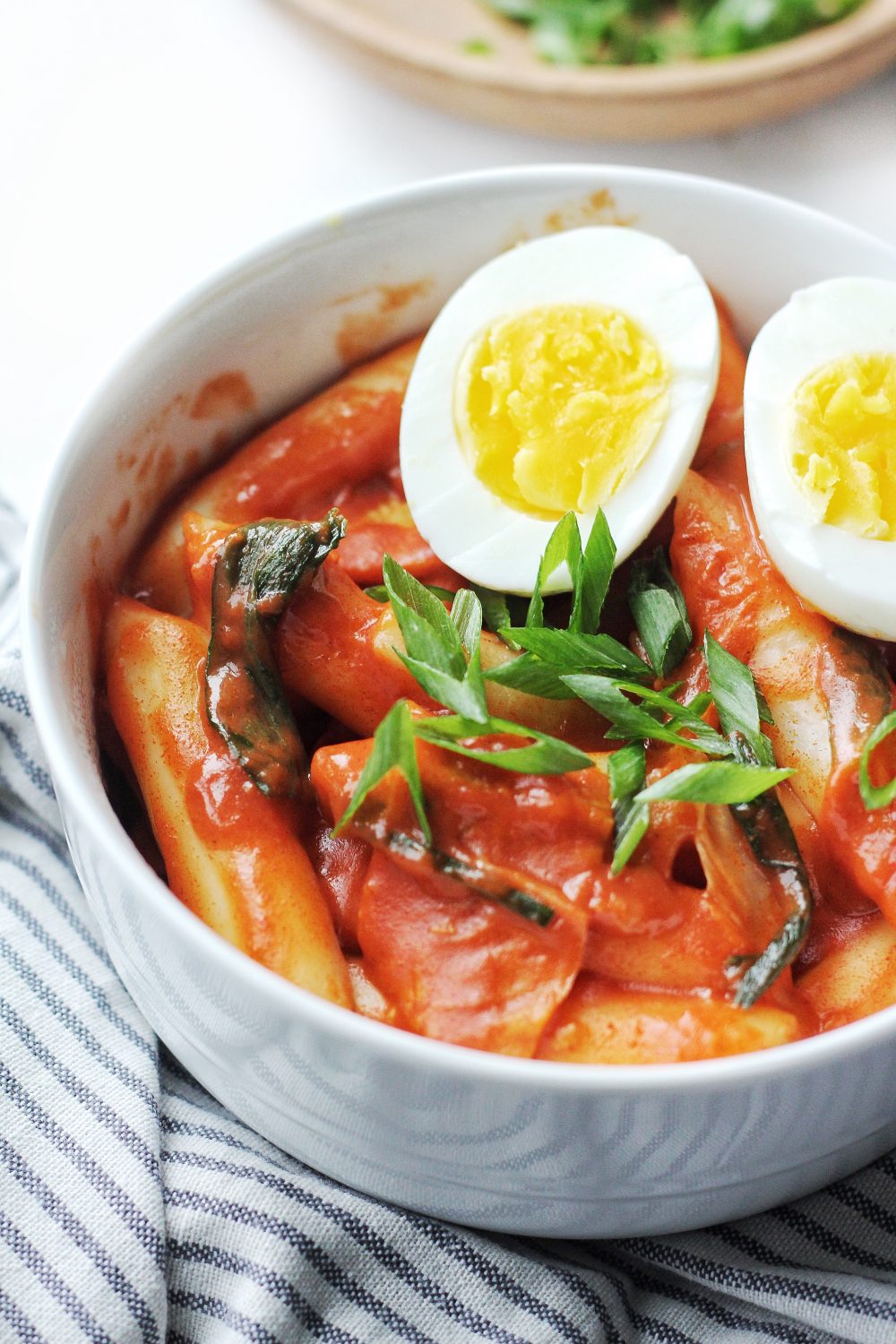 These rice cakes reminds me of 年糕(pronounced Nian Gao, Shanghainese Rice Cake), which I grew up eating and loving. To this day, it is still one of my favorite Chinese dish that my dad makes (AKA the best Chinese chef, teehee!). If you love the texture of these, you will definitely enjoy the Tteokbokki, although this Korean dish has a much more different taste.
We love spicy food, but we also like to enjoy your food. If you're like us and you enjoy some moderate heat, you will definitely like our recipe. However, if it's still too hot for your liking, you can add less red pepper paste and red pepper powder, or add a little bit more sugar!
Also, don't forget to check out our other recently posted Korean recipes, Kimchi Fried Rice and Spicy Soft Tofu Stew!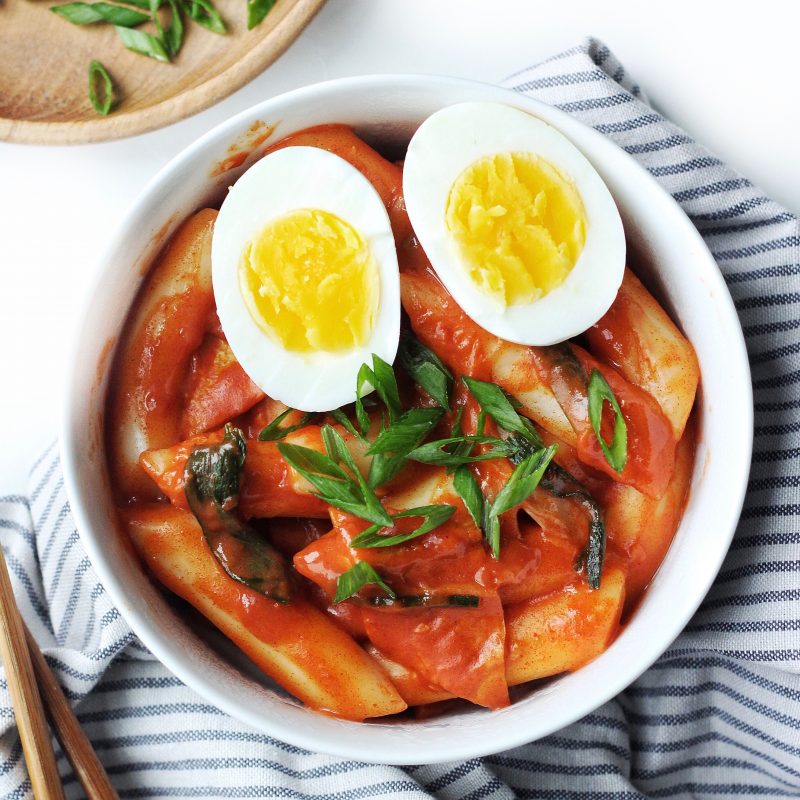 Ingredients
0.5

pound

rice cakes

tteok

1

cup

chopped cabbage

1

sheet

fish cake

cut into rectangles

3

green onions

1 3/4

tbsp

Korean red pepper paste

gochujang

1 1/2

tsp

Korean red pepper powder

gochugaru

2

cups

anchovy broth

1

tsp

dashi powder

1

egg

1

tsp

garlic

minced

1/2

tbsp

sugar

1/2

tbsp

soy sauce
Instructions
To make hard-boiled eggs, in a saucepan, bring water to a boil. Gently place the egg in the water and let boil for 10 minutes. Remove from heat and place in a bowl of ice water. Let rest for 5 minutes and peel of the egg shell.Set aside.

In a large pan, bring the anchovy broth into a boil over medium high heat. Add the dashi powder, mix and let boil for 3 minutes.

Add the Korean red pepper paste, Korean red pepper powder, garlic, sugar, and soy sauce into the broth and mix well. Bring broth/sauce back to a boil over medium high heat.

Add the rice cakes into the broth/sauce and cook for about 7 minutes, until the rice cakes are soft. If your rice cake was frozen, make sure to soak them in water for about 15 minutes before adding them into the broth/sauce.

Add the fish cakes, cabbage, and green onions and cook for another 5 minutes. The sauce should be thick and the rice cakes should be chewy. Serve with hard-boiled eggs and green onions.