We always eat at this Japanese restaurant in our neighbourhood, and they serve the most amazing crab salad with sesame dressing. Every time we go back to eat there, we can't help but gravitate towards that salad, even though it is just a salad and we are in a sushi restaurant and we could've ordered so many other things. But hey, the heart wants what it wants. So today, we wanted to recreate this salad at the comfort of our own home, but we added an ingredient that we thought would bring this salad to a whole other level: avocado! So what we ended up with is a delicious, creamy, crunchy Avocado Crab Salad with homemade Asian Sesame dressing!
It is a salad, so it is REALLY easy to make. You just have to cut your ingredients and make the dressing, and voila! No cooking whatsoever. The only thing that might be hard with this recipe is getting two ingredients: crab sticks and masago (flying fish roe). Although the latter is optional, I do think they add great flavours to the salad. So if you can get a hold of it, you definitely should get them! You could use real crab meat in this recipe, although it is a lot more expensive. So for our recipe, we decided to use crab sticks. They can be found in the refrigerated section at Costco, Asian supermarkets, or at some local grocery stores. We do always leave links to buy the ingredients online if ever you can't find it in your area, so be sure to check that out below!
This recipe is pretty basic for a crab salad, but there are endless other ingredients that would go amazing with it. If you want to make it a bit more fresh and fruity, we suggest you add some shredded mango, which is perfect with this salad! You can also add some pickled mangoes if you want stronger flavours!
As for the Asian sesame dressing, most local grocery stores do sell it in a bottle, and the store-bought dressing tastes excellent! But if you don't feel like buying a whole bottle or you just wanna be fancy and make it at home, we provided the recipe for homemade Asian sesame dressing below! It's easy, requires less than 5 ingredients, takes less than 5 minutes to make, and tastes exactly like the store-bought ones!
Who knew a salad can be so exciting! Anyway, we're now obsessed with Asian salads and will probably make many more recipes for them, so if you're into that kind of stuff, you're in for a treat! Hope you enjoy, and us usual, happy eating!
For other salad recipes:
Chicken Salad with Honey Mustard Vinaigrette Recipe
Vietnamese Spring Rolls with Peanut Dipping Sauce Recipe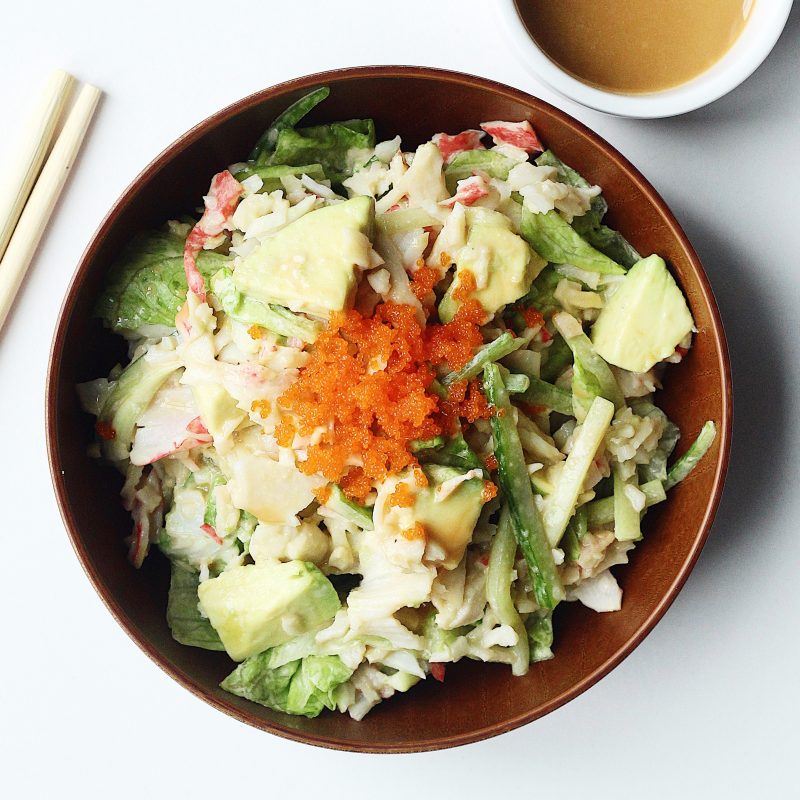 Ingredients
Avocado crab salad
1

cup

crab sticks

finely shredded

1

small cucumber

cut into think sticks

1

cup

lettuce

roughly chopped

1

medium-sized avocado

cut into cubes

2

tsp

masago
Asian sesame dressing
3

tbsp

low-sodium soy sauce

1/2

tbsp

sesame oil

2

tbsp

mayonnaise

1/2

tbsp

rice wine vinegar

1 1/2

tbsp

granulated sugar
Instructions
To make the Asian Sesame Dressing, in a bowl, mix together the soy sauce, sesame oil, mayonnaise, rice wine vinegar, and granulated sugar with a whisk. Mix until well-combined and set aside.

In a food processor, place the crab sticks and pulse 5-6 times until finely chopped and shredded. In a large mixing bowl, combine the chopped crab sticks, cucumber sticks, lettuce, and cubed avocados. Drizzle the Asian Sesame Dressing to taste and top with masago.