We consider ourselves very lucky to be raised in Asian households in Canada, being exposed to both Eastern and Western cuisines. Naturally, one of the things we love the most is Asian fusion food! If we're not on Yelp hunting down the latest fusion spots, we're always trying to figure out new ways to blend Western and Asian cuisines in our recipes. And this, my friend, is the result: Coconut custard pandan pancakes!
Ok, some of you must be asking what in the world is pandan. If your family is from the Southeast Asia region like I am, then you must be pretty familiar with it. Pandan is basically a plant that's extensively used as flavouring in the South and Southeast Asian regions. They have this nutty, leafy flavour and are often used for desserts and sweets alike. And in Indonesia, where my family is from, it's often paired with coconut milk to make a sweet snack or cake. Inspired by that, we decided to incorporate pandan and coconut milk into one Western dish, pancakes!
We used pandan extract to make the pancakes, and the coconut milk to make the custard filling. It's like a match made in heaven! And the pancake's fluffy texture mixed with the fragrant pandan flavour goes perfectly together. If we're opening a restaurant, we'd definitely consider putting this on the dessert menu! And it's very easy to make too. All you need is to buy yourself some pandan extract, which can usually be found in an Asian grocery store or you can also buy it online
if there's no Asian stores near you. You'll also need some coconut milk, although that's a lot more readily available in your local grocery stores. The rest of the ingredients are basically stuff you usually already have in your pantry at home!
We wrote down the recipe below for you to check out! The recipe is very similar to our Peanut Butter Pancakes recipe (except with a more exotic twist), so if you want to try that after you're done with this one then it's gonna a breeze for you to make! We didn't make any special sauce for toppings because we figured the coconut custard filling is already more than enough. But if you do want to take it up a notch and make it extra Southeast Asian, you can eat it with some condensed milk! I eat that with pretty much everything!
That's it for our post today folks, if you have any questions about the recipe or just wanna say hi, feel free to leave a comment below! We hope you enjoy the recipe, because we certainly did! If you love anything Asian, make sure to check out our previous posts for Bibimbap and Bulgogi Grilled Cheese. Stay tuned for more delicious recipes and happy eating!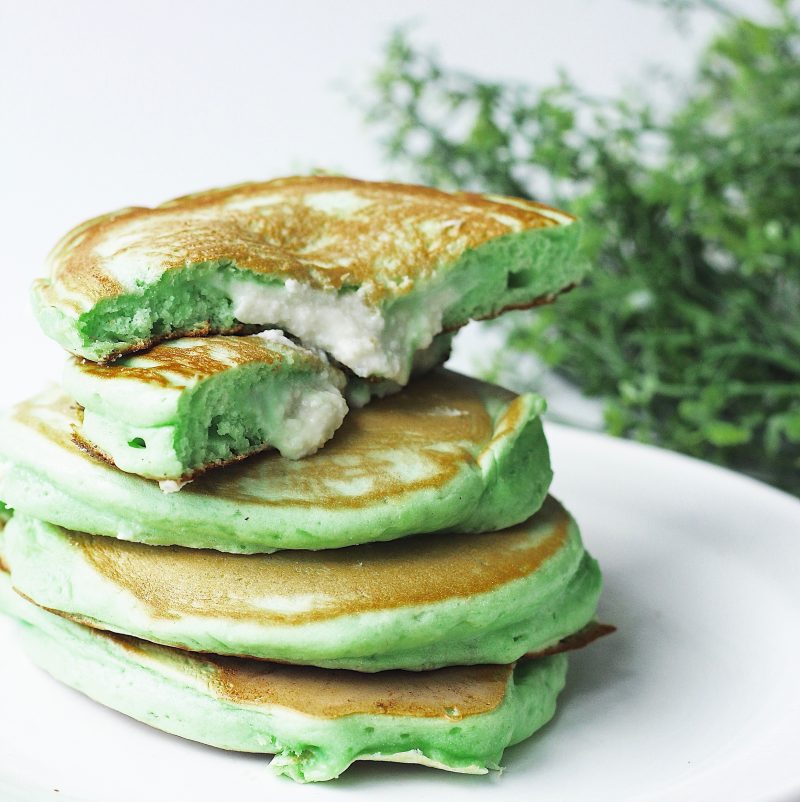 Ingredients
Pandan Pancakes
1 1/2

cup

all-purpose flour

3

tsp

baking powder

3

tbsp

granulated sugar

1 1/4

cup

milk

1

whole egg

1

tsp

pandan extract
Coconut Custard
1

cup

coconut milk

1

tbsp

cornstarch

2

tbsp

granulated sugar

1

whole egg
Instructions
To make pandan pancakes, in a large bowl, combine the all-purpose flour, baking powder, and granulated sugar. Mix well using a whisk.

In another large mixing bowl, combine the milk, egg, canola oil, and pandan extract. Mix well using a whisk. Add the milk and egg mixture into the flour mixture and mix well until well combined.

To make the coconut custard, combine the coconut milk, corn starch, and sugar in a saucepan. Heat mixture at medium heat until simmering. Remove from heat.

In a heat-proof mixing bowl, crack and egg and whisk gently. Do not over whisk the egg. Pour the coconut milk mixture into the bowl of egg gently, in a slow, constant stream while constant whisking the egg (otherwise you'll cook the egg).

Once the two mixtures are well combined, pour everything back into the saucepan and cook over medium heat until thick. Remove from heat and let cool.