The perfect grilled cheese! The salty ham, the gooey melted mozzarella cheese, and the sweet juicy pineapple together in a grilled cheese sandwich!? What more can you ask for? The mix of flavours and textures is just blend so well together and it's so so easy to make!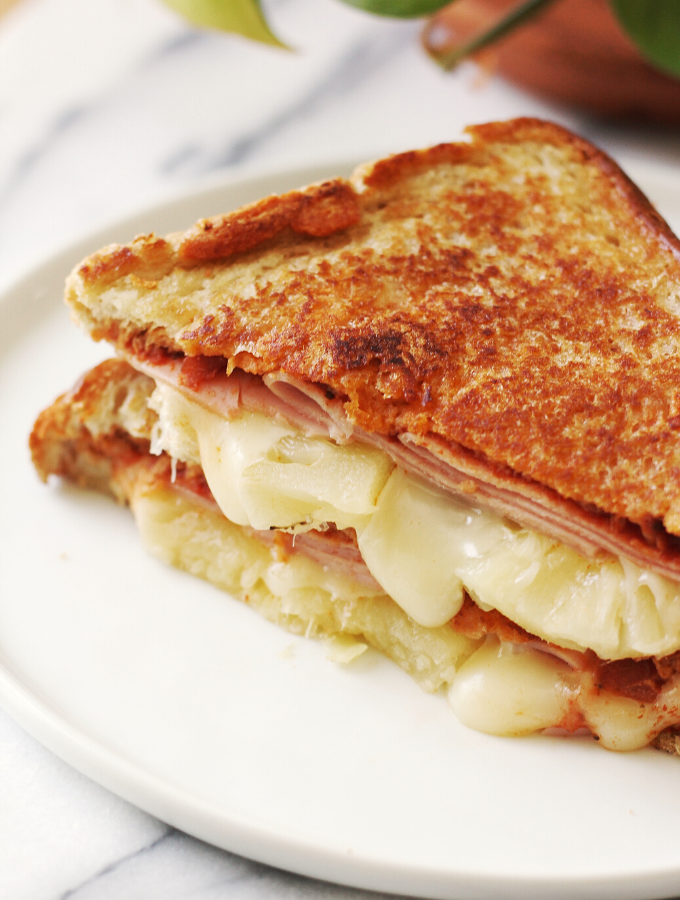 So this recipe is largely inspired by the famous Hawaiian pizza. You know, that type of pizza with pineapple on it that has people debating and everything.
Well, we are on team YES for pineapples on pizza. And definitely YES YES YES in a grilled cheese!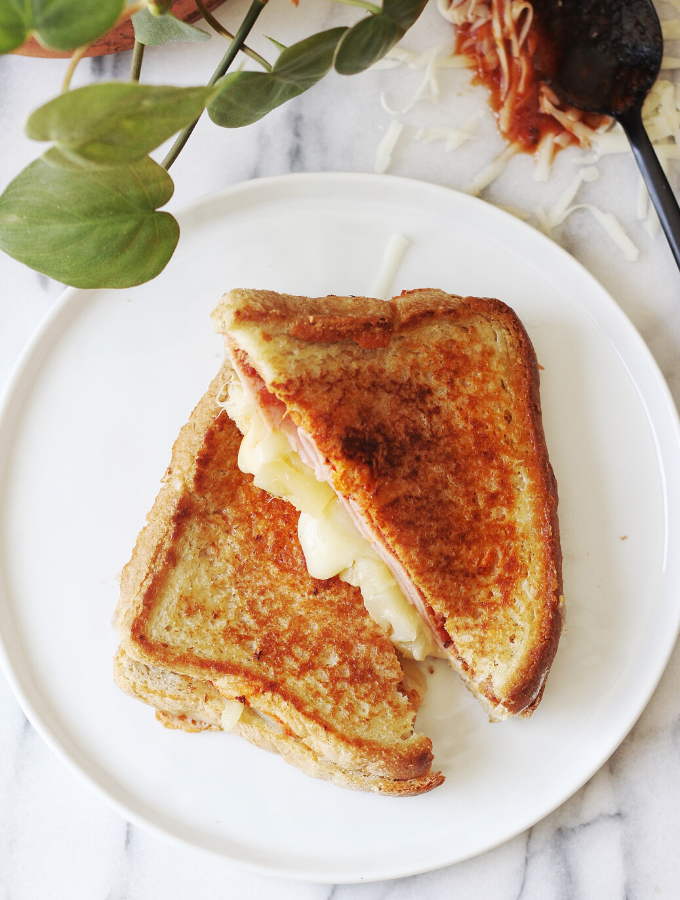 We just find the pineapple in this grilled cheese just adds such a nice balance to the whole dish. Its sweetness cuts through the saltiness from the ham and cheese, and its juiciness and freshness makes the fattiness from the mayo and the cheese a bit more balanced. So YES to the pineapple please!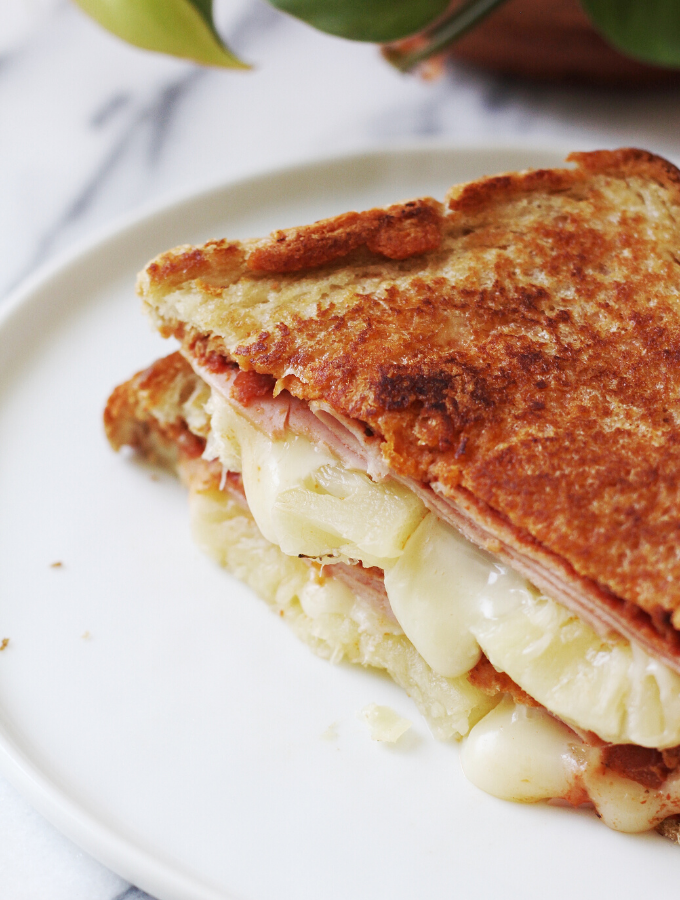 This Hawaiian style pineapple and ham grilled cheese recipe is perfect for a lazy brunch, a quick lunch, or a busy week night dinner, or a nice late night snack.
The amount of cheese that we put in the recipe is according to our preferences. Some people like less, some people like more, so you can definitely adjust it to your liking.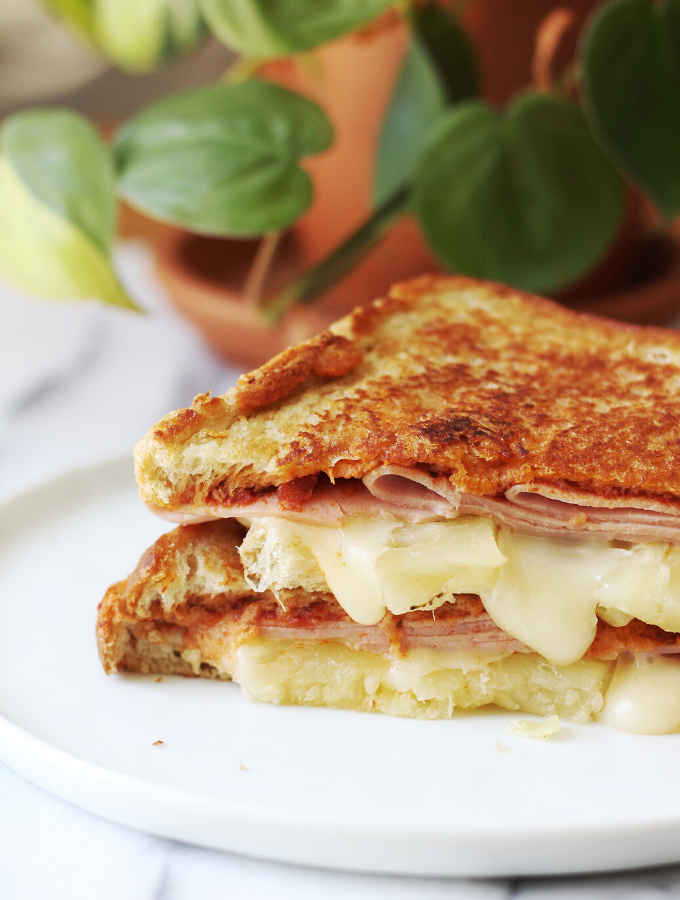 Now that we've discovered the amazingness of pineapple in grilled cheese, we're definitely gonna make this recipe a regular for our meals. We hope you guys try this cause we just absolutely love it, and happy eating!
Ingredients
6

slices

cooked white ham

4

slices

white bread

6

tsp

mayonnaise

4

tbsp

tomato pasta sauce

4

slices

canned pineapple ring

1 1/2

cup

shredded mozzarella cheese

1

tbsp

canola oil
Instructions
Gently dap the pineapple rings with a kitchen paper or cloth to absorb excess moisture and water. Cut each of the 4 pineapple rings into two to get 8 halves and set aside.

To assemble one grilled cheese sandwich, spread 1 1/2 tsp of mayonnaise on one side of a bread slice. Place the bread slice mayonnaise side down on a cutting board. Add 2 tbsp of tomato pasta sauce and spread evenly. Place 3 slices of white ham and add 4 halves of the pineapple rings (the configuration of placement is flexible as long as they fit in the sandwich). Add 3/4 cup of shredded mozzarella cheese and cover with a slice of bread. Gently press on the sandwich with a flat bottomed spatula.

Heat 1 tbsp of canola oil in a pan over medium heat. Place the grilled cheese sandwich, mayonnaise side down, on the pan. Gently press on the sandwich with a spatula to flatten it slightly and let cook for 3 minutes or until the bottom side is browned and crispy. Before turing the grilled cheese around, spread 1 1/2 tsp of mayonnaise on the top side of the sandwich. Turn the grilled cheese around and cook for another 3 minutes or until browned and crispy. Repeat steps 2 and 3 to make the other grilled cheese sandwich.