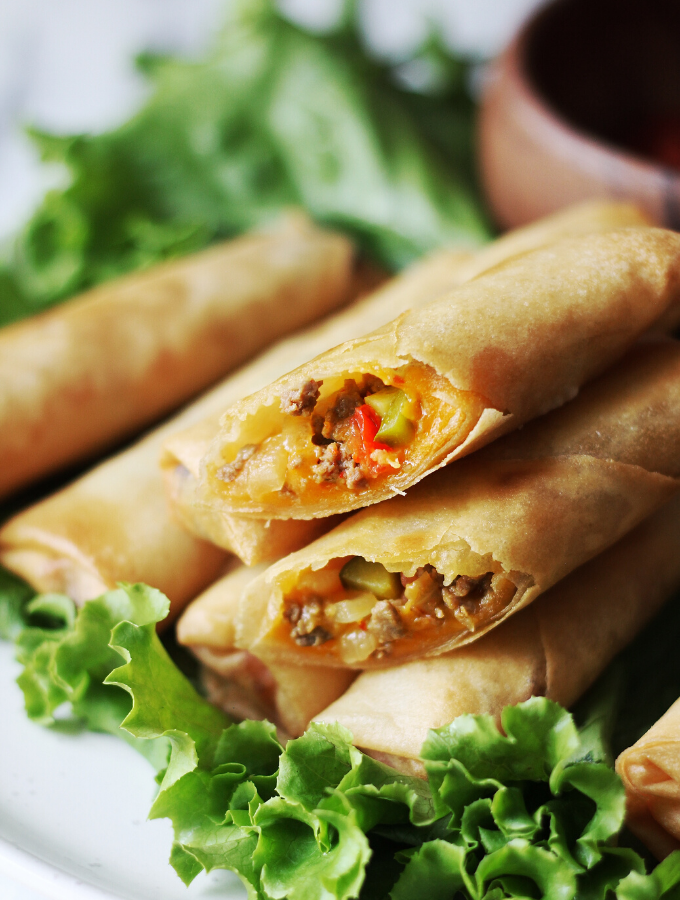 This cheeseburger spring roll is definitely of the most epic fusion recipes! Tender, flavourful ground beef, onions, pickles, tomatoes, and delicious melty cheddar cheese wrapped in crispy, light spring roll wrapper. This is too yummy and THE perfect dinner party appetizer to serve! It'll definitely get your guests super interested and be the talk of the party!
This recipe is super simple, and all you need to know is how to roll a spring roll properly, which we describe with pictures in the recipe!
What makes this spring roll a cheeseburger spring roll is obviously the filling, which consists of ground beef, onions, pickles, tomatoes, and cheddar cheese. And just like a cheeseburger, the filling is completely customizable to your liking. If you like a lot of onions or pickles, then you can add more. If you like it very cheesy, then the more the better!
And if you want to make the whole dish taste even more like a cheeseburger, you can eat the spring roll wrapped in a Romaine lettuce leaf and dip in some ketchup. So good!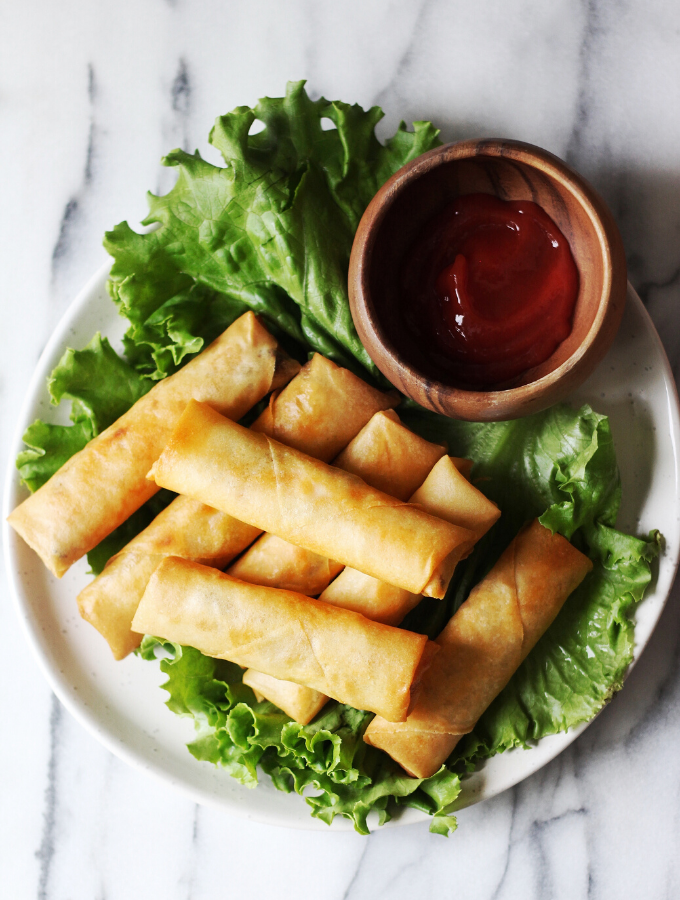 This cheeseburger spring roll is such a great fusion appetizer dish, and is definitely an easy favourite in a dinner party! We hope you enjoy and happy eating!
Ingredients
1/2

lb

ground beef

1

tbsp

soy sauce

1

tsp

garlic powder

1/2

tsp

onion powder

1/2

tsp

chili powder

1

tsp

brown sugar

1/4

tsp

white pepper

1/4

tsp

salt

3

tsp

cornstarch

1

cup

onions

chopped into small cubes

1

tbsp

canola oil

to cook the beef and onions

1/3

cup

pickles

chopped into small cubes

1/2

cup

tomatoes

chopped into small cubes

1 1/2

cup

cheddar cheese

grated

16

spring roll wrappers

we used 215 mm X 215 mm wrappers

canola oil

for frying

1/2

Romaine lettuce

optional, for a side

ketchup

for a sauce
Instructions
To make the filling, in a bowl, combine the ground beef, soy sauce, garlic powder, onion powder, chili powder, brown sugar, white pepper, salt, cornstarch and chopped onions and mix well.

Heat 1 tbsp of canola oil in a frying pan over medium high heat and add in the ground beef mixture. Stir-fry and cook while also breaking the ground beef into little, separate pieces with the edge of a spatula. Cook for about 3-5 minutes, or until the beef is fully cooked and the onions are tender. Remove from heat, transfer to a large mixing bowl, and let cool for about 5 minutes.

Add the chopped pickles and chopped tomatoes into the bowl of ground beef filling and mix well.

To assemble a spring roll, lay a spring roll wrapper on a flat, clean surface as pictured. Add 2 tbsp of the ground beef filling mixture and spread it evenly along the lower side of the wrapper, as pictured.

Sprinkle some cheddar cheese evenly on top of the filling, as pictured.

Roll the wrapper starting from the bottom corner, up towards the filling and tuck the bottom corner tight underneath the filling, as pictured.

Continue rolling tightly until about halfway up the wrapper. Fold in the left and right sides of the wrapper towards the center, as pictured. Make sure it is well folded for a tighter, clewaner spring roll.

Wet the upper corner with a little bit of room temperature water. Continue rolling the wrapper tightly up towards the upper corner, as pictured. The water in the upper corner of the wrapper should help you seal the spring roll.

Repeat steps 4 to 8 for each spring roll until all the fillings are used. You can also use more cheese if you prefer it more cheesy.

Heat oil in a deep pan or frying pot over medium heat. Add enough oil to be able to submerge and deep fry the spring rolls. Once the oil is hot enough (you can test by dipping a wooden chopstick into the oil and see if there are bubbles forming around it, or by putting a small piece of the spring roll wrapper and see of it bubbles), add in the spring roll by batches, depending on how big is your frying pan and how many you can fit. Make sure not to overcrowd the frying pan. Fry the spring rolls for about 1-2 minutes, or until golden and while occasionally rolling each of them in the oil to get an even golden color all around each spring roll. Remove from heat and use a cooling rack to cool the spring rolls or lay them on a plate lined with kitchen paper.

Serve the spring rolls with some Romaine lettuce (optional) and ketchup.